Greg Abbott Leads Wendy Davis In Texas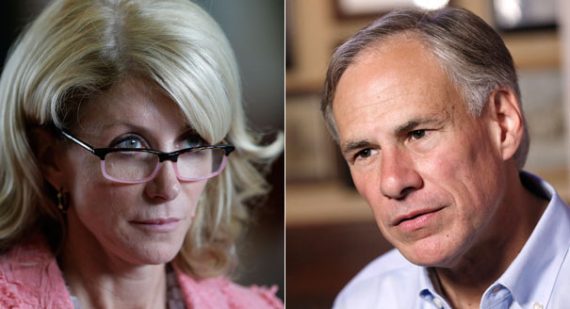 Not surprisingly, Texas Attorney General Greg Abbott continues to have a healthy lead over Democratic challenger Wendy Davis in the Texas Govenor's race:
Texas Attorney General Greg Abbott leads Democrat Wendy Davis by 11 points, according to a new poll Monday.

Forty-seven percent of voters said they back Abbott, while 36 percent would vote for Davis, a University of Texas/Texas Tribune poll found. Seventeen percent of registered voters said they had no opinion.

The new poll represents a widening gap between Abbott and Davis. In October, the survey found Abbott leading Davis by just 6 percent.
Davis has suffered some setbacks of late, including controversies over inconsistencies in her personal biography and recent statements in which she appeared to contradict her own previously stated position on late-term abortion, but in the end it was always clear that she faces an uphill battle in the Lone Star State. Expect to see Abbott to be on a clear path to victory by the time summer rolls around.