Gregg Allman, Southern Rock Pioneer, Dies At 69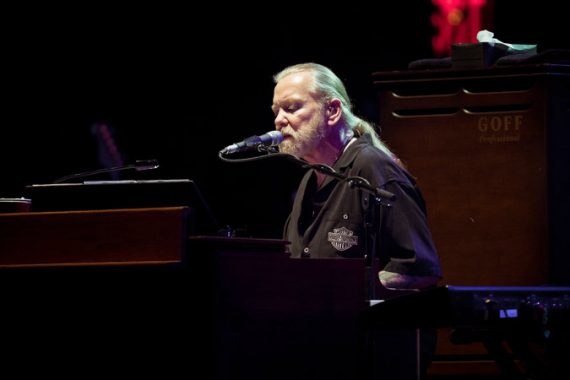 Gregg Allman, who co-founded the Allman Brothers Band and helped define the genre that came to be known as "Southern Rock," died over the Memorial Day weekend at the age of 69:
Gregg Allman, a founding member of the Allman Brothers Band, the incendiary group that inspired and gave shape to both the Southern rock and jam-band movements, died on Saturday at his home in Savannah, Ga. He was 69.

His publicist, Ken Weinstein, said the cause was complications of liver cancer.

The band's lead singer and keyboardist, Mr. Allman was one of the principal architects of a taut, improvisatory fusion of blues, jazz, country and rock that — streamlined by inheritors like Lynyrd Skynyrd and the Marshall Tucker Band — became the Southern rock of the 1970s.

The group, which originally featured Mr. Allman's older brother, Duane, on lead and slide guitar, was also a precursor to a generation of popular jam bands, like Widespread Panic and Phish, whose music features labyrinthine instrumental exchanges.

Mr. Allman's percussive Hammond B-3 organ playing helped anchor the Allman Brothers' rhythm section and provided a chuffing counterpoint to the often heated musical interplay between his brother and the band's other lead guitarist, Dickey Betts.

Gregg Allman's vocals, by turns squalling and brooding, took their cue from the anguished emoting of down-home blues singers like Elmore James, as well as from more sophisticated ones like Bobby Bland. Foremost among Mr. Allman's influences as a vocalist, though, was the Mississippi-born blues and soul singer and guitarist known as Little Milton.

"'Little Milton' Campbell had the strongest set of pipes I ever heard on a human being," Mr. Allman wrote in his autobiography, "My Cross to Bear," written with Alan Light (2012). "That man inspired me all my life to get my voice crisper, get my diaphragm harder, use less air and just spit it out. He taught me to be absolutely sure of every note you hit, and to hit it solid."

The band's main songwriter early on, Mr. Allman contributed expansive, emotionally fraught compositions like "Dreams" and "Whipping Post" to the Allman Brothers repertoire. Both songs became staples of their epic live shows; a cathartic 22-minute version of "Whipping Post" was a highlight of their acclaimed 1971 live album, "At Fillmore East."

More concise originals like "Midnight Rider" and "Melissa," as well as Mr. Allman's renditions of blues classics like "Statesboro Blues" and "Done Somebody Wrong," revealed his singular affinity with the black Southern musical vernacular.

Mr. Allman also enjoyed an enduring, if intermittent, career as a solo artist, both while a member of the Allman Brothers Band and during periods when he was away from the group. His recordings under his own name were typically more subdued, more akin to soulful singer-songwriter rock, than his molten performances with the Allmans.

A remake of "Midnight Rider" from "Laid Back," his first solo album, reached the pop Top 20 in 1973. "Laid Back" also featured a cover of "These Days," an elegiac ballad written by Jackson Browne, who on occasion roomed with Mr. Allman while he was living in Los Angeles in the 1960s.

"Low Country Blues," Mr. Allman's sixth studio recording as a solo artist, was nominated for a Grammy Award for best blues album in 2011. Produced by T Bone Burnett, it consisted largely of interpretations of blues standards made popular by performers like Junior Wells and Muddy Waters.

His final studio album, "Southern Blood," produced by Don Was, was scheduled to be released this year. All his 2017 tour dates, including 10 nights at City Winery in New York in July, were canceled in mid-March.

(…)

Gregory LeNoir Allman was born on Dec. 8, 1947, in Nashville. He and his older brother were raised by their mother, the former Geraldine Alice Robbins, after their father, Willis Turner Allman, a combat veteran of World War II, was murdered by a hitchhiker in 1949.

The brothers attended Castle Heights Military Academy in Lebanon, Tenn., until their mother, who was working as an accountant, moved the family to Daytona Beach, Fla., in 1959. Gregg Allman's early aspiration was to become a dentist.

He took up the guitar before Duane did, but he was a keyboardist and vocalist by the time the two worked together in local bands while they were in high school. As the Allman Joys, they played clubs in the South and recorded a single, a version of Willie Dixon's "Spoonful."

The brothers moved to Los Angeles in the late '60s and formed a group called the Hour Glass, which released a pair of psychedelic-leaning pop albums for Liberty Records. Neither was successful.

In 1968, everyone in the band, except for Gregg, moved back to Florida after being released from their recording contract. He stayed behind when executives at Liberty decided he had commercial potential.

Duane joined a Jacksonville band, called the 31st of February, led by the future Allman Brothers drummer Butch Trucks. (Mr. Trucks died in January at 69.)

Duane also worked as a session guitarist in Muscle Shoals, Ala., and New York, recording with Aretha Franklin, Wilson Pickett, the saxophonist King Curtis and other artists before talking Gregg into becoming the lead singer for Mr. Trucks's band. Gregg had by then grown disenchanted with the West Coast music scene.

The group later added the bassist Berry Oakley, the percussionist Jai Johanny Johanson (known as Jaimoe) and Mr. Betts and became the Allman Brothers Band. They released their debut album in 1969 on Capricorn Records, an Atlantic imprint based in Macon, Ga. They also toured widely and developed a devoted following with their next two albums, "Idlewild South" and "At Fillmore East."

On Oct. 29, 1971, just before the group achieved mainstream popularity, Duane Allman was killed in a motorcycle accident. Mr. Oakley, the band's bassist, died in another motorcycle crash — both accidents were in Macon — a little more than a year later.

The Allman Brothers Band continued to perform and record, for various labels and with a variety of musicians, over the next four decades, despite disbanding and regrouping at points during the 1970s and '80s. They sold out upward of 200 shows during their annual residencies, beginning in 1989, at the Beacon Theater on the Upper West Side of Manhattan before finally calling it quits after an appearance there in 2014.

Mr. Allman is survived by his wife, Shannon Allman; his sons, Michael, Devon and Elijah Blue; his daughters, Island and Layla; and three grandchildren. All of Mr. Allman's five children except Island — each of the five has a different mother — have played music professionally
Allman was inducted into the Rock & Roll Hall Of Fame as a member of the Allman Brothers Band in 1995, received a Grammy Lifetime Achievement Award in the same capacity in 2012.