Gridlock is not a Feature, it is a Bug
Gridlock doesn't mean government stops. It just shifts who is governing.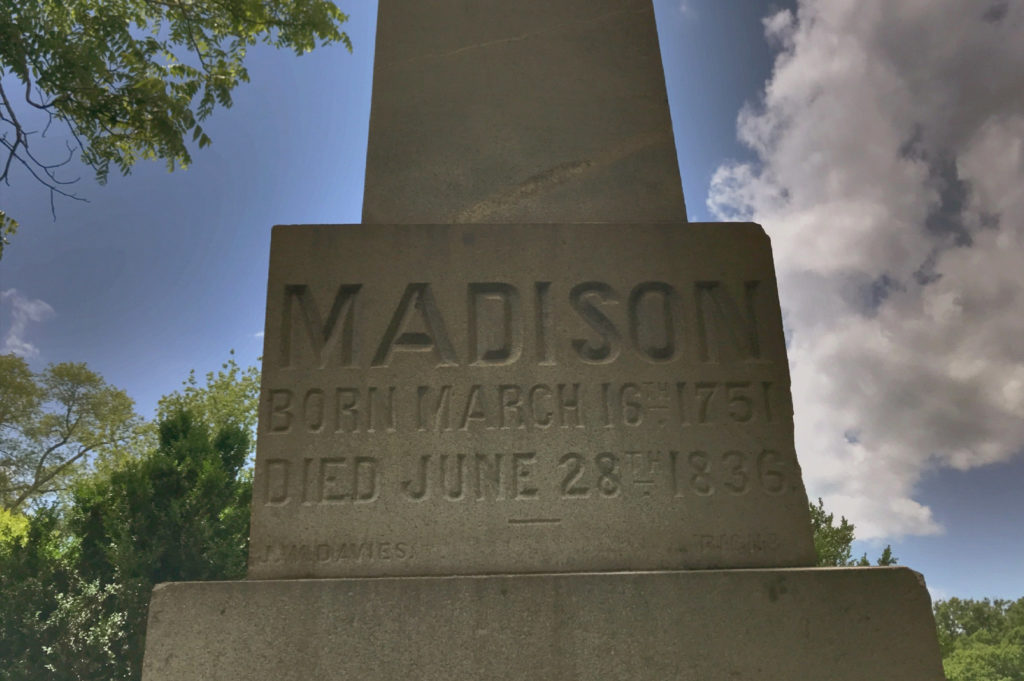 The simple story of American government is that separation of powers and checks and balances were designed by James Madison to segment power and to force negotiation and compromise when the presidency and the congress were in the hands of opposing political parties. Gridlock, therefore, is a feature, not a bug.
This is usually what is taught in high school civics courses, and I myself said similar things early in my career teaching intro to American government at the college level.
While there are some kernels of truth in there, that simple story ignores a lot. First and foremost, it ignores that the Framers did not understand political parties and their function in the system, meaning they really did not understand how this system would actually function. Second, Madison's original design was substantially different from what ended up being approved. That is important because when we imbue Madison's "genius" into the final document we ignore that it wasn't what he wanted in important respects (and, so the "Father of the Constitution" had to compromise on what he wanted to produce). Very importantly, therefore, the degree to which any number of the deviations from his preferred design was pure political compromises and calculations and not the stuff of genius.
I bring all of this up for at least two reasons (or unequal weight). The first and most substantive is an interview I heard with author and journalist Thomas Ricks on NPR this week. (I will come back to the second at the end). He was discussing his book First Principles: What America's Founders Learned from the Greeks and Romans and How That Shaped Our Country. Ricks, who has won the Pulitzer Prize, is known for writing mainly about military/security matters, and so this is a deviation for him.
I will note that I have not read the book, so am reacting here only to the interview.
In the interview he provided a version of that simple story I noted above:
And the entire Constitution is, in many ways, a peace treaty between different states. A series of compromises in this goes to the genius of James Madison. He said: We're going to have to have a series of balances; we're going to disperse power so broadly among three branches of the federal government and two houses within the legislative branch, between the federal government and state government — spread the power out so that if you're going to try to do anything in this country, you're going to have to make deals and compromises. And if you can't, you're going to get gridlock. In the way Madison designs it, gridlock is not a bug. It's a feature. 
On the one hand, yes, Madison thought that a large republic (in terms of physical size and population) would require dispersal of power so as to avoid tyranny. He also thought size would disperse and dilute any factions that could try and dominate government in the United States. One thing he decidedly did not have in mind was the notion that one party would control the presidency and another party would control the congress (or that differing parties would split control of the congress).
Simply put, the notion that "gridlock" is a feature is not true. Indeed, the inability of the federal government to function because one party can control enough of it to stop legislation from happening is very much a bug.
Allow me to quote Madison: "In republican government, the legislative authority necessarily predominates." Now let me ask: when has the legislature predominated in recent memory? And then tell me if creating conditions for inaction in that body is, in fact, a feature rather than a bug.
The great flaw in Ricks' position, and to the simple version of American government that assumes that gridlock leads to compromise can be found here (emphasis mine):
In the way Madison designs it, gridlock is not a bug. It's a feature. It says we don't trust power because we saw in the ancient world that when one person or one group becomes too powerful, it throws things out of whack. So we're going to force people to try to put power together through a series of deals and compromises. So, I think Madison, especially, would be very proud to see that when America deeply disagrees, as it does now, that things grind to a halt.
Yes, Madison didn't want to concentrate power, so we get things like federalism (which was basically invented by the US Constitution) and separation of powers (borrowed largely from the English, in terms of bicameralism and the crown separated from the parliament, with philosophical emphasis from a French contemporary, Montesquieu).
But wanting dispersed power is not the same thing as wanting governmental dsyfunction.
Beyond that, that bolded portion is highly, highly, problematic. When Congress does not or cannot act, things actually don't "grind to a halt" in the federal government. A continental nation of over 300 million that is a global superpower is going to continue to need government whether congress is functional or not.
As the legislative branch is neutered due to partisan division, the courts become more important (see, e.g., Mitch McConnell's strategies of late). And, more significantly, the executive branch finds itself governing more and more either in realms that are already carved out for the presoident by the constitution or previously established law, or the president turns to executive orders to govern.
This is, ironically, the opposite of any Madisononian model one might wish to appeal to. It is not dispersed power. It is not factional balancing. It is not compromise. It is not the legislature being central.
Take DACA, which has been in the news again of late underscoring the incompetence of the current administration. Due to the inability of congress to legislate, President Obama issued an executive order to deal with a particular class of the undocumented. Trump has tried to use executive orders to overturn Obama's order (as well as having used EOs on any number of other matters). Biden has promised to come into office and reverse Trump's EOs.
Does any of that sound even vaguely Madisonian as Ricks defined it? And, more importantly, does it sound like things have ground to a halt?
Governing continues if congress is gridlocked or not. And it becomes more autocratic as a result.
Even in the realm of legislation plus the courts, consider the Affordable Care Act. First, this was a piece of legislation that was only passed because of a fairly short window of a Democratic super-majority of 60 seats in the Senate during parts of 2009. Then consider the inability of what became a 59-seat Senate to work with the House to refine the legislation (since the GOP could block any such negotiations via the filibuster). Second, consider that the GOP was unable/unwilling to present legislative fixes and their subsequent reliance on the courts to strike down the law.
That is hardly "the legislative authority…predominat[ing]."
Ricks is, in my view, perpetuating a myth that is dangerous. And the myth is that since we have a well-designed system any deviations from functionality are okay because the system is either behaving as it is supposed to behave or that the system is, in some way, self-correcting.
Quite frankly, the appeal to design is flawed. It is a quasi-religious hope that Smart Men were so much smarter than us that the machine they built will heal itself. Worse, it is all based very much on the myths we are taught from youth that blind us to reasonable criticisms of the flaws in the system.
The second reference to the genius of checks and balances that struck me this week came from Alabama's Senator-elect, Tommy Tuberville. Who said the following in an interview this week when asked about partisan division within the Congress and with the White House:
Yeah and that's how our government was set up. You know, our government wasn't set up for one group to have all three of branches of government. It wasn't set up that way, our three branches, the House, the Senate and executive. 
We see here the mythology: "that's how our government was set up" (for partisan control of institutions to lead to gridlock). Second, and worse, he doesn't even know what the three branches of government are.
The notion that the system is supposed to be gridlocked is deeply engrained in our psyche. Further, the truly enduring myth is that it will lead to compromise (as I have also seen people say in remarking that keeping the Senate in GOP hands will force the two sides to talk).
First, compromise only happens if the two parties actually both want things that requires the other's help. The GOP is not especially interested in governing, save via the courts, making it harder for the Democrats to make deals.
Second, I will reiterate that the lack of compromise does not lead to government grinding to a halt. It just means the executive will be more autocratic and the judiciary, which is not beholden to the voters, will increasingly make/influence policy.
None of this is "Madisonian" nor does any of it reflect the enduring genius of the Framers. Pretending like either is true is why we don't talk about fixes.
---
Appendix 1: Madison's Original Plan
By the way, here is Madison's original plan for the federal government, known as the Virginia Plan (all from Chapter Two of A Different Democracy):
First is the basic list of the plan's provisions and then below that is graphical map of what this government would have looked like.
The most imporatant elements for this discussion are 4, 5, and 7. Note that the Senate was chosen by the House, and seats in the Senate were based on state population. And, note, the legislature chose the president.
This plan contains the basic design issues that Ricks notes, such as dispersed power across territorial space and within the federal government, but how different would governance be in the US today without co-equal representation in the Senate and without the electoral college? Indeed, this plan would have been more parliament-like than the system of presidentialism that the constitution invented and that evolved in the US.
Note, there are areas that are problematic, such as the notion of one term limits in the House. There are also some intriguing ideas that went nowhere, such as the notion that the federal legislature could nullify state laws, the Council of Revision, and the notion that state authorities should swear an oath to the federal constitution.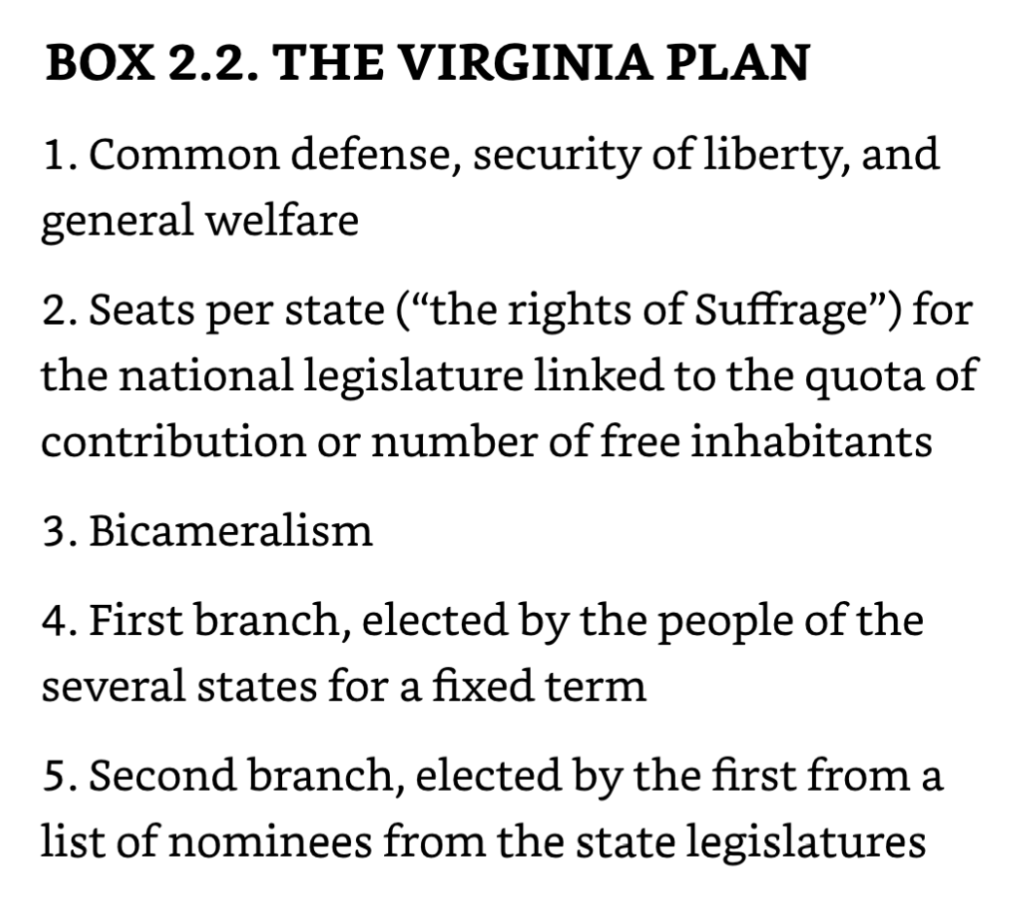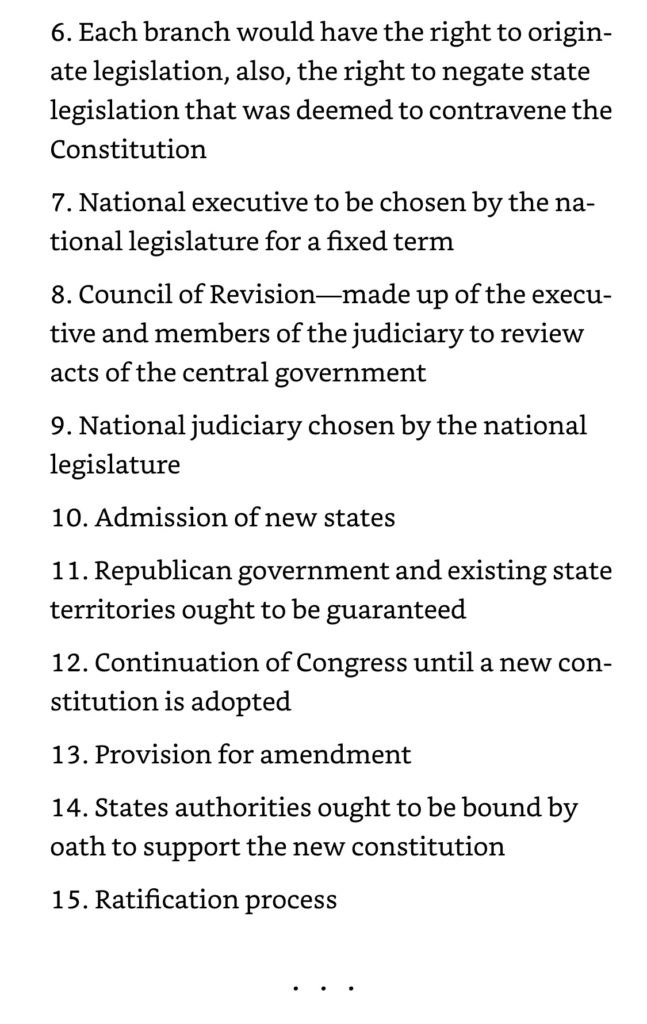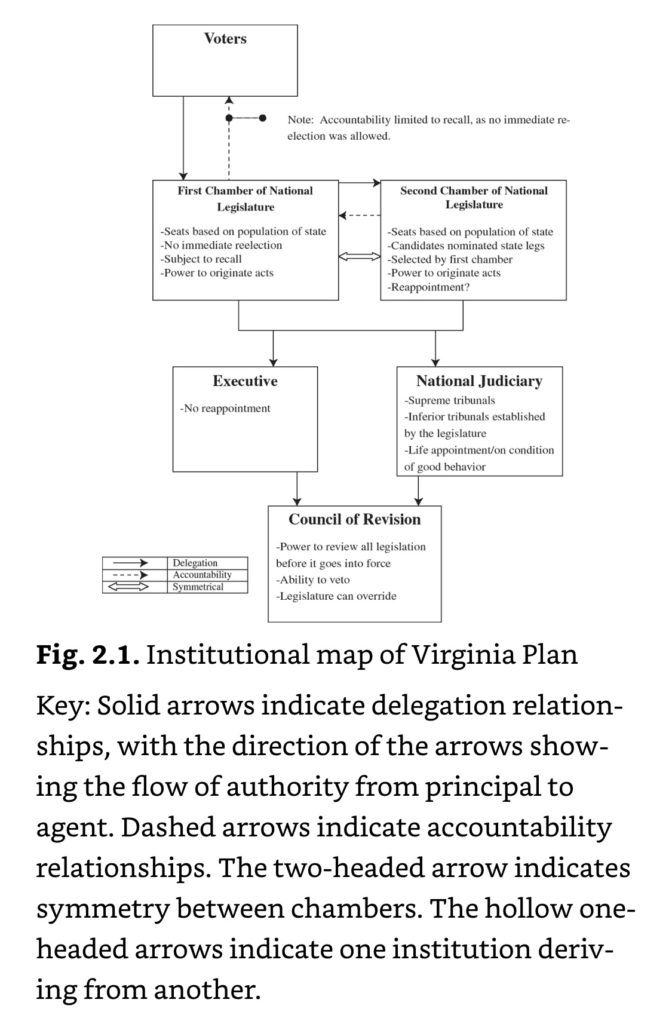 ---
Appendix 2: Ricks and the Senate
I wanted to comment on this from the interview, but it did not fit above:
James Madison spends about four years before the Constitutional Convention reading up in a very rigorous academic way on ancient Greek history and especially how the republics of ancient Greece worked — how the city states worked with each other in leagues or confederations, as they called them. So, for example, the most prominent of the ancient Greek leagues the Amphictyonic League, had a system under which it didn't matter whether you were a big city or a small city in this confederation, this league of theirs. Each city had two votes. So when they're designing the U.S. Senate, they say, well … whether you're big or small, let's equalize that by giving each state two senators. And that means, of course, the Electoral College is partly based on that — how many senators you have. The problem is the difference between big and small back then wasn't as big. The smallest state coming in was Delaware. The biggest was Virginia. Virginia was about 12 times the population of Delaware. Nowadays, the biggest state population is California. The smallest is Wyoming. And the difference in citizens and in voters is about 50 to one.
First, it is absolutely the case that Madison spent a number of years studying ancient republics and it directly influenced his thinking on the design of governments. The first several entries he wrote for the Federalist Papers were based on that study, rather than on the proposed constitution itself. Hence, entires like Federalist 10 and 14 are a bit different in their theories of governing than we see in, say, 39 or, especially, 51.
Second, it worth noting and underscoring that Madison did not originally propose two senators per state (as I note in Appendix 1). While that may have ultimately been the inspiration for picking that number, it is extremely important to note that the two-per-state idea was a political compromise, not some deeply considered idea that Madison learned from his studies.
Third, 12:1 is bad enough, but 50:1 is a huge problem.