Gun-Wielding Lawyers Given Slap on the Wrist
The infamous duo will have to do what they were already supposed to do for a year.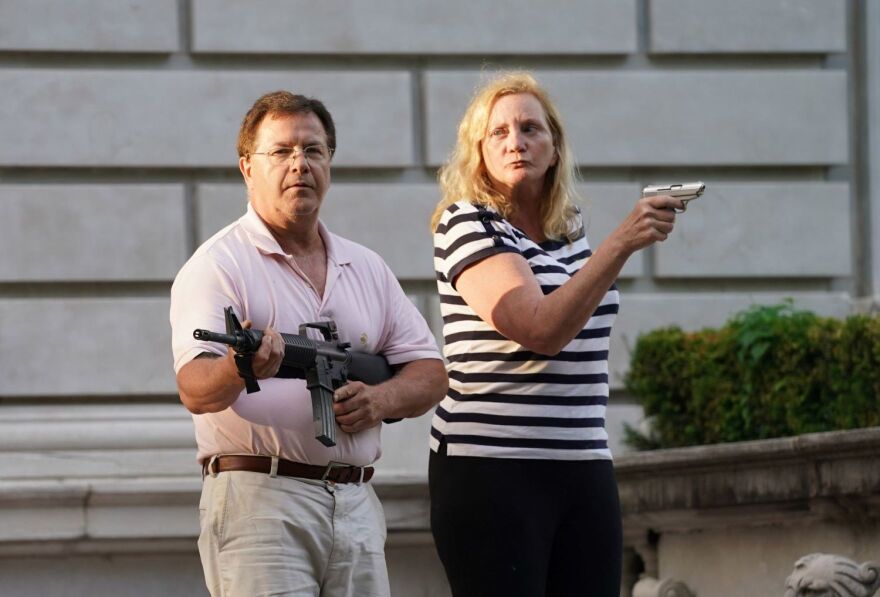 While I would have sworn that we've discussed the incident immortalized in the above photo before on this site, I can find no evidence of it. It depicts Mark and Patricia McCloskey, two St. Louis area ambulance chasers, brandishing firearms at Black Lives Matter demonstrators passing their home in a gated community on their way to chant at the mayor, who also lives there back in May 2020.
The wheels of justice grind exceedingly slow, it seems, but finally they have received their punishment from the state bar. It is light.
KCUR, Kansas City's NPR affiliate ("Missouri Supreme Court disciplines St. Louis lawyers who waved guns at BLM protesters"):
The Missouri Supreme Court on Tuesday indefinitely suspended the law licenses of two St. Louis attorneys who waved guns at Black Lives Matter protesters in 2020, but it stayed their suspensions and placed them on probation for a year.

The orders came after Missouri's chief disciplinary counsel last year asked the court to suspend the law licenses of Mark McCloskey and his wife, Patricia McCloskey, in connection with their guilty pleas to misdemeanors stemming from the gun-waving incident.

The orders mean that if they violate the terms of their probation, their law licenses could be suspended indefinitely.

The probation terms require the McCloskeys, in written quarterly reports, to note any arrests, criminal charges, civil lawsuits, disputes with clients, investigations questioning their fitness to practice law and reports of additional disciplinary complaints.

The court also ordered them to provide 100 hours of pro bono legal services during their terms of probation.
So, basically, they're not allowed to commit any additional crimes over the next year—which, presumably, was already a requirement of remaining in good standing—and they have to provide 100 hours of free shitty law service. Hopefully, not to BLM protestors. And, as in most states, providing pro bono service is already an expectation of legal professionals in Missouri.
The McCloskeys remain defiant.
Reached at the St. Louis law firm he and his wife operate, Mark McCloskey said he was disappointed the court disciplined them and may ask the U.S. Supreme Court to review the case.

"I disagree with the (Missouri) Supreme Court that what we did on our front porch constituted a misdemeanor offense involving moral turpitude," McCloskey said. "I don't think we acted in moral turpitude at all."

He added: "I will respectfully cooperate with and fully perform my probation."
So, here's the problem with that:
Mark McCloskey pleaded guilty in June 2021 to misdemeanor fourth-degree assault and was ordered to pay a fine of $750. Patricia McCloskey pleaded guilty on the same date to misdemeanor harassment and was ordered to pay a fine of $2,000.
Granted that plea bargains are essentially coerced and that McCloskey may honestly believe he did nothing wrong, he literally pled guilty to a crime. It's true that the Republican governor almost immediately pardoned them but that doesn't change the facts available to the Missouri Supreme Court.