Guns and Tribalism
Josh Marshall explains what it's like to be a non-gun person in a very pro-gun culture.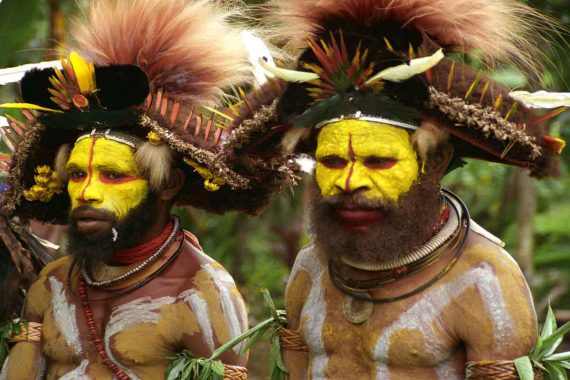 Josh Marshall has an interesting essay titled "Speaking for My Tribe," in which he explains what it's like to be a non-gun person in a very pro-gun culture.
It's customary and very understandable that people often introduce themselves in the gun debate by saying, 'Let me be clear: I'm a gun owner.'

Well, I want to be part of this debate too. I'm not a gun owner and, as I think as is the case for the more than half the people in the country who also aren't gun owners, that means that for me guns are alien. And I have my own set of rights not to have gun culture run roughshod over me.

I don't have any problem with people using guns to hunt. And I don't have any problem with people having guns in their home for protection or because it's a fun hobby. At least, I recognize that gun ownership is deeply embedded in American culture. That means not only do I not believe there's any possibility of changing it but that I don't need or want to change it. This is part of our culture. These folks are Americans as much as I am and as long as we can all live together safely I don't need to or want to dictate how they live.

I've never owned a gun. I've never shot a gun. (I'm not including the bb guns I shot a few times as a kid.) Once about ten years ago, my friend John Judis and I were talking and decided it would probably be educational for us as reporters and just fun to go to a firing range and do some shooting. For whatever reason it never happened.
He follows this by recounting a childhood incident that ensured he'd never join the other tribe.
As regular readers will be aware, I'm a member of the other tribe.
The formative incident in Josh's experience with guns would never have happened with me simply because guns were always around and my dad made damned sure that I understood from a very early age what guns were and instilled in me the consequences of handling them—both from the weapons themselves and from my dad. So, I never touched them without explicit permission.
I shot guns, including BB guns, rifles, shotguns, and my dad's .357 magnum, as a child–always under strict parental supervision. I spent several years as a cadet and Army officer, during which I received extensive training with a couple variants of the M-16 and familiarization training with several American and Soviet weapons, including various machine guns and heavy weapons. For that matter, I've fired RPGs, mortars, howitzers, and tanks. I led a rocket artillery platoon in combat. I own a couple of hunting rifles and a shotgun; all of them used to belong to either my late father or my late wife's late father.
The upshot of all of this is that I'm much less leery of guns than people in Josh's tribe. Still, our disagreement is only at the margins here:
 But do I want to have people carrying firearms out and about where I live my life — at the store, the restaurant, at my kid's playground? No, the whole idea is alien and frankly scary. Because remember, guns are extremely efficient tools for killing people and people get weird and do stupid things.

A big part of gun versus non-gun tribalism or mentality is tied to the difference between city and rural. And a big reason 'gun control' in the 70s, 80s and 90s foundered was that in the political arena, the rural areas rebelled against the city culture trying to impose its own ideas about guns on the rural areas. And there's a reality behind this because on many fronts the logic of pervasive gun ownership makes a lot more sense in sparsely populated rural areas than it does in highly concentrated city areas.

But a huge amount of the current gun debate, the argument for the gun-owning tribe, amounts to the gun culture invading my area, my culture, my part of the country. So we're upset about massacres so the answer is more guns. Arming everybody. There's a lot of bogus research (widely discredited) purporting to show that if we were all armed we'd all be safer through a sort of mutually assured destruction, pervasive deterrence. As I said, the research appears to be bogus. But even if it was possible that we could be just as safe with everyone armed as no one armed, I'd still want no one armed. Not at my coffee shop or on the highway or wherever. Because I don't want to carry a gun. And I don't want to be around armed people.
There are a lot of perfectly good reasons to own guns. While I'm not a hunter, it's been a part of the human experience from practically the beginning of the human experience and remains a pursuit with a lot to commend it. Sport shooting, whether skeet or target, is also a wonderful pastime. And, while I tend to think keeping a gun around for "personal protection" is likely more hazardous than beneficial, I support people's right to do it.
But, like Josh, I'm quite leery of people walking around with a Glock in their waistband or driving around with one under their car seat or in their glovebox. People that afraid of the world around them are likely to shoot first and ask questions later.
Unlike Josh, I've spent most of my life in something other than a proper city. Even Houston and El Paso, where I spent a lot of my childhood, are relatively spread out places that require people to drive everywhere. And, while I've been in the DC area for a little over a decade now, I've never lived in DC proper (although I've now worked there for more than five years). At the same time, I've not really spent much time living "out in the country," either.  People living miles from their nearest neighbor need guns more and use guns differently from even those who  in the suburbs of middling cities.
The two tribes clash, though, because both are trying to nationalize a solution. The anti-gun tribe sees the wave of senseless shootings and simply insane murder-by-guns rate in this country and wants to do something—and what that something is ranges from relatively minor measures to full-blown bans—about it. The pro-gun tribe, fearing that giving an inch leads to a slippery slope to an outright ban, fights everything.
The 2nd Amendment, which is easily the mostly hotly debated of the freedoms guaranteed under the Bill of Rights, pretty much forces the debate to be national. As do the practicalities; it's really difficult to have a restrictive gun control regime in New York City while allowing people to have all the guns they want in rural Pennsylvania, New Hampshire, and Vermont. Ditto  Washington, DC and Virginia, West Virginia, and Maryland.
The nature of tribalism, alas, is that it's very hard to even have a conversation. Josh hardly knows any gun people; most gun people don't know any non-gun people. And, of course, gun/no-gun is generally not a standalone distinction in this country; it's usually part of what social scientists call a reinforcing cleavage.  People in Texas aren't going to take kindly to people in New York telling them how to use their guns. Hell, they're not even over the picante sauce thing yet.