Hallmark Channel Caves To Anti-LGBT Bigots
The Hallmark Channel caved to the complaints of a small group of so-called Christians who objected to a television commercial.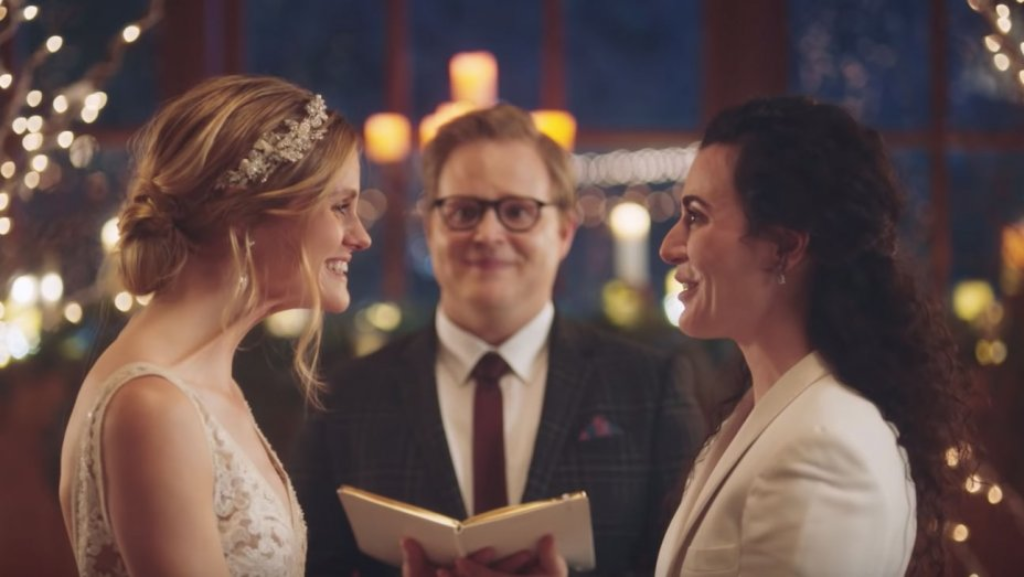 As usual, this is the time of the year when the Hallmark Channel runs its Christmas-themed movies, all of which seem to have the same basic plot with the only changes being the actors, the setting, and the name of the movie. This year, though, the channel is drawing controversy from both sides of the culture war over its decision to first run and then pull a series of ads by wedding planning web site Zola:
The Hallmark Channel pulled four TV ads featuring brides kissing each other on Thursday after a targeted campaign by a conservative group.

Asked to explain why the ads had been rejected, an employee of Hallmark's parent company said the channel did not accept ads "that are deemed controversial," according to an email exchange shared with The New York Times. A spokesman for Hallmark said the women's "public displays of affection" violated the channel's policies, but he declined to comment on why a nearly identical ad featuring a bride and groom kissing was not rejected.

The series of six ads, for the wedding planning website Zola, first appeared on the Hallmark Channel on Dec. 2. The ads, which feature several configurations of couples, all offer variations on the same concept: While standing at the altar, couples ponder whether guests would have arrived on time and bought them better gifts if only they had created a custom wedding website with Zola.

In some of the ads, the couples kiss at the altar and in the aisle, surrounded by friends. Most of the ads feature a same-sex female couple along with heterosexual couples. One of the six ads focuses on only the lesbian couple.

Early this week, One Million Moms, a division of the conservative American Family Association that defines its mission as the "fight against indecency," published a petition urging Hallmark to "please reconsider airing commercials with same-sex couples."

(…)

On Thursday, Zola was notified that four of the six ads would be pulled. In the email exchange, an ad buyer representing Zola asks for an explanation of the decision.

"We are not allowed to accept creatives that are deemed controversial," an account representative for Hallmark responded.

The Hallmark Channel spokesman suggested on Friday afternoon that the issue was the couple's kissing. "The decision not to air overt public displays of affection in our sponsored advertisement, regardless of the participants, is in line with our current policy, which includes not featuring political advertisements, offensive language, R-rated movie content and many other categories," he said.
Here is one of the ads that was causing controversy:
And here's the statement from "One Million Moms" that prompted the campaign:
The Hallmark Channel has always been known for its family friendly movies. Even its commercials are usually safe for family viewing. But unfortunately, that is not the case anymore.

Recently, One Million Moms received concerns about Hallmark airing a commercial from Zola.com in which two lesbians are shown kissing at the end of their wedding ceremony. Similar concerns from regular viewers are posted on an online complaint board for the Hallmark Channel.

One viewer commented on the board:

"Why would you show a lesbian wedding commercial on the Hallmark Channel? Hallmark movies are family friendly, and you ruined it with the commercial."

Another viewer wrote:

"Our family was watching a wonderful Hallmark movie based on a true story. It was late, but our daughter was up late with us. During the commercial break, there was a commercial from Zola with two women lip locking! Please Hallmark … we are fed up with having the gay agenda crammed down our throats! You are one of the few channels we thought we would not have to deal with this issue! Please remove this and any other gay, lesbian, bisexual, or anything else it is called from your channels. … We love you but won't keep watching with this type of ads."

Conservative viewers will be disappointed to learn that Hallmark has ideas of moving beyond airing only commercials with LGBT content and is open to producing LGBT movies in the future.

According to LifeSiteNews.com, Michelle Vicary, executive vice president of programming for Crown Media Family Networks – the company that makes Hallmark movies – recently said: "We are continuing to expand our diversity. We are looking at pitches for LGBT movies. …"

While currently there is nothing known in the works for Hallmark programming to contain same-sex couples as lead characters, Crown Media Family Networks CEO Bill Abbott confirmed Vicary's words: "We look at a variety of different things, so we're always looking for the best stories that we think will resonate in the best way. And so we're open to really any type of movie of any type of relationship in any space."

Shame on Hallmark for airing commercials with same-sex couples and even considering movies with LGBT content and lead characters.

Until recently, Hallmark had a good record for keeping their movies and commercials family friendly. Now, parents can no longer trust Hallmark because Hallmark is no longer allowing parents to be the primary educators when it comes to sex and sexual morality.

Parents need to know they could now come face-to-face with the LGBT agenda when they sit down to watch the Hallmark Channel.

Family entertainment is not the outlet in which to be politically correct by forcing tolerance and acceptance of homosexuality – a sinful lifestyle that Scripture clearly deems as wrong. You can read so in Romans 1:18-32.

One Million Moms is asking Hallmark to stay true to its family friendly roots that so many families have grown to love, and to keep sex and sexual content – including the promotion of homosexuality – out of its programming.
Jazz Shaw at Hot Air comments:
I know they specialize in "family friendly" content and want to avoid controversy, but this advertisement is pretty milquetoast if you ask me. Perhaps One Million Moms is more influential than I'd imagined (I'd never heard of them until today), but it still seems like they're going to lose revenue either way. If they run the ad, OMM will protest and ask people to boycott the network. But having pulled it, the LGBQ community will be doing the same thing. It's a lose-lose proposition.

And what is OMM trying to protect the children from? Learning that there are gay people in the world and that they get married sometimes? Really, I think the cat is out of the bag at this point. Just for the record, OMM is also boycotting this commercial from Hotels.com because Captain Obvious says the word "condoms" and suggests that two mothers are missing out on vacation trips because of their children.
Generally speaking, I agree with Jazz here. It's ridiculous that anyone would be offended by this ad to such an extent that they'd threaten a boycott, but this is standard operating procedure for this group. As Jazz points out they are also mounting a campaign against Hotels.com over an ad because it uses the word condoms. Of course, they have a right to advocate for these causes, but the fact that they choose these as their causes is a pretty good indication of the narrow-minded world in which they live.
One Million Moms is part of the American Family Association, a group founded by Donald Wildmon back in the late 1970s when the so-called "religious right" was just coming into being. Over the years, they've been involved in a number of campaigns designed to impose culturally conservative values on the rest of society and objecting when they see things such as this ad, whether it's on the Hallmark Channel or elsewhere. They are, in other words, right-wing versions of the "social justice warriors" who seek to ban things that they disagree with from their left-wing perspective. In that sense, I suppose, it's no surprise that they would seek to ban something as innocuous as a commercial featuring two people in love.
It's also testimony to the fact that, notwithstanding the fact that same-sex marriage has been legal for nearly five years now and that most polling shows that the majority of Americans are accepting of same-sex marriage, same-sex relationships, and that most Americans are accepting of homosexuality in general, there is still a minority out there for whom bigotry is so powerful that they'd be offended by a television commercial and a corporation weak enough to bend to the complaints of a minority. What's unfortunate, a company that has previously sought to widen its appeal to all segments of society, so easily caved to small group of haters.
Updated: Hallmark has reversed its decision, details here.