Happy Thanksgiving From Outside The Beltway!
Happy Thanksgiving!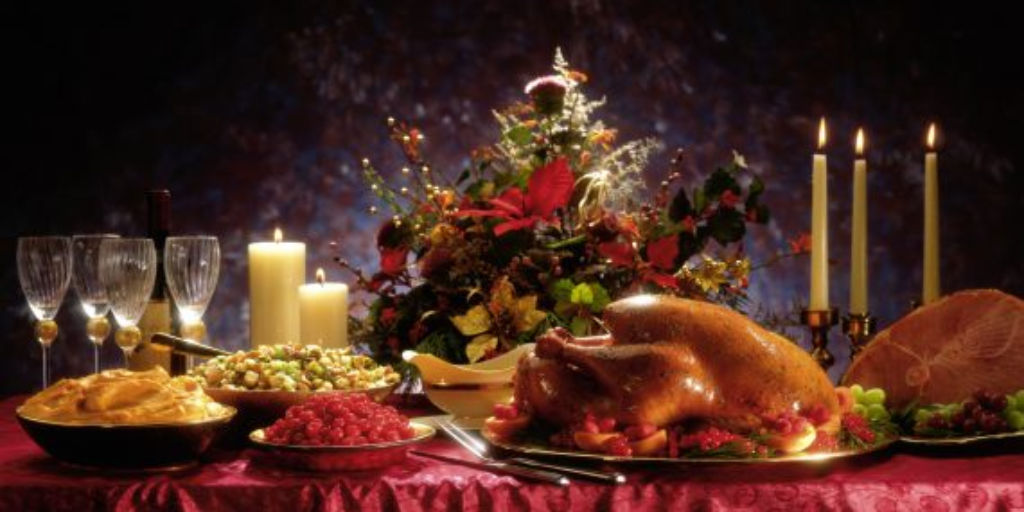 Happy Thanksgiving from all of us at OTB!
It was 156 years ago that President Abraham Lincoln set forth the precedent that led to the fourth Thursday in November being declared a National Day of Thanksgiving with this Proclamation:
The year that is drawing toward its close has been filled with the blessings of fruitful fields and healthful skies. To these bounties, which are so constantly enjoyed that we are prone to forget the source from which they come, others have been added which are of so extraordinary a nature that they can not fail to penetrate and soften even the heart which is habitually insensible to the ever-watchful providence of Almighty God.

In the midst of a civil war of unequaled magnitude and severity, which has sometimes seemed to foreign states to invite and to provoke their aggression, peace has been preserved with all nations, order has been maintained, the laws have been respected and obeyed, and harmony has prevailed everywhere, except in the theater of military conflict, while that theater has been greatly contracted by the advancing armies and navies of the Union.

Needful diversions of wealth and of strength from the fields of peaceful industry to the national defense have not arrested the plow, the shuttle, or the ship; the ax has enlarged the borders of our settlements, and the mines, as well of iron and coal as of the precious metals, have yielded even more abundantly than heretofore. Population has steadily increased notwithstanding the waste that has been made in the camp, the siege, and the battlefield, and the country, rejoicing in the consciousness of augmented strength and vigor, is permitted to expect continuance of years with large increase of freedom.

No human counsel hath devised nor hath any mortal hand worked out these great things. They are the gracious gifts of the Most High God, who, while dealing with us in anger for our sins, hath nevertheless remembered mercy.

It has seemed to me fit and proper that they should be solemnly, reverently, and gratefully acknowledged, as with one heart and one voice, by the whole American people. I do therefore invite my fellow-citizens in every part of the United States, and also those who are at sea and those who are sojourning in foreign lands, to set apart and observe the last Thursday of November next as a day of thanksgiving and praise to our beneficent Father who dwelleth in the heavens. And I recommend to them that while offering up the ascriptions justly due to Him for such singular deliverances and blessings they do also, with humble penitence for our national perverseness and disobedience, commend to His tender care all those who have become widows, orphans. mourners, or sufferers in the lamentable civil strife in which we are unavoidably engaged, and fervently implore the interposition of the Almighty hand to heal the wounds of the nation and to restore it, as soon as may be consistent with the divine purposes, to the full enjoyment of peace, harmony, tranquillity, and union.

In testimony whereof I have hereunto set my hand and caused the seal of the United States to be affixed.

Done at the city of Washington, this 3d day of October, A. D. 1863, and of the Independence of the United States the eighty-eighth.

ABRAHAM LINCOLN.
And here's this year's proclamation from President Trump:
On Thanksgiving Day, we remember with reverence and gratitude the bountiful blessings afforded to us by our Creator, and we recommit to sharing in a spirit of thanksgiving and generosity with our friends, neighbors, and families.

Nearly four centuries ago, determined individuals with a hopeful vision of a more prosperous life and an abundance of opportunities made a pilgrimage to a distant land. These Pilgrims embarked on their journey across the Atlantic at great personal risk, facing unforeseen trials and tribulations, and unforetold hardships during their passage. After their arrival in the New World, a harsh and deadly winter took the lives of nearly half their population. Those who survived remained unwavering in their faith and foresight of a future rich with liberty and freedom, enduring every impediment as they established one of our Nation's first settlements. Through God's divine providence, a meaningful relationship was forged with the Wampanoag Tribe, and through their unwavering resolve and resilience, the Pilgrims enjoyed a bountiful harvest the following year. The celebration of this harvest lasted 3 days and saw Pilgrims and Wampanoag seated together at the table of friendship and unity. That first Thanksgiving provided an enduring symbol of gratitude that is uniquely sewn into the fabric of our American spirit.

More than 150 years later, it was in this same spirit of unity that President George Washington declared a National Day of Thanksgiving following the Revolutionary War and the ratification of our Constitution. Less than a century later, that hard-won unity came under duress as the United States was engaged in a civil war that threatened the very existence of our Republic. Following the Battle of Gettysburg in 1863, in an effort to unite the country and acknowledge "the gracious gifts of the Most High God," President Abraham Lincoln asked the American people to come together and "set apart and observe the last Thursday of November next as a Day of Thanksgiving and Praise to our beneficent Father who dwelleth in the heavens." Today, this tradition continues with millions of Americans gathering each year to give their thanks for the same blessings of liberty for which so many brave patriots have laid down their lives to defend during the Revolutionary War and in the years since.

Since the first settlers to call our country home landed on American shores, we have always been defined by our resilience and propensity to show gratitude even in the face of great adversity, always remembering the blessings we have been given in spite of the hardships we endure. This Thanksgiving, we pause and acknowledge those who will have empty seats at their table. We ask God to watch over our service members, especially those whose selfless commitment to serving our country and defending our sacred liberty has called them to duty overseas during the holiday season. We also pray for our law enforcement officials and first responders as they carry out their duties to protect and serve our communities. As a Nation, we owe a debt of gratitude to both those who take an oath to safeguard us and our way of life as well as to their families, and we salute them for their immeasurable sacrifices.

As we gather today with those we hold dear, let us give thanks to Almighty God for the many blessings we enjoy. United together as one people, in gratitude for the freedoms and prosperity that thrive across our land, we acknowledge God as the source of all good gifts. We ask Him for protection and wisdom and for opportunities this Thanksgiving to share with others some measure of what we have so providentially received.

NOW, THEREFORE, I, DONALD J. TRUMP, President of the United States of America, by virtue of the authority vested in me by the Constitution and the laws of the United States, do hereby proclaim Thursday, November 28, 2019, as a National Day of Thanksgiving. I encourage all Americans to gather, in homes and places of worship, to offer a prayer of thanks to God for our many blessings.

IN WITNESS WHEREOF, I have hereunto set my hand this
twenty-seventh day of November, in the year of our Lord two thousand nineteen, and of the Independence of the United States of America the two hundred and forty-fourth.

DONALD J. TRUMP
In other political news, here's President Bartlet pardoning a turkey:
As I noted yesterday, today is a day for family, friends, football, food, and adult beverages where appropriate, so let's try to avoid politics today, especially if it's going to lead to an argument. After all, if we're going to hate each other, let's do it over something that matters. Like football, whether it's today's games or the college rivalry games coming up this weekend.
Also in keeping with the season, you can join Charlie Brown and the gang:
So enjoy the day, whereever you'll be. Hopefully, your Thanksgiving won't end up like this:
Feel free to use this post as a holiday open thead.