Harassment Allegations Having Little Initial Impact On Herman Cain's Poll Numbers
So far, Hermain Cain seems to be doing okay in the polls.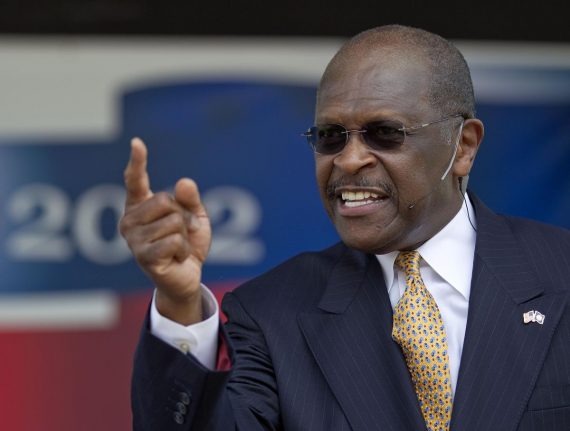 The biggest question about the week-long scandal that has dogged Herman Cain's Presidential campaign has been what impact it would have on his standing in the polls. Based on the ABC News/Washington Post poll released today, the answer seems to be not much so far:
Businessman Herman Cain and former Massachusetts governor Mitt Romney are running nearly even atop the field of 2012 GOP presidential hopefuls, a new Washington Post-ABC News poll shows, with most Republicans dismissing the harassment allegations that over the past week have roiled Cain's campaign.

Seven in 10 Republicans say reports that Cain made unwanted advances toward two employees when he was head of the National Restaurant Association in the 1990s–allegations which have been stiffly rebutted by Cain's campaign–do not matter when it comes to picking a candidate.

But the potential threat to his burgeoning campaign is evident as well, with Cain slipping to third place among those who see the charges as serious, and Republican women significantly more likely than men to say the scandal makes them less apt to support Cain.

The poll was conducted Oct. 31 through Nov. 3, starting the evening after Politico first reported the harassment allegations. Support for Cain was basically steady over the four nights of interviewing, even as new charges against him surfaced.

Nearly a quarter of all Republicans and GOP-leaning independents now back Cain as the party's nominee, his best showing in Post-ABC polls this year, and up significantly from early October. At 23 percent nationally, Cain is neck-and-neck with former Massachusetts governor Mitt Romney (24 percent) atop the GOP field.

"I think [the charges against Cain are] mostly garbage that they throw at people who want to be president," James Kindsch, from Middleton, Wisconsin, said in a follow-up interview.

"I don't believe it," said Paul Bradley from Fishersville, Virginia, adding: "the further in the past they happened, the less accurate they are."

In the poll, a majority of Republicans — 55 percent — see reports of Cain's alleged misconduct as "not a serious matter," and 70 percent say the situation makes no difference in their vote.

At the same time, there is clearly a risk to Cain's campaign should the allegations stick: sizable numbers of Republicans (37 percent) and GOP-leaning independents (42 percent) see the allegations against Cain as serious ones. In this combined group, Romney is well ahead, with 31 percent support. Cain slips numerically into third place, behind Texas governor Rick Perry.

Among the possible beneficiaries of a shift away from either of the two front-runners are Perry, who checks in at 13 percent in the new poll (down from an early September high of 29 percent) and former House speaker Newt Gingrich, who polled at 12 percent, reaching double digits for the first time this fall.

Texas Rep. Ron Paul is at 8 percent, Minnesota Rep. Michele Bachmann at 4 percent and former Utah governor Jon Huntsman, Jr. and former Pennsylvania senator Rick Santorum are both at 1 percent.
This is a significant jump for Cain in the ABC/WaPo poll, but that's mostly because the last poll was taken at the beginning of October when the surge of support away from Perry and toward Cain was just beginning. It was also taken when the speculation about candidates like Chris Christie and Sarah Palin was still running high. However, the numbers are also largely consistent with the numbers we've seen from other polls and, given the initial reaction on the right to the charges against Cain, not entirely surprising. Whether it lasts depends on whether the entirely incompetent manner in which Cain has handled this campaign crisis is something voters consider important.
There are a few other points worth noting here, though. As he has for months now, Mitt Romney remains essentially stable, not rising very much but not falling either. For all his faults, there's still a sizable portion of the GOP electorate that at least is willing to consider voting for him, and that may be all that matters. Rick Perry's numbers in this poll are higher than they were for most of October, which may be a statistical anomaly but may also be an indication that Perry is starting to recover from his disastrous September. And Newt Gingrich seems to be creeping up in the polls, too. If Cain falters and Perry fails to recover, and as improbable as it sounds, we could be looking at the former Speaker of the House as the new conservative rival to Mitt Romney.
This is only one poll, and I'm sure others will be coming out over the weekend and early next week. For the moment, though, it looks like Herman Cain isn't hurting much at all from everything he's had to deal with over the past six days.