Harrassment, Racism, and Reductio Creep
Even innocent interactions with women in public can amount to harassment. Where should we draw the line?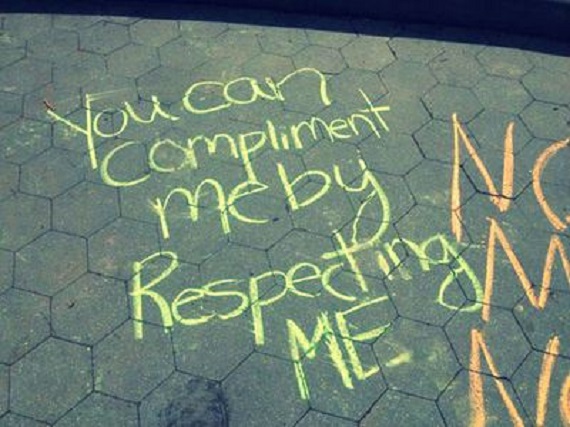 Julian Sanchez makes the quite reasonable argument that we ought to consider the morality of our actions not just in light of whether they "cause harm when considered in isolation; rather, we should also consider whether our actions are part of a system or pattern of similar conduct that in the aggregate causes harm, even if no individual's action makes a perceptible difference to the outcome.  After a setup based on a famous philosophical experiment, he illustrates using a recent meme:
A viral video capturing the staggering quantity of  harassment experienced by a woman walking the streets of New York provides probably the clearest example.  Plenty of what the filmmakers captured involves conduct that would be crass or menacing even taken purely in isolation: following the woman, making lewd comments about parts of her body, and so on.  But some viewers—mostly male, but a few women as well—object that the video unfairly lumps these together with "friendly greetings" or innocuous compliments: "How are you, miss?" or "You're looking lovely today."  And in a very narrow sense, they have a point: When a stranger says something nice about my appearance, as happens maybe once a month, that brightens my day a bit, because I'm not constantly inundated by a stream of comments ranging from innocuous to menacing. The mistake the "friendly" men make is failing to imagine how the context of a hundred other "friendly" (and some markedly less friendly) remarks  may make their own far less welcome than it would be in isolation.
This stands traditional moral views on their head, making us responsible for events and feelings outside or control rather than merely our own actions and intents. But I think Julian is right that, once we're educated on the larger context, we do in fact become responsible for how our own actions are perceived in that light.
Any pairing of intended/unintended and individual/aggregate is logically possible, but unintended/aggregate harms are the trickiest ones to address, because they require people to recognize as culpable conduct that not only wasn't meant to cause harm, but often wouldn't be harmful taken in isolation. What's especially thorny here is that we consider conduct blameworthy only when an actor knows or reasonably ought to know that it is causing harm, either individually or in the aggregate.  A foreign visitor who, like the "Tokyo Breakfast" family, uses an offensive term without realizing that it is offensive is not necessarily a bad person—but is blameworthy if he keeps using it after being told.  When a harm is less obvious, because cumulative or systematic, people may resist changing their conduct because they think it means accepting a negative judgment of their character based on what they did in ignorance.

[…]

The tricky balancing act, then, is getting people to see how their conduct may be harmful, or rather, part of a pattern of conduct that is harmful in the aggregate—without requiring them to condemn themselves for not having acknowledged the harm sooner, since that will often make them resist acknowledging it. Unsurprisingly, those who've seen the harm tend to get tired of this kind of emotional coddling of people who seem to be in denial about what's all too apparent to those on the receiving end—especially when addressing groups comprising a mix of those who don't know any better and straight-up assholes who know but don't care.  It would take more chutzpah than I can muster to counsel infinite patience, but addressing the Harmless Torturers as a distinct group may be the best way to help prevent them from joining the ranks of the assholes.
Again, I agree. Up to a point. It's why, for example, I've long since stopped supporting the display of the Confederate battle flag and more recently come to advocate for the change of the Washington Redskins name and logo despite my belief that most people displaying those symbols mean no harm in doing so. That your affinity for the stars and bars is genuinely rooted in a love for a selective view of Southern culture or that the name "Redskin" conjures up nothing but a storied football franchise in your mind doesn't change the fact that large numbers of people are deeply wounded by those symbols.
Having come of age during a period of rapidly evolving standards for gender relations, I've long been leery of actions of words that might be perceived as sexual harassment or otherwise unwelcome. While I remain keenly aware of how women look, it would never occur to me to catcall or even casually comment on the appearance of a random woman I'm encountering on the streets. Nor would I tell a woman I didn't know to smile. For that matter, that's true of even women I know casually. When a female work colleague compliments me on my dress, I almost never return the compliment. (The qualifier "almost" is there because I've done it a handful of times related to a black tie event, when complimenting a woman on a ridiculously expensive dress and/or formal hairdo strikes me as within bounds.)
But where does one draw the line? Commenter AQ proposes what he thinks a reductio ad absurdum: "It seems to follow from this line of reasoning that it's just never okay for a man to say hello to any remotely attractive woman in public." But Julian counters, "There are obviously lots of contextual nuances here, but that's actually an excellent rule of thumb, yeah." He disengages the thread after that point but is backed up by UserGoogol, who sees and raises AQ's suggestion: "Even more generally, it just seems like a generally good idea to leave people alone. Even setting aside the issues of gender, people have wildly different comfort levels with social interaction. Being talked to by a stranger can be uncomfortable even without any broader social baggage if you're just really introverted. (btw: I am really introverted.) So it would seem like the path to maximizing freedom is to allow people to control what sort of social situations they'll be in."
Being somewhat introverted myself, I don't disagree completely with UserGoogol. I generally like to be left alone by people I don't know and treat others as I'd like to be treated. I'm fairly uncomfortable with forced small talk with people with whom I'm in casual contact, even though with whom I'm in a short, transactional relationship.
That said, I don't know how we can live in a world in which "it's just never okay for a man to say hello to any remotely attractive woman in public." Perhaps the distinction is in the "contextual nuances" that Julian mentions but does not specify in his response. For the most part, I address women I don't know in pretty much the same way I do men I don't know—that is, not at all unless context requires it. So, I'd say hello to the cashier at the supermarket or someone I'm passing in tight quarters regardless of their sex or attractiveness.
A dozen years ago, Julian coined the term "reductio creep" to describe "the process by which an insane extension of some principle, offered as a reductio ad absurdum of that principle, is soon afterwards realized." We've had multiple instances of that in my adult lifetime with regard to race and gender relations, most of which I'm come to accept as the right outcome.
It wouldn't shock me at all if AQ's dictum became the normal expectation, even the law. Indeed, we have perfectly respectable people debating whether we ought to criminalize street harassment. Outlawing "physical and psychological acts that intimidate, exclude, subordinate and reinforce male dominance over women," which I support in the abstract, quickly becomes crazy if we define those terms even in the non-reductio version set forth in Julian's posting.
Even if we restrict the discussion to social norms and leave aside criminalization, surely there has to be room for male-female interaction in public. Even while recognizing that attractive women are constantly being hit upon and find it exhausting, there's a biological imperative at work here. Obviously, overt leering and catcalling are inappropriate. But what about flirtation in cases where there's actual attraction and desire to pursue a more intimate relationship? Is that verboten because there's a good chance it's not reciprocated?
My personal rule of thumb for workplace dating is that it's almost always a bad idea. When introduced to the idea in graduate school two decades ago that women had the right to go through their professional lives without being pestered for dates and otherwise seen as potential mates, it struck me as absurd. But I've largely come to accept that notion as legitimate. The qualifiers here, though, accept the possibility that, attraction being what it is, the possibility remains that men and women who work together will fall in love. So, it seems to me that there ought to be some allowance for bending of the rules in cases where one co-worker thinks another is legitimately a candidate for being their life partner. There are still numerous obstacles, of course, in terms of senior-subordinate relationships, continued pursuit after lack of interest has been conveyed, and the like. But there still has to be some wiggle room in our rule set.
Relatedly, my current girlfriend would not be my current girlfriend if I followed AQ's rule. We met in a professional setting, where both of us were there to work. The relationship grew very slowly, over a matter of months, progressing from extremely subtle to more overt flirtation, longer conversations, and ultimately dating. Only time will tell whether it goes further.
I fully recognize that women in my line of work going to conferences and workshops are hit upon routinely and that many of them dread that fact. Indeed, my girlfriend is hit upon multiple times a day and finds it exhausting. Clearly, the random stranger who hitting on a woman he'll likely never see again is a creep. Ditto the married man hitting on women at conferences with whom he'll never have a meaningful relationship. But the only way I can distinguish between my own actions and those of those I deem creeps are based on my own intentions. And that doesn't pass the "Harmless Torturers" test.
What rule would you suggest to square this circle? Alternatively, should the circle be squared at all? Should the fact that advances by strange men are usually unwanted preclude all advances by strange men? Perhaps our dating activities should strictly be relegated to online dating fora, where both parties have clearly signaled their intention to pursue a romantic relationship and can reject suitors from the physical and emotional safety of the internet?