Harry Reid Considers It His Duty To Spend Your Grandchildren's Money
Harry Reid think it's his Constitutional duty spend other people's money and bring it home to Nevada. His constituents seem to have other ideas this year.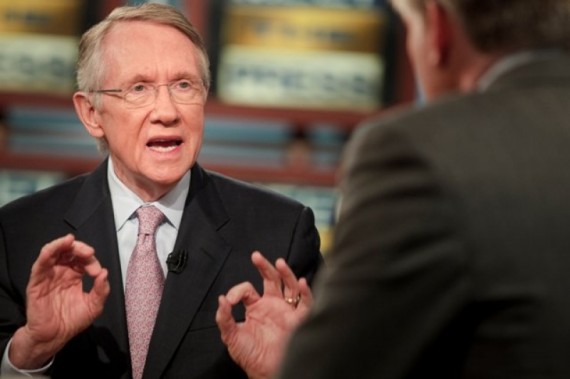 Senate Majority Leader Harry Reid has a rather odd view of what his job as a Senator actually is:
"Part of my constitutional duty is to do congressionally directed spending," he said, pulling out a copy of the Constitution given to him by the late U.S. Sen. Robert Byrd. "I am vigorous in going forward with congressionally directed spending. I fight for it."

In a jab at Angle, who thinks the federal government should be dramatically scaled back and fulfill only those duties expressly enumerated in the Constitution, Reid argued it is his "constitutional duty" to spend federal money.

At a campaign event here Wednesday, Reid paraded local elected officials — Republicans and Democrats — before the assembled media to support his argument that essential federal funding for infrastructure and social programs has flowed to their communities because of his position.
As Jason Pye puts it:
So, it's your "constitutional duty" to spend money that we don't have, putting the burden on the backs of future taxpayers, on unconstitutional programs and pork?
That seems to be what Reid is saying here, and on some level it's not all that surprising to hear him saying it. After all, it's the same kind of bring-home-the-pork message that has worked perfectly well for incumbents such as himself in the past. This year, though, there seems to be something different going on and, while there's much about the Tea Party movement that I find frustrating, I do welcome the fact that voters are paying attention to issues of fiscal responsibility even when it may not be in their short term interest. How long it will last, I don't know, but any small effort to turn back the tide of deficit spending is a good thing.
I'd also note that Reid's comments are a pretty good example of why the Nevada Senate race has been particularly frustrating. There are few Congressional incumbents whose downfall would be more appealing than Reid's, but, for some reasons, the Nevada GOP decided to react to his obvious electoral problems by nominating the one candidate he actually has a chance of defeating, not to mention a candidate that I probably wouldn't be able to vote for myself if I lived in Nevada. I will still be happy to see Harry Reid go down if it happens, but the idea of Senator Sharron Angle doesn't thrill me in the least. Nonetheless, if Nevada voters reject Reid, I'll take that as a good sign overall.