Harvard Tops US News College Rankings
Harvard has overtaken Princeton to retake the top spot in the US News college rankings.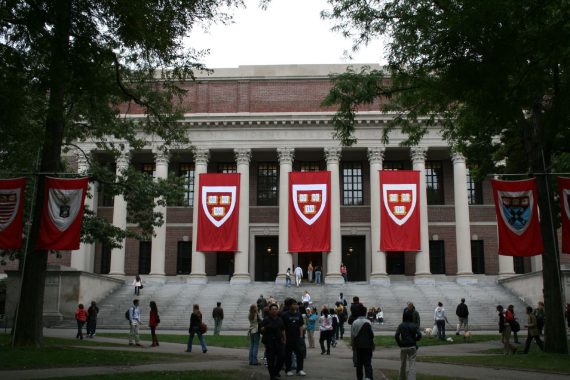 Harvard has overtaken Princeton to retake the top spot in the US News college rankings.
Harvard pulled ahead of Ivy League rival Princeton in the latest edition of the influential U.S. News & World Report university rankings, while a stronger emphasis on graduation rates drove other changes in the Top 10.

[…]

The most closely watched of a growing number of college rankings, the U.S. News & World Report list is both credited for helping students and families sort through a dizzying college selection process and criticized by those who say it's too arbitrary and pressures colleges to boost scores at the expense of improving teaching.

[…]

Most notably, graduation rate performance was given greater weight, accounting for 7.5 percent of the final score for national universities and liberal arts colleges, up from 5 percent last year. The variable is the difference between a school's actual graduation rate and one predicted by U.S. News based on test scores and schools' resources.

[…]

The magazine also publishes a list of "Up and Comers," based on a survey of college administrators who were asked to nominate schools they think are making promising and innovative changes. The University of Maryland-Baltimore County was No. 1 among national universities in that category — and ranked No. 159 overall.
The complete rankings can be found here.
While this will have zero impact on Harvard and Princeton's applications — both schools will continue to attract more extremely qualified applicants than they can admit — it's interesting that there's so much year-to-year movement in the rankings.  The fact that the metrics change constantly is a major explanation, as is the effects of the markets on institutional endowment funds, which are oddly a very large factor.
Regardless, Harvard, Yale, and Princeton have been atop the US News rankings since they were introduced way back in 1983, my junior year in high school.