Has Mad Men Jumped the Shark?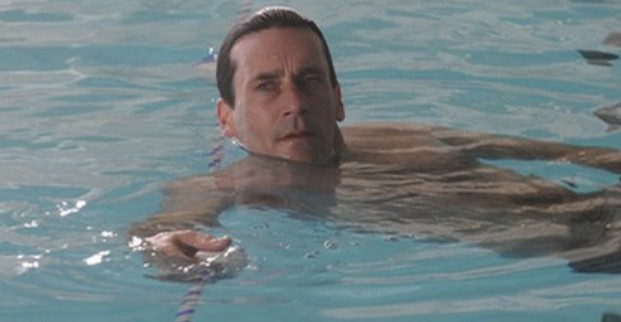 John Swansburg, dialoguing with Michael Agger and Julia Turner over at Slate, offers this amusing theory on a scene from Sunday's season four finale of Mad Men. It contains an incredibly mild spoiler that shouldn't detract from your viewing of the episode if you haven't yet seen it:
Bobby and Sally already have their bathing suits on under their clothes, and prepare to jump in the pool. "I'm going to be a shark!" Bobby declares. The children and Megan try to persuade Don to join them for a dip, but he refuses, claiming he's too beat. Instead, he retreats to his hotel room, where he briefly indulges in one of his signature brooding sessions. But before we know it, he's back at the pool and in his trunks. "Hey, can I throw some herring to you two?" he says, then leaps in.

Rob's impression, formed after a single viewing, was that Don had jumped over Bobby, who at the time was pretending to be a shark. Don jumped the shark! Could it be that the writers of the show were making a very subtle joke? Acknowledging the firestorm that would greet Don's swoon for Megan as well as the difficulty of keeping a series exciting—but not absurd or unbelievable—through four long seasons? I forwarded Rob's e-mail to Julia, who took the theory a step further: If the writers were acknowledging this challenge, might they also be suggesting that they are more than up to it? Julia noted that after plunging into the water, Don proceeds to pick up his son and chuck him through the air. The shark has jumped Don! The Mad Men writers haven't jumped the shark. The shark is their plaything. They own the shark. They can make the shark do whatever they please.
Even Swansburg admits this is a stretch, but it's an amusing conjecture.