Hawaii About To Legalize Same-Sex Marriage: What A Difference 20 Years Makes
The state where the same-sex marriage battle began is just days away from legalizing same-sex marriage.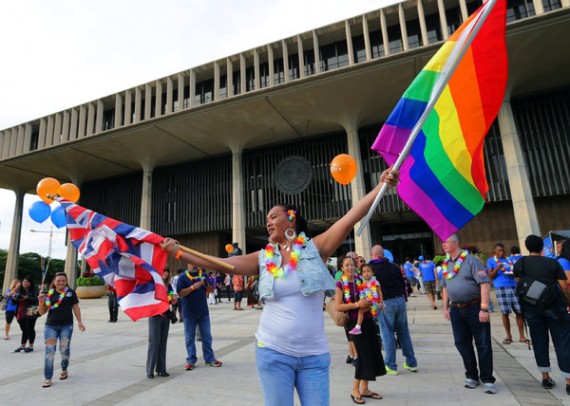 The state where, twenty years ago, the battle for marriage equality can be said to have truly begun, is only a few days away from becoming the 16th state to legalize same-sex marriage:
HONOLULU — When, as most everyone expects, Gov. Neil Abercrombie signs into law same-sex marriage here in the coming days, it may almost seem like a routine event. Hawaii is poised to be among 16 states to approve gay marriage, along with Illinois and shortly after Minnesota, New Jersey and Rhode Island.

But the step in Hawaii has special resonance because the contemporary battle over same-sex marriage was born here two decades ago. Such marriages existed nowhere when Ninia Baehr and Genora Dancel, along with two other couples, filed what seemed like an utterly quixotic lawsuit seeking a marriage license. To near universal shock, Hawaii's Supreme Court granted them a victory in 1993, ruling that a refusal to allow gay and lesbian couples to marry was discriminatory and illegal.

It was the first judicial expression of an idea that soon caught fire across the country and the world.

The ruling prompted a national backlash, with Congress barring federal recognition of same-sex marriage and dozens of states amending their constitutions to define marriage as between a man and a woman, and it was even overruled by Hawaii's voters. But it also opened a huge new front for the gay rights movement, laying the groundwork for scores of legal and political battles ever since.

So when it became clear this week in a raucous special session of the State Legislature that same-sex marriage would finally come to Hawaii, it was the closing of a circle.

"I've got what we Hawaiians call chicken skin — goose bumps," said Daniel R. Foley, now a state judge. As a private lawyer in Honolulu in 1990, he took on the case of same-sex couples seeking marriage licenses after national rights groups had declined it as far-fetched.

On Friday, hundreds of gleeful advocates of same-sex marriage waved rainbow flags at the Capitol while hundreds of opponents shouted "Let the people decide" and sang "God Bless America." Friday night, after a day of emotional debate, the House of Representatives passed the bill to expand marriage rights, making its final adoption next week a near certainty as it heads to the Senate before being signed by the governor.

The 1993 Hawaii ruling spurred advocacy groups to make marriage equality a prime goal. It energized campaigns that would bring the country's first civil unions in Vermont in 2000 and the country's first same-sex marriage vows in Massachusetts only nine years ago.

"The case in Hawaii launched the global movement for the right to marry," said Evan Wolfson, president of Freedom to Marry, based in New York, and a longtime strategist on the issue who became co-counsel with Mr. Foley in the follow-up litigation.

Mary L. Bonauto, another legal advocate for same-sex marriage, said that "Hawaii really encouraged people on the marriage issue; it showed that a court can get it."

Today, more than 30 lawsuits in at least 20 states are testing marriage restrictions in what Ms. Bonauto, a project director of Gay and Lesbian Advocates and Defenders, in Boston, called an "explosion in litigation." They include challenges to state amendments barring same-sex marriage in Nevada and Virginia, demands that Texas grant divorces to same-sex couples married elsewhere and a suit to be decided soon in New Mexico arguing that same-sex marriages are permitted by state law.

For Steven H. Levinson, the State Supreme Court justice who wrote the 1993 opinion in Baehr v. Lewin, it is a moment of reckoning. He looks back on his failure to grasp the forces that were unleashed.

The few previous suits pushing for same-sex marriage in other states "had been laughed out of court," Mr. Levinson recalled. "I soon realized that this opinion was going to be major."

"But I was naïve about how the Baehr decision would be received," he said between meetings this week at the State Capitol, where in retirement he has helped campaign for the long-elusive legislative victory.
And the reaction was indeed quick and severe. Withing three years after the Hawaii Supreme Court decision, Congress overwhelmingly passed, and President Clinton signed into law, which both defined marriage as only being between a man and a woman for purposes of Federal Law and permitted states to refuse to recognize a same-sex marriage that may be considered legal in a sister state. Two years after that, voters in Hawaii approved a Constitutional Amendment that gave the state legislature the authority to ban same-sex marriage notwithstanding the decision by the State Supreme Court. Then, in rapid succession, states began passing bans on same-sex marriage either via legislation or Constitutional Amendment, in each case by overwhelming margins that reflected the fact public opinion largely disapproved of same-sex marriage. In 2004, the numbers of states that had such referenda on their ballots in the November election led many to conclude that they attracted a more conservative electorate to the polls that helped re-elect George W. Bush, especially in states like Ohio. By the time North Carolina approved its own Constitutional ban on same-sex marriage in 2012, 36 states had passed bans on marriage equality. It wasn't apparent at the time, but that would turn out to be the high water mark of the opposition to marriage equality.
Just ten years after the decision by Hawaii's highest Court, the Supreme Judicial Court of Massachusetts issued a ruling legalizing same-sex marriage, thus making that state the first in which gays and lesbians could legally marry. Slowly but surely, other states began to follow. In 2008, the Supreme Courts of California and Connecticut legalized same-sex marriage. In California, this resulted in push back in the form of Proposition 8, a referendum that overturned the state Supreme Court's ruling but which would be immediately challenged in Court and, eventually, make its way to the United States Supreme Court. The Connecticut decision stood, however, and New England soon became the center of the movement to bring about marriage equality. Vermont became the first state to legalize same-sex marriage via legislation in 2009, and it wasn't long before Maine and New Hampshire followed in their neighbors footsteps. Elsewhere in the country, the Iowa Supreme Court issued its own decision in 2009 legalizing same-sex marriage, and the government of the District of Columbia did so in later in that year. At the same time, this was going on, many states around the country began bowing to the inevitable by creating civil unions that essentially granted gays and lesbians most if not all of the same legal rights as a married couple.
It wasn't until 2012, though, that the real push back in favor of marriage equality began. In quick succession, same sex-marriage was legalized in three states on Election Day that year, and just  months later in the early part of this year, three more states accomplished the same thing via legislation. Then, of course, we had the Supreme Court's twin decisions on DOMA and Proposition 8 this past June, the Court decision in New Jersey and Governor Christie's decision to drop what would have ultimately been a doomed appeal and, just a few days ago, the final legislative approval of a bill legalizing same-sex marriage in Illinois.
Now, after two decades, the battle has come full circle back where it all started in Hawaii. This time, though, the political and social climate is far different than it was 20 years ago. As has been remarked here at OTB several times in recent years, it's perhaps the most significant and rapid change in public attitudes on such a far reaching social issue that we've ever seen in the United States and it shows absolutely no sign of being reversed. Of course, as I remarked earlier this week, the battle is going to become a longer slog after this as attention will likely shift to Court battles that, by their very nature, are going to take time. Nonetheless, the direction the nation is moving on this issue is clear and, eventually, I'm convinced we'll even see states like Texas, Mississippi, and Alabama recognizing the right of gays and lesbians to matter, especially now that it's reaching the point where 1/3 of the nation will be living in states were marriage equality is a fact of life. Slowly but surely, people will see that all of the fear mongering that opponents had been engaging in for the past twenty years turned out to be a massive deception and that their really is no logical argument against treating gays and lesbians as being equal to their fellow Americans when it comes to this most intimate of human relationships.