Here's an Idea (Electoral College Edition)
Why even have an electoral college?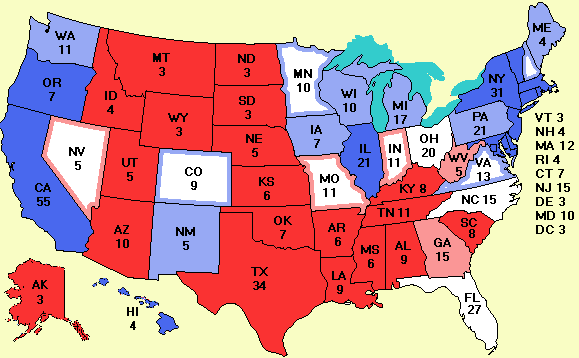 I see that Doug Mataconis and James Joyner have already commented on the report about a plan afoot in Pennsylvania to change the way the state allocates its electoral vote.  It has been a busy day and I have not had time to fully digest the proposal and the responses thereto, but I do have an immediate response to the general issue that strikes me as necessary and to the point, and it is as follows.
Here's an idea:  why don't we just vote for our preferred candidate, cut out the middle men and women of the electoral college, and directly elect the president?  We might even toss in a majority requirement so that the winner comes to office guaranteed to have support of at least half the voters.  Such a concept:  electing the president based on the direct consent of the governed!
Or, we could continue to use a system that does not work as intended.  As such, I disagree on one level with Doug's assertion "if it ain't broke, don't fix it" for while I understand why he says it, the truth of the matter is 1) we really do not use the system the way it was designed (or that worked the way the Framers assumed it would), and 2) the system as currently utilized creates any number of serious distortions (such as over emphasizing some states, such as Florida, whilst marginalizing others, like California and Texas among a list of others).  Of course, such a discussion requires a longer post than I am prepared to write at the moment).  Further there really is no solid rationale for the electoral college  (although we do engage in a lot of rationalization because, well, it is in the Constitution, so it has to be good, right?).
I will leave it with this:  why are we so afraid of representative democracy?
And, if one thinks that it is to the advantage of one's party to create a system that subverts majority will, what does that say about the party in question?