Herman Cain and Jesus the Conservative
Cain (like a lot of people) is confused about what the words "conservative" and "liberal" mean.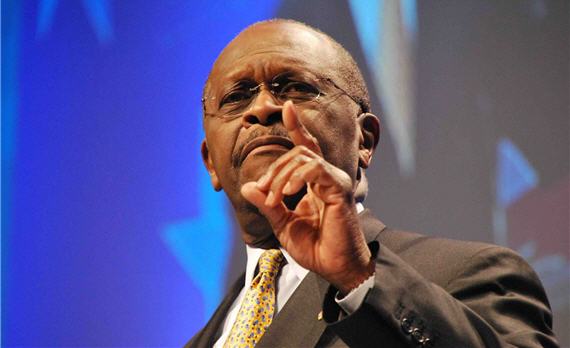 I sometimes think that two of the most abused words in American politics are "liberal" and "conservative."  Two recent posts here at OTB have focused my attention on this fact.  For example, James Joyner's post, Moving Goalposts of American Conservatism, underscores the way these terms can become political footballs (to extend James' title metaphor).
Another post, Doug Mataconis' Herman Cain: Jesus Christ Was "The Perfect Conservative" Convicted By A "Liberal Court" provided such a perfect example of how the terms are improperly deployed.  Cain's exposition on Jesus of Nazareth is intriguing (to be kind) for a variety of reasons (and Doug has a lengthy excerpt at his post).  Let me provided just the following:
The liberal court found Him [Jesus] guilty of false offences and sentenced Him to death, all because He changed the hearts and minds of men with an army of 12.

His death reset the clock of time.

Never before and not since has there ever been such a perfect conservative
I don't know that I have ever seen as egregious misuse of the terms "liberal" and "conservative."
Really, this isn't all that complicated, as the basic definitions of the terms in question are as follows:
A liberal perspective is founded in the proposition that positive change can be brought about by the application of reason to a specific situation.  Such actions can allow for steady, progressive change.  In short:  human beings can figure out how to make life better and as those things are figured out, they can be put into practice.
A conservative perspective assumes that there are serious limitations to the application of reason to solve large, social problems and therefore it is better to rely on tradition and the test of time.  The bottom line to all of this is that a conservative perspective assumes that applied reason cannot account for all of the implications of its proposed changes, and the more rapid and comprehensive proposed changes are, the more likely that unintended consequences will occur. It is best, therefore, to take it slow and respect the tried and true.  After all, if a given practice, policy, or institution has persisted for as long as it has, this proves its viability and properness, yes?
Change may come, but only slowly and only if it happens in the context of these established institutions evolving on their own within the confines of actual human interaction rather than attempts by individuals to force change.  In short, experimentation is dangerous because we really don't know how it will turn out.
This is why, in the mission statement of National Review, William F. Buckley famously proclaimed that the "It [NR] stands athwart history, yelling Stop…"
Another definition, while we are at it:  a radical seeks deep and rapid change to an existing order.
Having provided some basic definitions, let's go back to Cain's usage of the terms.
Was Jesus of Nazareth seeking to maintain existing traditions and institutions within Judaism?  Clearly not.  Indeed, his claims and teachings were not only not conservative, they were not liberal.  Rather, they were clearly radical.  Regardless of one's theological predilections, this ought to be crystal clear.
What about Cain's "liberal court"?  Well, that was the Sanhedrin, which was made up of members of the clerical class whose power, by definition, was traditional in nature and whose goals where profoundly conservative:  they wanted to combat the assertions of the radical, Jesus, and to preserve their understanding of the teachings of Judaism (not to mention their own power).  If, by the way, Cain was referring to Jesus' trial before Pontius Pilate, the "liberal" claim fails as well.
Now, I understand that the terms liberal and conservative are often used loosely and amorphously in the vernacular of American politics, but some applications are sloppy and unclear and others are blatantly incorrect.  Cain's application in this case fall rather definitively into the latter category.
Beyond just correcting Cain, however, I do think that we, as a population need to think about what these terms actually mean (both in a conceptual sense, but also in a practical political one).  Rather than representing coherent worldviews or philosophical bases, it seems to me that most people who deploy the terms use them like names of a football team ("let's go liberals!").  This is ultimately not helpful.