Herman Cain Doubles Down On His Muslim Loyalty Oath Idea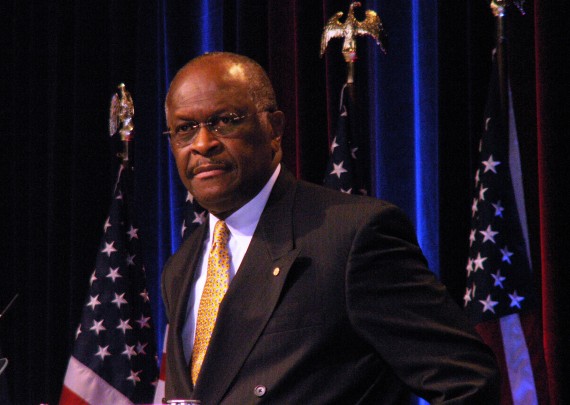 Last night on CNN's John King USA, GOP Presidential candidate Herman doubled down on his previous statements that Muslims would have to prove their loyalty to the Constitution before he would appoint them to a government position:
GOP presidential candidate Herman Cain stood firm Friday on his promise to make Muslims prove loyalty to the U.S. Constitution before appointing them to his administration – a test, he has said, that would not apply to people of other faiths.

The former CEO of Godfather's Pizza denied that the proposed test is a form of discrimination when pressed Friday by CNN's John King.

"That's not discrimination. It's called trying to protect the American people," Cain said. "This nation is under attack constantly by people who want to kill all of us, so I'm going to take extra precaution."

In March, Cain made headlines when he told a Think Progress blogger that he would feel uncomfortable appointing a Muslim as a member of his cabinet or as a federal judge. And while speaking on Fox News on Wednesday, he said there was a "greater dangerous part of the Muslim faith" than other religions.

Cain told King on Friday that he would be comfortable with a Muslim serving in office only if he could gauge the person's sense of loyalty through a one-on-one conversation.

"I never said I would discriminate against Muslims or any other religion for that matter, but I am going to take extra precautions if a Muslim person who is competent wants to work in my administration," he said.
Cain stood by this position even when King pointed out that the Constitution forbids religious tests. He also does not seem to be aware of the fact that all people in positions of trust in the Federal Government are required to take an oath to preserve the Constitution. Why he believes that a Muslim who is secretly radically wouldn't lie to him, or take an oath they don't actually believe in, is beyond me.
People who say stuff like this simply cannot be taken seriously, and religious intolerance of any kind doesn't belong the political arena.
Here's the video: