Herman Cain Flunks The Commander In Chief Test
Last night, Herman Cain established that he simply isn't prepared to be Commander in Chief.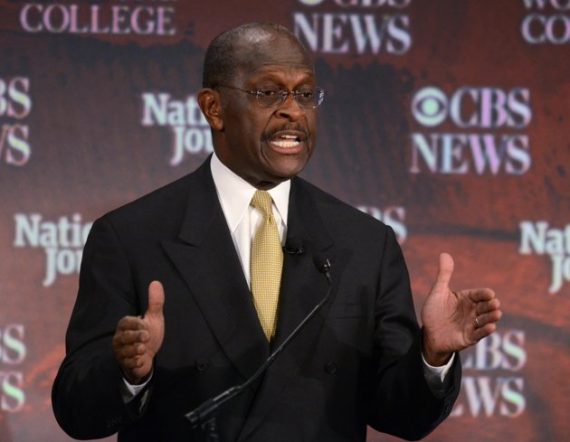 Byron York gives Herman Cain a failing grade for his performance at last night's foreign policy debate:
At the very first Republican presidential debate, on May 6 in Greenville, South Carolina, a virtually unknown candidate named Herman Cain was asked what he would do in Afghanistan if he became president.  Cain famously said he didn't know, because "it's not clear what the mission is."  Cain explained that he would form a policy as president only after consulting military commanders and experts.

Fast forward six months to Saturday night and another debate in South Carolina, this one at Wofford College in Spartanburg.  Cain, now the frontrunner, or at least co-frontrunner, for the Republican nomination, was again asked about Afghanistan — this time what he would do about attacks on U.S. forces coming from Pakistan. And again he didn't know, repeating his plan to rely on military commanders and experts.

"That is a decision that I would make after consulting with the commanders on the ground, our intelligence sources, after having discussions with Pakistan, discussions with Afghanistan, and here's why," Cain said.  "It is unclear where we stand with Afghanistan…as president, I will make sure that the mission is clear and the definition of victory is clear."

Earlier in the debate, Cain was asked a more general question about his oft-stated intention to listen to U.S. commanders on the ground.  Would those commanders always be right?  "How will you know when you should overrule your generals?" asked CBS moderator Scott Pelley.  Cain said he would hire good staff people to help him make decisions.  "The approach to making a critical decision, first make sure that you surround yourself with the right people," he said.  "And I feel that I'll be able to make that assessment when we put together the cabinet and all of the people from the military, et cetera."

Finally, when asked about the Bush administration's "enhanced interrogation techniques," which critics called torture, Cain said that while he did not approve of torture, "I would trust the judgment of our military leaders to determine what is torture and what is not torture."
So Herman Cain's basic answer on foreign policy is that he doesn't really know much himself, but that he'll hire people who will tell him what to do. There is so much wrong with that statement that I don't even know where to begin.
First of all, being Commander in Chief means that you're the one who makes the decisions, not the advisers. As I noted when I wrote about this earlier this month, it's inevitable and expected that a President will select advisers and experts to assist him, especially in an area as complicated as military and foreign policy. There's nothing wrong with that and, in fact, one would hope that a President would select "the best and the brightest," to borrow a phrase from David Halberstam, to work with him. In the end, however, it is the President him or herself who makes the decisions and it strikes me that a President whose answer to every question about the most important item in his portfolio is "I'll talk to my advisers" isn't what this country needs. It's just as important that the President know when to disagree with the people advising him, or what questions to ask them. Cain's response that he'd know when to question his generals by listening to other advisers is the most absurdly lazy kind of thinking I think I've ever encountered in a Presidential candidate. If all the Presidency was is input box for the opinions of experts, then we may as well just make a computer President and let the advisers program the computer, because that's all that Herman Cain is saying he'd be doing.
The second problem with Cain's answer is that, even if you accept his answer, it is manifestly evident that both his judgment and his ability to appoint advisers and managers cannot be trusted. One need look no further than the person of Mark Block, Cain's "Chief of Staff" to see this. In addition to overseeing a wholly incompetent response to the sexual harassment charges leveled against Cain, Block has on two occasions falsely accused people of leaking information related to those charges. He is also at the center of what has the potential to be a very serious campaign finance/IRS violation during the early days of the Cain campaign, which isn't surprising considering he was once suspending from doing political work in Wisconsin for, you guessed it, campaign finance violations. Despite all of this, the Cain campaign has said Block will not be fired. In addition to Block, there's Communications Director J.D. Gordon who has been a complete disaster over the past two weeks. If this is an indication of the kind of advisers that Cain will hire were he to become President, then it's fairly obvious that his judgment cannot be trusted.
If there were any justice in the world, Cain's performance last night would send him toward the bottom of the polls where he belongs. As York notes at the end of his piece, though, that might not happen right away mostly because Cain's support has mostly come from his stance on domestic issues and things like the 9-9-9 plan. Nonetheless, this was not a good debate for Herman Cain and, just eight days from now, there will be another debate in Washington, D.C. that will also solely focus on foreign policy. Once again, he'll be pushed to the sidelines simply because he doesn't know very much, and what he knows is so very, very, wrong.