Herman Cain: New Republican Frontrunner?!
Herman Cain is leading Mitt Romney in two respected polls.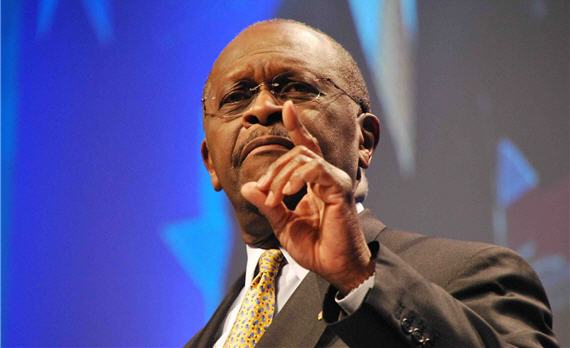 When Taegan Goddard pointed to a new Public Policy Polling survey showing Herman Cain leading Mitt Romney 30 to 22 in the race for the Republican nomination for president, I was dismissive.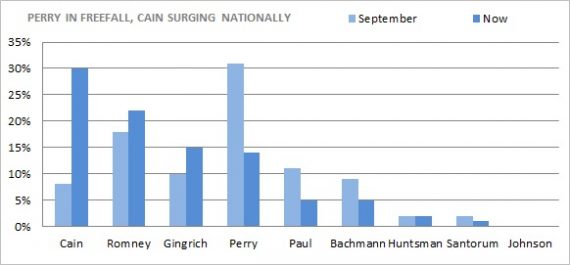 Yes, PPP is a well respected firm. Additionally, they applied a likely voter screen, which tends to be more useful than traditional early media polls, which look at registered voters or, in many cases, simply adults. But they were an extreme outlier. As I pointed out to Michael Cohen, "They have Cain at 30; no one else has him above 18. And Gingrich at 15; no one else has him above 9."  My guess was that this was simply the one case out of twenty that falls outside the confidence interval–that is, a random fluke.
Well, another shoe has dropped: The MSNBC/Wall Street Journal poll was just released, also showing Cain in the lead.
Fueled by Tea Party supporters, conservatives and high-interest GOP primary voters, former Godfather's Pizza CEO Herman Cain now leads the race for the Republican presidential nomination, according to the latest NBC News/Wall Street Journal poll.

And in yet another sign of how volatile the Republican race has been with less than three months until the first nominating contests, the onetime frontrunner, Texas Gov. Rick Perry, has plummeted to third place, dropping more than 20 percentage points since late August.

"Cain is the leader … That's the story," said Democratic pollster Peter D. Hart, who conducted this survey with Republican pollster Bill McInturff.

But McInturff cautions that Cain's ascent — and Perry's decline — is probably not the last shakeup in a GOP race that has seen a series of sudden rises and abrupt falls (first Donald Trump, then Minnesota Rep. Michele Bachmann and now Perry) in the field.

"There is still a long, long, long time to go," McInturff said.

Cain checks in as the first choice of 27 percent of Republican voters in the poll, followed by former Massachusetts Gov. Mitt Romney at 23 percent and Perry at 16 percent. After those three, it's Texas Rep. Ron Paul at 11 percent, former House Speaker Newt Gingrich at 8 percent, Bachmann at 5 percent and former Utah Gov. Jon Huntsman at 3 percent.

In the previous survey, conducted in late August, Perry led the field at 38 percent, Romney stood at 23 percent, while Cain was at only 5 percent.
In the interests of full disclosure for new readers, McInturff is the managing partner of the firm that employs my wife. Additionally, as I've noted before many times, another of the firm's founding partners, Neil Newhouse, is Mitt Romney's lead pollster. (And, no, I don't get or want to get any inside scoops on the polls. My wife is the COO and runs the day-to-day business side of the firm and is only tangentially involved in polling.)
This makes two polls in a row in the RealClearPolitics poll of polls showing Cain in the lead. One is a fluke. Two is a trend. (Although the latest Reuters/Ipsos poll, not yet included in the RCP list, has Romney ahead of Cain 23 to 19, with Ron Paul at 13 and Rick Perry at 10.)
Clearly, either my pronouncement this morning that the latest debate made Romney the clear frontrunner was either premature or these results reflect a lag in polling–that is, they were taken after the previous debate but before last night's debate could be factored into the results. Perhaps both are right.
There's little doubt that Romney's frontrunner status–if it can be called that–has been uneasy. Few, myself certainly included, are wildly enthusiastic about him. Several–Michele Bachmann, Donald Trump, Rick Perry, and non-candidates Sarah Palin and Chris Christie–have worn the mantle of the Not Romney candidate. It's clearly Cain's turn.
No major party in modern American history has nominated someone whose resume doesn't include previous stints as President, Vice President, US Senator, Governor, or general for the presidency. I don't expect Cain to break that streak. But it's probably a little early to consider this race in the bag for Romney quite yet.
UPDATE: An alternative explanation, "Stacy McCain was right," strikes me as wildly implausible.