Herman Cain Now Says He Might Sue Politico
When in trouble, sue the messenger.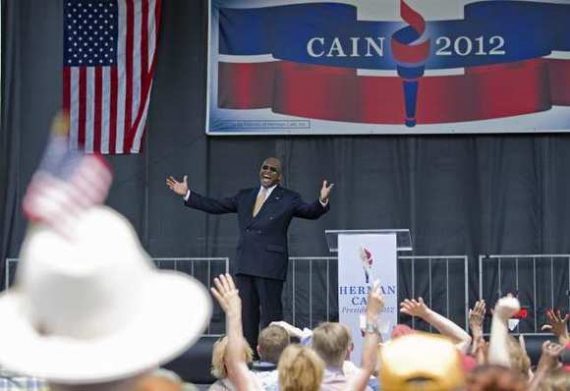 With his week long gaffetastic response to Sunday's Politico report about sexual harassment allegations in the 90s behind him, Herman Cain is apparently now considering whether he should sue Politico for publishing a story that Cain himself, and subsequent reports, have largely corroborated:
A Herman Cain aide said Thursday that the Cain campaign is considering its legal options over the original Politico story, which revealed that the former head of the National Restaurant Association was accused of sexually harassing at least two women during his tenure in the 1990s.

"This is likely not over with Politico from a legal perspective," a campaign official told the Post, stopping short of explaining what exactly he meant by taking legal action against the publication.

The Cain campaign has had an attorney advising it since Saturday on crisis management, which hasn't gone particularly well for Cain since the story broke Sunday night.
It's really hard to see how Cain could possibly have a credibly legal claim in this matter. Politico reported on Sunday that there had been internal complaints made at the National Restaurant Association by female employees who said they had been sexually harassed by Herman Cain. It also reported that those claims were investigated and eventually settled. In the original article, the description of the alleged behavior was fairly, perhaps purposely given the fact that there are Confidentiality Agreements in place, vague and the article never makes the conclusion that Herman Cain ever actually did anything wrong. Initially Cain and his campaign denied all of this, but he's now admitted that he was aware that at least one of the claims had been made. We also have corroboration from The New York Times and Politico regarding the amount of the settlements in the two cases, $35,000 and $45,000 respectively and we've learned some of the apparent details of the allegations themselves from Pajamas Media and Politico.
The only conceivable claim that Cain could possibly assert against Politico would be libel, and if he could prove that what they reported was false then he'd have a chance of winning. As discussed above, though, the essence of Politico's original report has already been established to be true. There were claims made against Herman Cain when he was the CEO of the National Restaurant Association relating to sexual harassment and those claims were settled. In libel cases, truth is a complete defense. So, it would seem that Cain's claims are completely foreclosed.
Even if there were doubts about the truth of the Politico story, though, any potential claims Cain might have would be made more difficult by virtue of the Supreme Court's holding in New York Times v. Sullivan, where it set forth an incredibly high standard for public officials pursuing a claim of libel or defamation related to their official conduct:
A rule compelling the critic of official conduct to guarantee the truth of all his factual assertions — and to do so on pain of libel judgments virtually unlimited in amount — leads to a comparable "self-censorship." Allowance of the defense of truth, with the burden of proving it on the defendant, does not mean that only false speech will be deterred. Even courts accepting this defense as an adequate safeguard have recognized the difficulties of adducing legal proofs that the alleged libel was true in all its factual particulars. See, e.g., Post Publishing Co. v. Hallam, 59 F. 530, 540 (C.A. 6th Cir. 1893); see also Noel, Defamation of Public Officers and Candidates, 49 Col.L.Rev. 875, 892 (1949). Under such a rule, would-be critics of official conduct may be deterred from voicing their criticism, even though it is believed to be true and even though it is, in fact, true, because of doubt whether it can be proved in court or fear of the expense of having to do so. They tend to make only statements which "steer far wider of the unlawful zone." Speiser v. Randall, supra, 357 U.S. at 526. The rule thus dampens the vigor and limits the variety of public debate. It is inconsistent with the First and Fourteenth Amendments. The constitutional guarantees require, we think, a federal rule that prohibits a public official from recovering damages for a defamatory falsehood relating to his official conduct unless he proves that the statement was made with "actual malice" — that is, with knowledge that it was false or with reckless disregard of whether it was false or not.
As a candidate for President of the United States, Herman Cain is clearly a "public figure" as that term was defined in Sullivan and the cases that followed it. That means he would have to prove to a jury not only that the facts set forth in the Politico report were untrue, but also that Politico and its reporters published their story with the knowledge that the story was  false or with reckless disregard as to its truth. That's an incredibly high standard to meet and, given the sourcing in the story, probably impossible. In fact, I'd imagine that this is the kind of story that went through several levels of legal and editorial review before it was allowed to go public, just for these reasons. In other words, the Cain campaign's legal threats are meaningless nonsense.
Beyond the legal issues though, one has to wonder about a candidate for President whose response to a press report that he doesn't like is to say "I'm gonna sue." It's a sign of arrogance and disregard for free speech that people ought to find disturbing. In the end, I seriously doubt Cain would actually sue over this, mostly because a lawsuit would result in whatever the details behind this story are becoming public, but the idea that he'd even consider it is more than a little offensive.