Herman Cain: Rising Star, Or Flash In The Pan?
Herman Cain is getting a lot of attention lately, but will he amount to anything?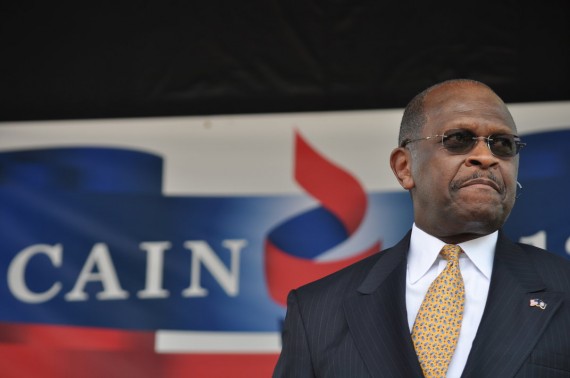 As Steven Taylor noted last week, there's a lot of attention being paid lately to Herman Cain, the former Godfather's Pizza CEO and failed candidate for U.S. Senator from Georgia who is now running for President of the United States. Yesterday, The Washington Post became the latest major media outlet to take a look at Cain's candidacy and his background. It was a fairly positive piece, but it's worth noting that it ran on Memorial Day, likely not a day when many people are reading the news, and the article was published in the papers Style Section, not with it's regular political coverage (although it did show up in a fairly prominent place on the front page of the Post's website for most of the day yesterday).  Clearly, a reflection of the fact that they aren't really seeing Cain as a true contender for the nomination.
Nate Silver, however, argues that Cain should possibly be taken more seriously:
I would not suggest that Mr. Cain is one of the leaders. But in a field where the three insider favorites to win the race — Mitt Romney, Tim Pawlenty, and Jon Huntsman — collectively poll at just 25 percent, and where some Republicans seem to be pining for an outsider (perhaps even outside-the-box) choice, he's the freshest face. Although his credentials as an elected official are obviously nonexistent, that also means he has less baggage to run from.

Mr. Cain seems to be taking his bid seriously, unlike (for instance) Donald Trump. Polls like these ought to ensure that he gets at least a fair amount of media attention, assuming the press is doing its job properly.

He has good chance of having some influence on the race — perhaps like Mike Huckabee in 2008, a candidate with whom he shares some similarities. And I don't think the possibility that he could actually win the nomination can so easily be dismissed. The argument that you're likely to hear elsewhere is that candidates without an electoral track record haven't won the nomination in the modern (post-1972) primary era. But it's a small sample size, and some or another precedent is broken in nearly every election cycle.
Jonathan Berenstein takes issue with Silver, however, and points out that the recent history of Presidential candidates who have never held electoral office before does not bode well for Cain:
As far as Cain, however…the point isn't really that "candidates without an electoral track record haven't won the nomination." It's that they haven't really come close. The best showings by candidates who hadn't been elected to anything were, if I recall correctly, Jesse Jackson's campaigns in 1984 and 1988; Steve Forbes in 1996 and 2000; and Pat Buchanan in 1996 (and, I suppose, 1992). I certainly wouldn't count Wes Clark's 2004 campaign; military heroes, of course, have a long history of winning nominations. I suppose Pat Robertson in 1988, too.

Not only did Jackson, Forbes, Robertson and Buchanan never get particularly close to winning, but none of them is really a good comp for Cain. Jackson was a national figure, and a leader of an important constituency within the Democratic Party, long before running for president. Robertson was basically similar. Buchanan was well-known, and had worked in two White Houses. Forbes is perhaps a closer fit, but he had instant name recognition, if nothing else. Cain has none of that.
Indeed, it is worth noting that, in modern American history, the only candidate who had never held elected office who ended up winning the White House who wasn't a General (i.e., Eisenhower) was Herbert Hoover. Hoover, however, had spent eight years as Commerce Secretary to President Harding and President Coolidge and had made a name for himself as an engineer and humanitarian before that. In fact, other than Hoover, the only other person without electoral experience who was not a General to be elected President was William Howard Taft. However, Taft had been a United States Appeals Court Judge, Solicitor General, Provisional Governor of Cuba, Civil Governor of  The Philippines, and Secretary of War prior to being elected President in 1908. To put it bluntly, the American people don't elect amateurs or people without some kind of electoral track record to the Presidency. This argues strongly against someone like Cain, for the reasons Bernstein notes.
The main problem that Cain faces it seems to me, though, is the fact that he's competing for a limited amount of voters with people who are likely to be better organized than he is. Michele Bachmann is likely to get in the race in the next week or two. Tim Pawlenty is already in and is, if nothing else, running a professional, well polished campaign so far. And then, there's Sarah Palin. If she gets in the race, then the competition for the social conservative/Tea Party vote, which is where Cain seems to be drawing most of his support, will become even more intense. A candidate who is relatively unknown is likely to get lost amid the media coverage of "stars" like Bachmann and Palin.
Cain is getting a lot of attention now precisely because most people had never heard of him before. We see this frequently in Presidential campaign when a long-shot candidate who may have an interesting story gets some media attention and, maybe, a bump in the polls. It never lasts, however. The first test of just how serious this Cain boomlet is will come in mid-July when the first round of fundraising reports is released. If Cain isn't pulling in money, then you can take that as a sign that  Republicans may like what they hear, but they aren't willing to invest in a candidate who likely won't be a factor in the race by the time the Iowa Caucuses roll around.