Herman Cain Says Jon Stewart Made Jokes About Him Because He's Black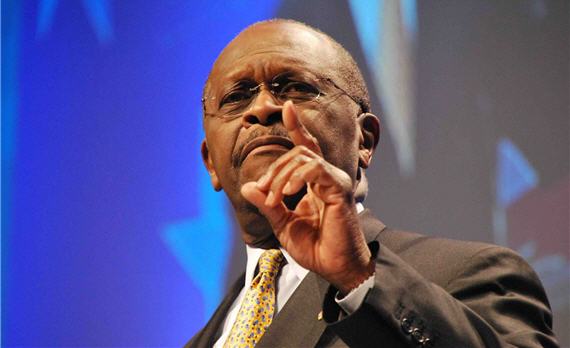 You may recall that, several weeks ago, Herman Cain said during a campaign appearance in Iowa that he wouldn't sign a bill that was longer than three pages. It was, as I noted at the time, a silly idea, and Jon Stewart rightly mocked it a few days later:

Now, Herman Cain tells supporters that Stewart had racial motivations behind the joke:
I did an interview on Sean Hannity's show on the way over here. I had been traveling the campaign so much I did not hear what Jon Stewart said on Chris Wallace's Sunday morning show last Sunday. Where he was mocking my three page bills. Did you see that show? And then he mocked me with a, you know, Amos and Andy type brogue. And Sean said you didn't see that? And I said no Sean, I didn't see that, I'm out campaigning. And so they played the clip. And I said well Sean first of all if he really thinks that I'm serious about a bill only being three pages the joke's on him. And I said secondly, as far as him mocking me, look I've been called every name in the book because I'm a conservative, because I'm black.

Sticks and stone may break my bones, words are not going to hurt me. I was on that radio show because a happen to be an American black conservative. I labeled my self. I'm an American Black Conservative, an A-B-C. They keep trying to put labels on me. I have been called "Uncle Tom," "sell out," "Oreo," "shameless." So the fact that he wants to mock me because I happen to be a black conservative, in the words of my Grandfather, "I does not care. I does not care."
You know, I'm sure that some people have treated Cain like that because he happens to be a black conservative. It's happened before to people like Thomas Sowell, Walter Williams, J.C. Watts, Clarence Thomas, and Condoleeza Rice. However, Cain's suggestion that there was something racial behind Stewart's jokes about an idea that Cain himself now admits was just a joke is both silly and stupid.