Herman Cain Won't Be President and That's a Very Good Thing
The former pizza executive is a smart guy. But he's not fit to run the country.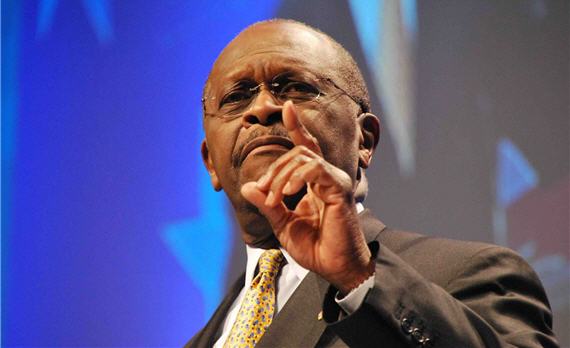 Writing a weekly column in the age of Twitter means being woefully behind the news cycle. But Peggy Noonan gets it just right on Herman Cain's infamous Libya flub:
Mr. Cain's famous version of the brain freeze this week wasn't really that, a brain freeze. It was more like a public service. Because he was showing us a candidate for the presidency of the United States desperately trying to retrieve a soundbite and not even trying to hide the fact that he was trying to retrieve a soundbite. Because we're kind of all in on the game, and it is a game, right?

The reporter asked him if he agreed, in retrospect, with President Obama's decisions on Libya. Mr. Cain said, "OK, Libya." Ten seconds of now famous silence ensued. Then: "I do not agree with the way he handled it for the following reasons." Another pause, and then: "Um, no, that's a different one."

He was saying: That's a different soundbite.

Later, with an almost beautiful defiance, Mr. Cain told the Milwaukee Journal Sentinel: "I'm not supposed to know anything about foreign policy." That's what staffers are for. "I want to talk to commanders on the ground. Because you run for president [people say] you need to have the answer. No you don't! No you don't!"

Yes you do. It was as if history itself were unknown to him, as if Harry Truman told Douglas MacArthur, "Do what you want, cross the Yalu, but remember to tell me if we invade China."

As for the commanders on the ground, Mr. Cain clearly doesn't know something crucially important about modern American generals: that they tend to be the last to want to go to war and the last to want to leave. They're the last to want to go to war because they know what war is—chaos, destruction, always "a close-run thing." And they know the politicians who direct them to go to war often don't know this, or know it fully. But once action has been taken—once they've fought, seen their men die, planned, executed, taken and held territory—generals tend to counsel against leaving. Because they've worked with the good guys and seen the bad guys, and know what they'll do on our departure.

A candidate for president ought to be at least aware of this dynamic, and many other dynamics, too. To know little and to be proud of knowing little is disrespectful of the democratic process, and of the moment we're in.
Quite right. My only solace, as I explained in great detail yesterday, is that this slow moving train wreck is serving its role nicely: Herman Cain will not be the Republican nominee, much less our next president.
On the matter of not needing to know much about policy because experts have all the answers, Alex Knapp covers that nicely in a recent piece at his new gig at Forbes: "Your Search Results Are Only As Good As Your Knowledge."
A couple of years ago, there was a spate of articles talking about how Google and the Internet can act as a sort of "outsourced memory" so you don't have to store so much in your head. For my own part, I never thought this was a good idea. The internet is a great tool for enrichment, but it's only as good as the knowledge base you bring into it. If you don't understand the basics of physics, the Wikipedia page on quantum phenomena isn't going to do you any good.

Thompson concludes his article on searching by noting that "Google makes broad-based knowledge more important, not less. A good education is the true key to effective search." I couldn't agree more. Without bringing a good education into your explorations of the internet, you're doomed to give "some guy" way too much attention.
Now, search engines are great for looking up factual information and bridging gaps in one's knowledge. But the more you already know, the better you are able to not only differentiate useful results from poor ones but to incorporate the new facts in a meaningful way.
Similarly, we don't expect presidents to be subject matter experts in everything. I've been studying foreign policy professionally for a quarter century and still don't have a detailed understanding of the internal politics of most countries of the world; it would be strange to expect that a businessman who spent four years governing a state or a community organizer and constitutional law scholar with a couple years experience in the Senate to be fully prepared.
What we should demand, however, is evidence of intellectual curiosity about the important issues of the day and a demonstrated passion for learning. Judgment in selecting a talented staff of experts is crucial, but so is an ability to ask smart questions and push back on the expert advice.
Herman Cain is almost surely a pretty smart guy. He has a mathematics degree from the most prestigious black college in America from the days when only really smart blacks could go to college, period, much less in Georgia. He went on to get a masters in computer science from Purdue and work as a ballistics analyst for the Navy before going on to a highly successful career in business. He's no dummy. But, rather clearly, he has managed to live 65 years without displaying any real interest in public policy–so much so that he's not even paying attention to the most pressing issues unfolding while he's running for president of the United States.
A president will almost never be the smartest guy in the room on any subject. Indeed, a good president will make damn sure of that. But he needs to be broadly enough informed that he understands the arguments being presented to him, have a firm enough grasp of history that analogies to past events make intuitive sense, and to have the cognitive ability to make smart choices when presented with conflicting advice on policy choices with really big stakes.