Herschel Walker and the Perils of Celebrity Candidates
More ugly revelations about the football hero turned politician.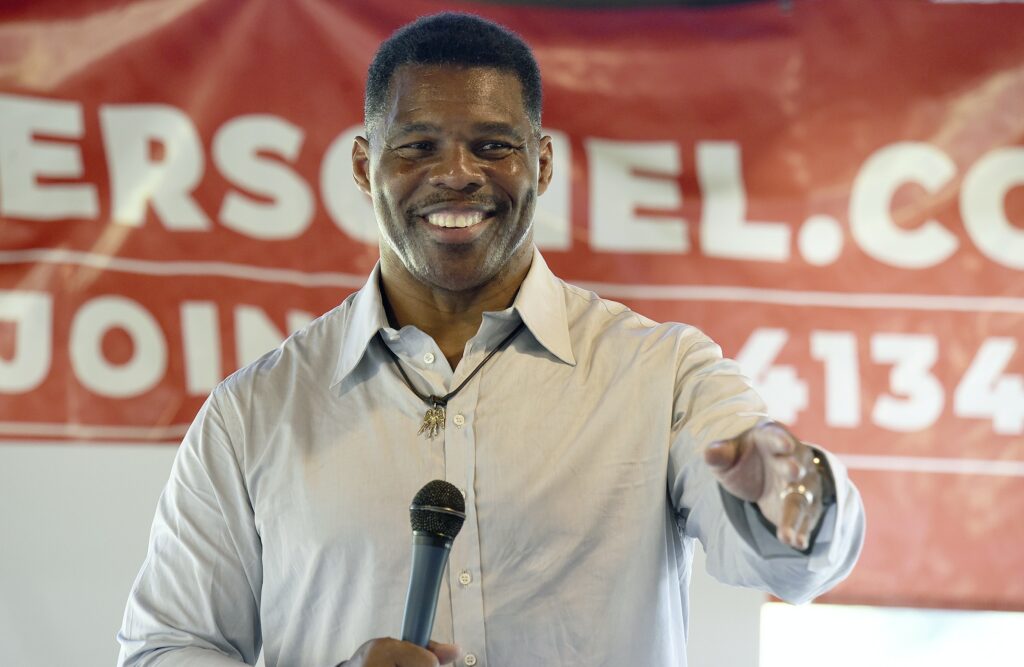 The Daily Beast reports on the latest revelation demonstrating that Herschel Walker, the Republican nominee for US Senate from Georgia, is not who he has portrayed himself since coming to national prominence as a star running back four decades ago.
A day after The Daily Beast broke the news that Herschel Walker had a secret 10-year-old son he fathered out of wedlock, the football star-turned-politician confirmed late Wednesday night that he has yet another son with a different woman that the public doesn't know about—as well as a daughter that he had in college.

The revelations come in the middle of Walker's competitive race to unseat Sen. Raphael Warnock (D-GA) and after many public comments Walker has made about absent fathers in the Black community.

"I want to apologize to the African-American community, because the fatherless home is a major, major problem," Walker said in a September 2020 interview, adding in a December 2019 interview with Diamond and Silk that men need to go into neighborhoods and become "fathers of those fatherless" children.

The second of Walker's previously undisclosed sons was born to a woman living in Texas and is now 13 years old. Walker's other son is 10, and Christian Walker, who has played a major role in Herschel's political efforts and public persona, is 22.

In Christian's case, Walker has played an extremely active role in his life. In the case of Walker's 10-year-old, the football star seems to have played very little role. In this latest case with his 13-year-old son, Walker seems to have been present on at least two occasions, according to social media photos. But it's unclear how active he's been beyond that.

(The Daily Beast is withholding the name of both younger sons and their mothers out of privacy concerns.)

In a statement issued to The Daily Beast, Walker confirmed that the 13-year-old son is his child. The campaign also supplied a form that Walker filled out in 2018 in order to be appointed to President Donald Trump's Council on Sports, Fitness and Nutrition. Walker listed the child's name and age, as well as the names and ages for Christian, the 10-year-old son, and an adult daughter whom Walker fathered when he was around 20 years old.

"I have four children. Three sons and a daughter. They're not 'undisclosed'—they're my kids," Walker said in his statement. "I support them all and love them all. I've never denied my children, I confirmed this when I was appointed to the President's Council on Sports, Fitness and Nutrition, I just chose not to use them as props to win a political campaign. What parent would want their child involved in garbage, gutter politics like this?"

Walker said any suggestion that he was hiding his children was outrageous. "I can take the heat, that's politics," Walker said, "but leave my kids alone."
Star athletes fathering children out of wedlock is, alas, not unheard of. And Walker does seem to have been more active than many in both offering financial support and being present. Still, the notion that he has been open and honest about this is laughable.
Walker is a few years older than me, so his star turn at Georgia took place while I was in high school. While I wasn't a Georgia fan, I watched a lot of his game during that Heisman Trophy-winning season and rooted for him in the national championship game against Penn State. While I rooted for the Birmingham Stallions in the days of the original USFL, I watched most of Walker's games with the New Jersey Generals. And, when that league collapsed, I rooted for him when he joined my Dallas Cowboys alongside Tony Dorsett. And, of course, the epic trade that sent Walker to the Minnesota Vikings in exchange for a whole bevy of draft picks was a key factor in the Cowboys winning three Super Bowls between 1992 and 1995. I even rooted for him on the Olympic bobsledding team.
Throughout all of this, Walker scrupulously portrayed himself as a model citizen who overcame great odds to achieve success. He came across as a genuinely good guy and the press, for the most part, went along with it.
That he's now the nominee of the Family Values/Christian conservative party, running against a minister who seems very much the embodiment of the values Walker espouses but has largely failed to live up to, is both ironic and bizarre. That there's a better than even chance he'll prevail, despite all of these revelations—-to say nothing of the fact that he's unqualified by experience or preparation to serve in the Senate—is disheartening.
Americans love their celebrities, though, and sports heroes perhaps most of all. But the price of cashing in on that celebrity to run for political office is much greater scrutiny that will, in many cases, tarnish one's image considerably.