Hijacking the National Anthem
Athletes are sitting out the Star Spangled Banner to air their grievances. Management is pushing back.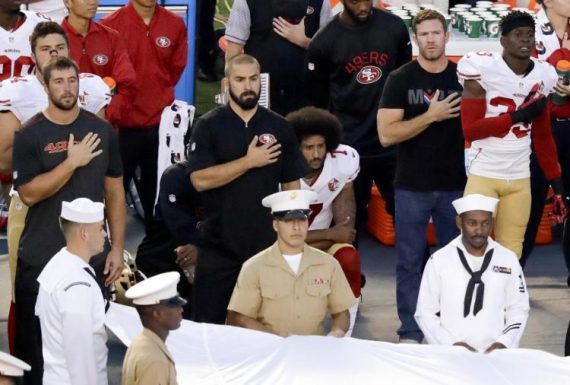 A couple weeks ago, San Francisco 49ers backup quarterback Colin Kaepernick sparked intense debate by sitting down during the national anthem during a meaningless preseason game in protest over the treatment of African Americans.   Many, including several African American athletes, called Kaepernick's actions unpatriotic, even claiming that he was showing disrespect for those who have fought and died for the country. Others, including President Obama, pointed out that Kaepernick has every right under our Constitution to protest.
There's simply no question that the First Amendment protects Kaepernick's right to protest.  Further, while I happen to think the national anthem is an odd target for protesting incidents taking place at the local level, the notion that his protest should be offensive to veterans, much less that it was somehow aimed at them, is specious.
As the debate has unfolded, a handful of other athletes have followed suit.  Perhaps most notably, Megan Rapinoe, who plays for the Seattle Reign and the US Women's National Soccer Team, has said she will no longer stand for the anthem to protest America's treatment of LGBT individuals like herself. While I think her cause has less merit than Kaepernick's (few countries have more legal protections for LGBT citizens than the United States), her right is nonetheless indisputable.
Two counter-protests have been particularly notable.  John Tortorella, the coach of Team USA for the upcoming World Cup of Hockey, has stated that any player who sits during the national anthem would continue to sit throughout the game.
"I'll tell you right now. Try to understand me. I'm not criticizing anybody for stepping up and putting their thoughts out there about things. I'm the furthest thing away from being anything political. No chance I'm involved in that stuff," Tortorella said.

But the Columbus Blue Jackets coach says he remains unequivocal in his belief that the flag and the anthem should be sacrosanct. Tortorella has a son who is deployed in Afghanistan for the third time as a member of the U.S. Army Special Forces.

"Listen," he told reporters. "We're in a great country because we can express ourselves. And I am not against expressing yourselves. That's what's great about our country. We can do that. But when there are men and women that give their lives for their flag, for their anthem, have given their lives, continue to put themselves on the line with our services for our flag, for our anthem, families that have been disrupted, traumatic physical injuries, traumatic mental injuries for these people that give us the opportunity to do the things we want to do, there's no chance an anthem and a flag should come into any type of situation where you're trying to make a point.

"It is probably the most disrespectful thing you can do as a U.S. citizen is to bring that in. Because that's our symbol. All for [expressing] yourself. That's what's so great. Everybody does. But no chance when it comes to the flag and the anthem. No chance."
The ownership of the Washington Spirit took a particularly aggressive response:
The Washington Spirit prevented Seattle midfielder Megan Rapinoe from kneeling again during the national anthem by altering its pregame ceremonies rather than "subject our fans and friends to the disrespect we feel such an act would represent."

The National Women's Soccer League team moved up the anthem, playing it while the teams were off the field at the Maryland SoccerPlex.

"We decided to play the anthem in our stadium ahead of schedule rather than subject our fans and friends to the disrespect we feel such an act would represent," the Spirit said in a statement. "We understand this may be seen as an extraordinary step, but believe it was the best option to avoid taking focus away from the game on such an important night for our franchise."

On Sunday before the Reign's match in Chicago, Rapinoe knelt during the anthem in solidarity with Colin Kaepernick — the San Francisco quarterback who has refused to stand during the anthem to protest racial injustice and minority oppression. She said at the time she planned to continue to kneel.

"To willingly allow anyone to hijack this tradition that means so much to millions of Americans and so many of our own fans for any cause would effectively be just as disrespectful as doing it ourselves," the Spirit said in the statement.

Following the match, Rapinoe said she was saddened by the Spirit's move.

"It was incredibly distasteful, four days before one of the worst tragedies in our country, to say I tried to hijack this event," The Washington Post quoted Rapinoe as saying.
Rapinoe and others who use a public event like the national anthem to draw attention to themselves and their pet causes are, by definition, hijacking the event. That's why, while I disagree completely with Tortorella's stated reasoning, I support his decision.
Members of United States Olympic, World Cup, and other competitive teams are there representing their country.  They have every right to have and express political opinions but the national anthem, medal presentations, and other ceremonial events are not theirs to use as a forum. Making these ceremonies about them is the antithesis of team behavior.
I'm more ambivalent about athletes in professional leagues. It frankly strikes me as odd to play the national anthem or sing "God Bless America" at domestic sporting events, except perhaps those involving children. They're entertainment, not patriotic celebrations. It's especially odd in Major League Baseball and the National Hockey League, where a substantial number of the players aren't even American.
At the same time, I have no problem with ownership telling their players not to use their workplace as a forum for political protest. Kaepernick, Rapinoe, and other prominent athletes have far more ease in getting press attention for their viewpoints than do the vast majority of their countrymen. While there's little question that hijacking the national anthem gets them even more attention, ownership is perfectly within their rights to treat their doing so as an unwanted distraction from the product on the field.