Hillary Clinton Tries To Quell Controversy Over Email, But Only Creates More Question
Hillary Clinton addressed the week-long email controversy, but her explanations only raised new questions.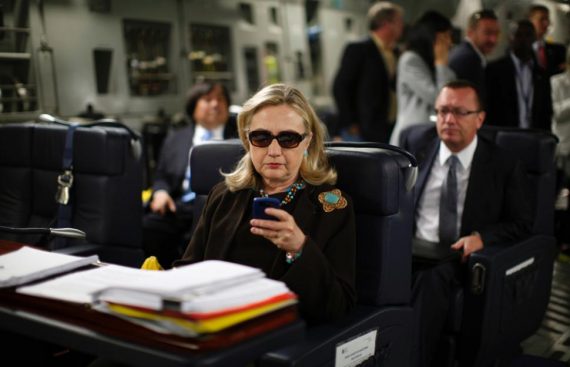 Last week, we learned for seemingly the first time that, while she was Secretary of State from 2009 through the beginning of 2013, Hillary Clinton solely utilized a private email account that was set up on a server that was kept in her home rather than an official State Department email account. Rather than going away like a one-day story, the story has percolated in the political media thanks in no small part to the fact that new revelations and questions seemed to be coming out every day while the White House and State Department both seemed to be rather ham hammed in their response to questions about how it came about the Clinton was allowed to do this back in 2009, what kind of security was involved, who had control over the server itself, and whether or not Hillary Clinton had ever communicated with the President or other White House personnel using her personal email account. Through it all, though, there was almost no response from Hillary Clinton outside of a single tweet when the story first broke. Obviously, her advisers had hoped the story would die out on its own, but it became apparent by the time the new week began that this wasn't the case so, today, the former Secretary of State addressed the media after an appearance at the United Nations, but her statements created as many questions as it answered:
Hillary Rodham Clinton on Tuesday defended her exclusive use of a private email address during her time as secretary of state as a matter of "convenience," saying that about 30,000 of her work-related emails would be made public, but that thousands more that she deemed personal had been deleted.

"I thought using one device would be simpler; obviously, it hasn't worked out that way," she said in her first public comments since the issue emerged last week.

She said that most of her emails were work-related, went to government employees and were captured on government servers. Mrs. Clinton said that the State Department would make public all of her work-related emails, but that her personal email — about issues such as her daughter's wedding and the death of her mother — would remain private.

"I feel that I have taken unprecedented steps to provide these public emails; they will be in the public domain," she said.

Mrs. Clinton spoke for about 20 minutes during a news conference, delivering a statement on women's issues and denouncing moves by Republican lawmakers to undermine efforts for a nuclear agreement with Iran, before turning to the controversy over her emails.

Expressing a mix of regret and defensiveness over the matter, Mrs. Clinton emphasized that she broke no laws. "I fully complied with every rule," she said, adding that no classified material had been sent on her email.

However, she remained steadfast that she would not turn over personal emails and said that those messages in fact had been deleted.

"They were about personal and private matters that I believed were in the scope of my personal privacy and particularly that of other people," she said. "They had nothing to do with work. I didn't see a need to keep them."

The State Department said on Tuesday that it would publish online the full set of emails provided by Mrs. Clinton from her time as secretary of state.

"We will review the entire 55,000-page set and release in one batch at the end of that review to ensure that standards are consistently applied throughout the entire 55,000 pages," said Jen Psaki, the State Department spokeswoman. "We said we expect the review to take several months; obviously that hasn't changed."

A smaller set, about 300 emails that had been provided to the select House committee on Benghazi, will be released earlier to the public.

The State Department also said it would give any reasons for redactions, in accordance with Freedom of Information Act guidelines.
Politico has more:
Hillary Rodham Clinton's 2016 presidential campaign began on terms set by her adversaries – with a defensive Clinton telling reporters she won't release half of the emails sent from a controversial private email account set up while she was Secretary of State and suggesting that they may not exist anymore.

Clinton, with the poise and clarity of a mid-campaign politician, said her decision to send departmental emails through a private email server at her suburban New York house was a matter of "convenience," and that she regretted not keeping parallel government and private accounts.

"I did not email any classified material to anyone on my email," she said when asked if any of her emails compromised security. "Looking back, it might have been smarter" to have used government email, she conceded.

At times, the former first lady, who answered about ten questions, seemed to contradict herself, saying at one point that she had destroyed her personal emails, then suggesting they remained – off limits – on her family's private server.

Clinton said her lawyers had examined all of her emails, about 60,000 in all over four years at Foggy Bottom, and sent every government-related missive — about 30,000 — to the State Department in the hopes that all would be released to the public on the Web.

Yet in an act of defiance certain to stoke a new round of questioning, Clinton said she had no intention of turning over any of the approximately 30,000 emails she deemed "personal" for the sake of her family's "privacy" – exchanges she said included planning for daughter Chelsea's wedding and her mother's funeral, correspondence with her husband and her yoga schedule.

"Going through the emails, there were over 60,000 in total, sent and received. About half were work-related and went to the State Department, and about half were personal," said Clinton. "I had no reason to save them, but that was my decision.

"For any government employee, it is that government employee's responsibility to determine what is personal and what is work-related."

When a reporter asked her if she planned to allow an independent commission to examine all of the emails on her personal server, she responded with a flat – no way.

"The server contains personal communications from my husband and me," Clinton said of the system, which was originally set up to handle Bill Clinton's post-presidential correspondence. "And the server will remain private."

No one, not even Clinton's most erstwhile defenders, thought the press conference would end the firestorm over the emails. "Look, the problem here isn't about the emails, you guys are never going to be satisfied with whatever answers she gives," said former Bill Clinton adviser James Carville. "Y'all are just going to go out there and say, 'She raised more questions than she answered.'"

Today's event at the United Nations was an exercise in a hastily-organized crisis management – staged a few feet away from a copy of Picasso's Guernica, a gruesome depiction of raw human suffering during the Spanish Civil War. It featured none of the genteel stagecraft and personal dignity Clinton as a politician and private citizen craves — a push-and-shove tabloid press scrum in front of 25 TV cameras — more "Bonfire of the Vanities" than "Woman of the Year."

Clinton's staff says the time had come to defend herself after taking a week's worth of incoming fire, but it came at a staggering opportunity cost – the chance to defining the aspirational terms of her candidacy to come, a campaign which will be based on her role as a gender pioneer and desire to articulate a post-Obama vision for saving the middle class.

Completely lost in the noise was the speech Clinton delivered Tuesday, which was intended to underscore the rhetorical highlight of her four-decade career in politics, her 1996 speech in Beijing declaring women's rights identical to human rights.

"She's taking a huge risk here," said a longtime adviser, as Clinton prepared to take questions. "I don't think she has a choice, but things could go wrong."
Near the top of the press conference, after she had made statements regarding the speech she had just given at a United Nations forum and comments about the letter sent by Senate Republicans regarding the negotiations over Iran's nuclear program, Clinton answered the question that everyone had been wondering about from the beginning; namely why she chose to set up a private email account for official business. Her explanation, that it was a matter of "convenience" because she didn't want to carry around two mobile devices, is one that many people have expressed skepticism about. After all, as anyone who owns a current model iPhone, Android, or Blackberry smartphone can tell you, it most certainly is possible to have more than one email account on a mobile device at one time. I've had a set up like that from the first time I owned a smartphone, which roughly dates back to the time when Clinton first became Secretary of State. The Washington Post's Philip Bump brings up, as others have since the press conference ended, the possibility that the phone Clinton was using, which was apparently a Blackberry, didn't allow two accounts at the same time. However, it's worth noting that, at the same time that Clinton was Secretary of State, former Transportation Secretary Ray LaHood was able to have personal and official email accessible on his Blackberry. At the very least then, Clinton's claim that the decision to use a personal mobile device and an email server that she and her husband had personal control over rather than a government device and an email account tied in to government email servers was purely a matter of "convenience" just doesn't withstand the credibility test.
Clinton also says that she and her advisers reviewed all of the emails on her personal account and turned over anything that was work-related to the State Department, that at least some portion of what she considered to be her "personal" email was deleted, and that she would neither be turning over the personal email for review nor the server for any kind of forensic examination. In other words, she's asking the press and the American public to trust her, and only her, to make the determination of what is work-related and what is personal. Obviously, this would not have been an issue at all had she used a separate, government-provided, email account for official business to begin with but, once she started commingling the two, it strikes me that there something must be more involved in the review process beyond "trust me."
Finally, Clinton's response today did nothing to answer the questions regarding the security issues that seem rather self-evident here. Just how secure was this private server that Clinton utilized, for example? She said today that the server had been set up when her husband left office and that it was "guarded" by the Secret Service, but that doesn't really answer potential concerns about hacking, which has nothing to do with the physical security of the server. It's also unclear whether regular backups were made of the server, and who has control over those backups, and whether or not encryption was used in her communications with State Department and other government employees. It's also unclear at the moment whether she ever used this personal email account to communicate with representatives of foreign nations, which would raise security issues all its own.
If Hillary Clinton's intention in today's press conference was to try to put this story to an end, then I would say that she failed miserably in that regard. At least for the moment, this story is not going away.