Hillary Clinton's Campaign Hits The Reboot Button
Hillary Clinton's campaign is doing a reset in the face of declining poll numbers and bad press.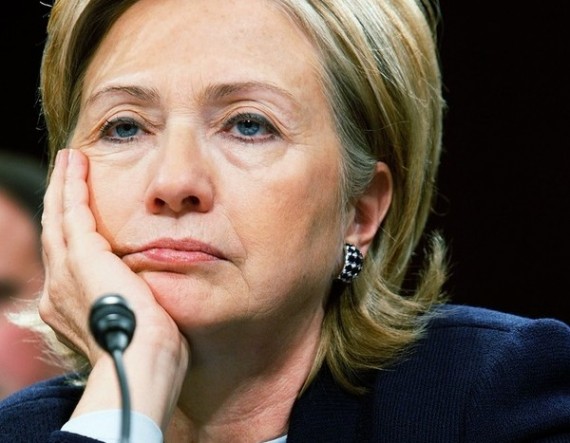 With polling continuing the show her favorability numbers falling while Bernie Sanders continues to lead in New Hampshire and gain in Iowa while head-to-head polling shows Republicans ahead of her nationally and in several states, Hillary Clinton's campaign is hitting the reboot button:
There will be no more flip jokes about her private email server. There will be no rope lines to wall off crowds, which added to an impression of aloofness. And there will be new efforts to bring spontaneity to a candidacy that sometimes seems wooden and overly cautious.

Hillary Rodham Clinton declared her campaign for president nearly five months ago, before the startling rise of Senator Bernie Sanders, the volcanic candidacy of Donald J. Trump and the very public exploration of another White House run by Vice President Joseph R. Biden Jr.

In extensive interviews by telephone and at their Brooklyn headquarters last week, Mrs. Clinton's strategists acknowledged missteps — such as their slow response to questions about her email practices — and promised that this fall the public would see the sides of Mrs. Clinton that are often obscured by the noise and distractions of modern campaigning.

They want to show her humor. The self-effacing kind ("The hair is real, the color isn't," she said of her blond bob recently, taking note of Mr. Trump) has played better than her sarcastic retorts, such as when she asked if wiping a computer server was done "with a cloth."

They want to show her heart, like the time she comforted former drug addicts in a school meeting room in New Hampshire.

And, to soothe Democrats uneasy about her shaky poll numbers, they want her to relentlessly contrast herself with Republicans, saying she is at her best when showing willingness to do battle.

"The true game changer is when there's a personified opponent," said her communications director, Jennifer Palmieri.

It is not clear whether any of these efforts can help Mrs. Clinton revamp her candidacy and regain momentum amid persistent questions about heruse of a private email server at the State Department and an electorate in the early nominating states that seems increasingly captivated by the insurgent candidacy of Mr. Sanders.

Previous attempts to introduce Mrs. Clinton's softer side to voters have backfired amid criticism that the efforts seemed overly poll tested. This time the strategy will compete with news coverage on the latest developments over her email.

(…)

In an ABC News/Washington Post poll released Wednesday, 45 percent of Americans said they had a favorable impression of Mrs. Clinton and 53 percent said they viewed her unfavorably. That is a weakening since July, when 52 percent had a positive view and 45 percent a negative one.

Robby Mook, Mrs. Clinton's campaign manager, sought to play down the polls' findings, saying: "Even if you accept the ABC poll, our favorability is higher than any Republican."

Other changes are in store for the campaign. After a focus group in New Hampshire last month revealed that voters wanted to hear directly from Mrs. Clinton about her email practices, she has sought to offer a more contrite tone, though her detractors say she is still too grudging. (In an interview with The Associated Press on Monday, Mrs. Clinton said she did not need to apologize for using a private email server. "What I did was allowed," she said. "It was allowed by the State Department. The State Department has confirmed that.")

While Mrs. Clinton's central message will remain focused on addressing income inequality and lifting the middle class, she is scrapping the phrase "everyday Americans," which advisers said was confusing and did not resonate. (One compared it to the Walmart slogan, "Everyday low prices.")

Mrs. Clinton will still invoke the joy brought into her life by her granddaughter, Charlotte, but, given the child's obvious advantages and privilege, will speak more broadly about building a better future for all Americans' children and grandchildren.

And her husband, former President Bill Clinton, who has had virtually no presence on the campaign trail, will begin to travel the country to help with fund-raising this fall, with his first event planned for Chicago on Sept. 17.
On some level, of course, there's nothing at all unusual about what's going on here. At some point in nearly every political campaign, a candidate will fall upon hard times and the campaign will seek to turn things around by changing the campaign's message, such as by making changes to stump speeches or addressing the issues that are plaguing the candidate. In Clinton's case, the ongoing stories about her use of a private email server and the quite frankly hamfisted way that she and her campaign have handled that issue over the past several months have contributed greatly to the fact that the public's perception of her as a candidate and a person. The ABC News poll cited about is just one example of the extent to which Clinton's favorability numbers have declined over the past several months. Other polling has shown that voters have doubts about her trustworthiness, and that the most common descriptive words associated with her are generally negative ones. Even with a candidate who is still in a very strong position compared to her fellow Democratic candidates,
Additionally, while Clinton entered the 2016 race as a far more formidable frontrunner than she was in 2008 when she lost the Democratic nomination to Barack Obama, these opening months of the campaign have once again demonstrated her weaknesses on the campaign trail. Clinton is not nearly as good a public speaker as her husband, for example, and she lacks his ability to immediately project an image of empathy to the people she is speaking to. She often comes across as cold and aloof, and her responses to reporters questions often seem as though she as annoyed at having to deign to answer questions from them. She also lacks many of the qualities that President Obama had in 2008, and which Bernie Sanders has now, to inspire her supporters and create enthusiasm for her campaign. This isn't to say that she is doomed, of course, but her inadequacies as campaigner are once again becoming clear, and at least part of this reboot is designed to address them. The problem with that, of course, is that planned spontaneity and manufactured authenticity almost always come across as phony, and the fact that they campaign has now telegraphed what they plan to do by speaking to The New York Times makes the entire thing seem even more phony.