Hillary Clinton's Presidential Run Un-Officially Began Yesterday
Yesterday, Hillary Clinton gave a speech that will most likely be remembered as the start of her 2016 Presidential campaign.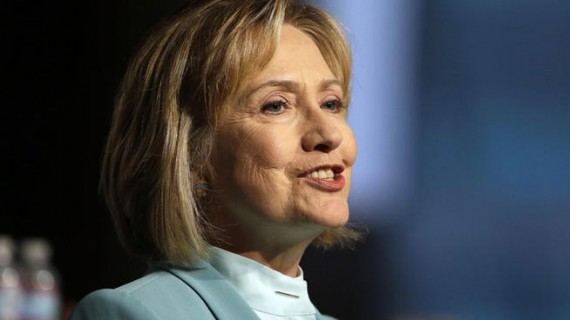 (AP Photo/Eric Risberg)
Since she stepped down as Secretary of State in February, Hillary Clinton has been keeping a relatively low profile. That changed yesterday when she gave the first in a planned series of high profile speeches on a range of policy topics.
Writes the AP:
Hillary Clinton kicked off a series of speeches on Monday with a call to combat what she called an "assault on voting rights."

She spent most of her 45-minute talk to about 1,000 members of the American Bar Association assailing a recent U.S. Supreme Court ruling striking down a significant part of the Voting Rights Act and discussing what she sees as "deep flaws in our electoral system" as it relates to racial discrimination at the polls.

The former U.S. secretary of state spoke in San Francisco after receiving the group's highest award for service to the law. She said her upcoming speeches would look at national security and U.S. global leadership.

Next month, she intends to speak in Philadelphia about the "balance and transparency necessary in our national security policies as we move beyond a decade of wars to face new threats." Later, Clinton said she would discuss the implication of American's global leadership and the nation's moral standing around the world.
Given the range of topics to be covered these planned speeches, and the fiery tone of this first address, it seems pretty clear that this is the first public steps of her 2016 presidential campaign.
Speeches like these play two important roles in the lead up to a campaign.
First, they provide the candidate with an opportunity to develop and learn to articulate clear policy positions. While the primaries are over two years away, its never to soon to start the long process of crafting one's positions. And, given the emphasis currently placed on televised debates, it's more critical than ever for a candidate to be able to reliably express any of their key positions at a moment's notice (call this "Perry's Law").
Secondly, and perhaps more importantly, these speeches serve as an opportunity for the candidate to reintroduce herself to pundits, the press, and key party influencers and activists. While Hillary Clinton is a household name, its important to note that her work for the last four years has focused almost exclusively on foreign policy. The result is we're in a moment where Clinton gets to press the proverbial "reset" button by reestablishing her positions on a wide range of issues.
It also is a moment in which Clinton can reestablish her liberal bona fidies among Democrats. Across these speeches, we will most likely see the emergence more liberal Clinton than has been on display for the last decade. One of the critiques, fair or not, of Clinton's 2008 primary loss, was that Obama was able to successfully run to the left of her on a number of key issues. I think it's fair to assume that Clinton will do her best to follow that aspect of the Obama game plan this time around and, at least initially, try to energize the more progressive elements of the party. And since she is no longer holding public office or any government positions, she's able to start putting forward ideas without any expectation of actually having to make them happen (a luxury that most of her current potential rivals don't have).
Looking out over the next few years, it's pretty easy to see how Clinton is laying the groundwork for 2016. These speeches, which I expect to continue for most of 2013, are the first step. Then, in June of 2014, her latest memoir will be published. Based on the description of the book –  Hillary Clinton's candid reflections about the key moments during her time as Secretary of State, as well as her thoughts about how to navigate the challenges of the 21st century — we know that at least half of it will be dedicated to policy positions as well. And finally, either in conjunction with that book's publicity tour, or immediately following, she'll announce her candidacy. This time around, I doubt that she will even go through the motions of forming an "exploratory committee."