Hillary Clinton's Tenure At Foggy Bottom Could Be A Campaign Liability
Far from being a positive, Hillary Clinton's time as Secretary of State provides ample material for those who would attack her over the next eighteen months.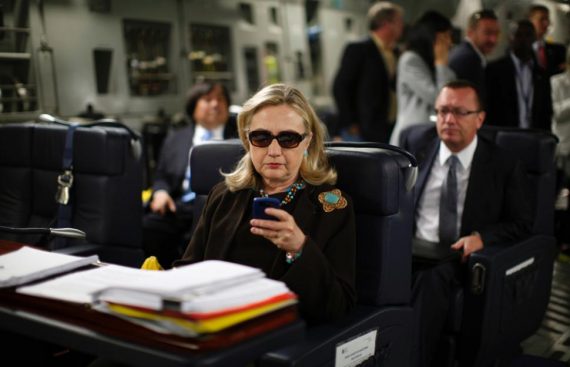 National Journal's S.V. Date notes that what once seemed as though it was likely to be Hillary Clinton's greatest asset heading into the 2016 election could end up becoming her greatest liability:
What she accomplished substantively in her four years at State is a matter of debate, but one thing she definitely improved was her public image. Americans who'd watched her grueling, ultimately losing campaign against a younger, more junior Senate colleague were impressed.

The steady, head-down job radiated confidence. There she was in Moscow, working to rebuild the relationship with Russia. Or in China, negotiating the release of a blind dissident lawyer who had sought refuge in the American embassy. Or in Myanmar, becoming the first U.S. secretary of State to visit in more than a half century.

Just two years later, so much of that seems a distant memory. Her approval numbers have tanked, but perhaps even more damaging: What had been the key achievement on her resume now cannot be mentioned without raising questions of pay-to-play and deleted emails.

The respect she earned from visiting a record 112 nations? The admiration for the million air miles she logged in those four years, including those aboard that cavernous C-17 that's now her signature image? Gone, replaced instead with reminders of the Hillary Clinton of years past, the first lady deflecting or obfuscating—sometimes for her husband, sometimes on her own behalf; sometimes it was impossible to discern which.

"This is not the launch they wanted," said David Winston, a GOP consultant who worked for House Speaker Newt Gingrich in those earlier days. "Because of the way she's done it, she's let these things be the dominant issues."

Call it squandered goodwill—made worse by the knowledge that these were unforced errors. The Clinton Foundation could have chosen to follow its 2008 "memorandum of understanding" with the Obama Transition Team to the letter. Former President Bill Clinton could have foregone taking speaking fees from clients with business before the State Department. Hillary Clinton could have conducted her official duties using official equipment and official email accounts—and then let career service professionals decide which emails were public business and which were not.

The first decision goes to her relationship with her husband, and whether she could have controlled his activities even if she'd wanted to. And the second is no doubt a function of living decades under a harsh media microscope. Keeping things secret likely seemed much more attractive than having political opponents rummaging around searching for new scandal.
To some extent, of course, the hagiographic praise that Clinton was receiving as Secretary of States from both sides of the political aisle was unlikely to last in any case. To a large degree, it was due to the fact that her position largely kept her out of the domestic political battles that were going on in the nation from 2009 to 2013, combined with the fact that many Republicans and conservatives seemed to be praising Clinton largely as a backhanded way of attacking Obama. Once it became clear, though, that she was not only leaving Foggy Bottom but that she was obviously headed for a second run for the Presidency in 2016, the cease fire that had been in existence came to a quick and decisive end. The first example of that, of course, was the reaction to the attack in Benghazi in September 2012 and the efforts by Republicans on Capitol Hill to use the scandal as a political cudgel both against the President and against the Democrat who seemed most likely to be running to succeed him in November 2016. This effort reached its apex in the final days of Clinton's tenure at the State Department when she appeared before a Senate Committee investigating the Benghazi attack and was subjected to harsh questioning from Republican members that, in the end, failed to do much other than score partisan points. Since then, Republicans have not dropped the Benghazi matters, and indeed seem intent on continuing the Congressional investigations well into next year.
Beyond these partisan attacks, though, it seems quite apparent that Clinton's own errors and missteps are likely to make it difficult for her to rely on her experience as Secretary of State as a purely positive thing on her record, and that each time she brings it up she will give her opponents the opportunity to bring up other, less palatable aspects of her time in office. Her decision to use a private email server beyond the control of the State Department, and outside of government security protocols for her private correspondence, for example, may have been within the strictures of the regulations that were in place at the time, but it tends to reinforce the idea that she had something to hide. The fact that, on top of that she used her own people to determine which emails to turn over to State Department, and then to delete some 30,000 other pieces of correspondence, virtually guarantees that people will continue to ask questions about what she may have decided not to share. Similarly, the revelations last week regarding donations to the Clinton Foundation and the Clinton's apparent failure to abide by the terms of an agreement made with the White House when Clinton took office, are the kind of story that are unlikely to go away regardless of whether or not there is a smoking gun. The evidence that these stories have had an impact on Clinton can be seen in recent polling, which shows voters tend to find Clinton to be untrustworthy even though they think she has strong leadership skills. This is all largely the result of Clinton's own doing, and it's the reason why many have observed that she may well be her own worst enemy.
In addition to these problems, though, Clinton's time as Secretary of State could end up being problematic for her due to the fact that she was in office at a time when American foreign policy seemed to be falling apart. The attempt to reset relations with Russia, for example, which got off to an odd start with Clinton presenting her Russian counterpart with a symbolic "reset button" seems to be an abject failure, with Vladimir Putin blatantly intervening in Ukraine and otherwise ramping up tensions with Europe and the United States. The American intervention in Libya, which Clinton fully supported, has accomplished little but turn Libya into a haven of chaos and violence and a breeding ground for terrorist groups that seem likely to have the capability to threaten North Africa and, potentially Europe, for years to come. Much the same can be said about the Obama Administration's policies elsewhere in the world while Clinton was Secretary of State, and while she has made clear in her book areas where she disagreed with the President, she was the face of that foreign policy and its primary spokesperson. Given the state of the world, it seems odd that she would consider it a good thing to remind people that she was in charge of foreign policy for the first half of the Obama Administration.