Hillary Leads Everyone In Iowa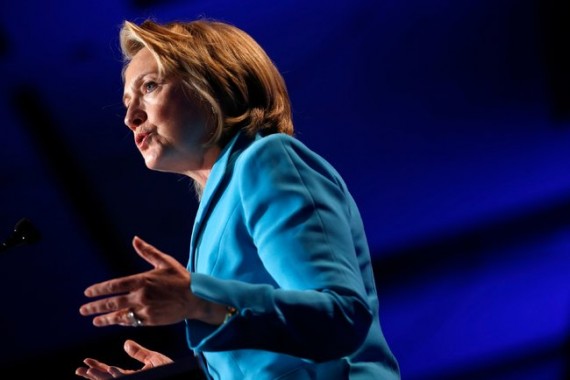 A new Quinnipiac Poll from the Hawkeye State shows Hillary Clinton leading every potential opponent, Republican or Democratic:
Hillary Clinton is a big favorite to win the swing state of Iowa if she runs for president in 2016, according to a new poll.

The Quinnipiac University poll shows Clinton leading four top potential Republican opponents by at least 10 points.

Sen. Rand Paul (R-Ky.) comes the closest, trailing Clinton 49-39. Clinton beats New Jersey Gov. Chris Christie 48-35; Sen. Ted Cruz (R) 51-35; and former Florida governor Jeb Bush, 51-37.

The poll also has bad news for Vice President Biden, with 62 percent of the state's voters — including 37 percent of Democrats — saying he would not make a good president.
Obviously, a poll this early out doesn't tell us much of anything about how elections in 2016 might actually turn out, but they are useful in two respects. First of all, they show the extent to which Hillary Clinton continues to dominate anyone other potential opponent in the Democratic field. While it's true that this was also the case in the 2008 cycle, the difference between now and then is that there doesn't seem to be anyone on the Democratic side who could challenge Clinton the way Barack Obama did in 2008. Additionally, poll numbers like this, if they continue, are likely to scare off some potential challengers such as New York Governor Andrew Cuomo who might otherwise enter the race. Second, they should serve as a reminder to Republicans that, while it does look like 2014 will be a good year for the GOP, 2016 has the potential to be very different. Of course, we've seen that before. The Republican "revolution" of 1994 was followed two years later by Bill Clinton's re-election, and the 2010 midterms were followed by Barack Obama's re-election in 2016. Will we see a repeat of that in 2016? Only time will tell, of course, but based on the numbers right now the GOP faces a serious uphill battle on the road to the White House this time around.