'Hillary Loses' Scenario Demonstrates Why She Wins
A Republican political consultant says Hillary Clinton is in danger of losing the nomination.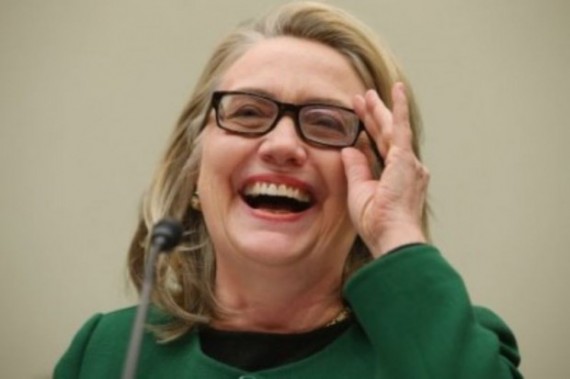 A Republican political consultant argues that Hillary Clinton is too conservative to win the Democratic nomination.  Writing in The Daily Beast, Stuart Stevens explains "This Is How Hillary Loses the Primary."
Here's what we know has happened so far in the Democratic primary for president. Since Hillary Clinton started spending money, hiring staff and campaigning, she has lost votes. In Iowa and New Hampshire, she was doing better in the polls in January than she is today. Heck, she had more votes last month than she has today.

Politics is about trends and the one thing we know is that trends escalate in speed as elections near. Even starting out with the huge lead that she did, Clinton can't allow Sanders to keep gaining votes while she loses votes in the hope that the bleeding won't be fatal in the long run.

[…]

The truth is, Hillary Clinton has supported every U.S. war since Vietnam. She supported not only DOMA, which her husband signed, but a travel ban on those who were HIV positive. She supported welfare cuts (remember her husband's efforts toward "ending welfare as we know it"?). She supports the death penalty and campaigned in her husband's place during the 1992 New Hampshire primary when he left to oversee the execution of an African-American man whose suicide attempt left him brain damaged.

And if "mass incarceration" is a problem today, keep in mind she has long advocated for the criminal justice policies that called for locking up more people for longer periods. She supports—and, as Secretary of State, participated in—the U.S. policy of targeted assassinations, including when the targets were American citizens.

In a political environment in which income inequality is a rallying cry, she makes $300K plus expenses an hour. In fact, she would be the wealthiest person elected president in the modern era.

We can debate the merits of each of these positions but it's hard to argue it's not exactly the dream résumé for the 2016 progressive candidate. And guess what? The politically active, motivated voters of Iowa and New Hampshire know the difference between someone who got to the White House with a DLC-backed president and a guy who went mainstream when he started calling himself a socialist and not a revolutionary.
While that's all true, it was true in 2008, too. John Edwards, in particular, was pointing this out. She nonetheless won the popular vote in the New Hampshire primary. Stevens' argument only makes sense if we presume that the Democratic nominating electorate has become much more ideologically motivated in the intervening years. Post-Occupy Wall Street and post-Citizens United, it's plausible that they have.
But you can't beat someone with no one and even Stevens admits that Bernie Sanders isn't going to be the nominee. So what's the scenario by which she loses?
Hillary Clinton's greatest strength—more than being a woman, more than being a Clinton—is the fact that polls show her consistently beating Republicans. Democrats see her as someone who can hold the White House. If she loses to Bernie in Iowa or New Hampshire, most likely the subsequent polls will show her losing to a handful of top Republicans.

And then what happens? Will the Democratic Party rally around her?

Perhaps. But more likely party voices, with great and solemn regret (masking their deep panic), will begin to say that Hillary had her chance, she fought a good fight, but we can't lose the White House.

Who would get in? I still think Elizabeth Warren could be drawn in under this scenario. It's very different to get into a race to challenge the inevitable Hillary Clinton versus getting into a race to save the party from a wounded Hillary Clinton. John Kerry could get in. Who knows? Perhaps Martin O'Malley does emerge as the viable alternative.
This makes no sense whatsoever. Warren is plausibly more attractive to the average Democratic primary voter than Clinton. But, if the argument is that party leaders—if such can be said to exist in the modern era—would intervene because Clinton would be lagging behind Jeb Bush and company, why on earth would they turn to Warren, a candidate with much less general election appeal? O'Malley makes more sense in that scenario but he shares most of the flaws that Stevens ascribes to Clinton with respect to the nominating electorate. Kerry makes more sense, I suppose, but he wound up as the default choice in 2004 after Howard Dean's explosion; he's hardly a progressive's dream candidate.  If they're going to dust off a failed candidate, they might as well go with Al Gore. He at least won the popular vote when he ran.
But Stevens turns his piece upside down at the end:
So how does Hillary Clinton avoid the danger of this scenario? Easy. She has to win Iowa and New Hampshire. She should win Iowa and New Hampshire, and handily. She's running against an obscure 73-year-old socialist from a tiny state that has few minorities and little organized labor, two of the longtime power centers in the Democratic Party.

But to beat Sanders, Clinton has to stop trying to be Sanders-lite and get about the business of explaining why he's wrong and she's right. That's how every race is won or lost. She has to lay out the case that Sanders has bad ideas—and most of his are—that will kill jobs and hurt people. She has to run as Hillary Clinton, not some new creation that a bunch of thirtysomething operatives put together as a poli-sci project.
He provides no evidence whatsoever that Clinton is doing that. As best I can tell, she's pretty much ignoring Sanders at this point but one presumes she'll take him on in the debates if he's still showing strong in the polls months from now when the race begins in earnest. That has the additional advantage of making her seem moderate in contrast, positioning her well for the general election.