Historians: Obama Better Than Reagan!
A survey of historians ranks Obama as the 15th best president ever, ahead of Ronald Reagan and behind Bill Clinton.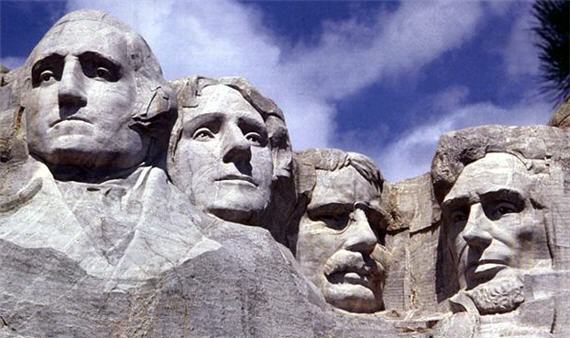 A survey of  historians ranks Obama as the 15th best president ever, ahead of Ronald Reagan and behind Bill Clinton.
The Siena College poll, which surveyed 238 presidential scholars at U.S. colleges and universities, asked scholars to rate the nation's 43 chief executives on 20 attributes ranging from legislative accomplishments to integrity and imagination.

In the overall ranking, Obama rated two places below Clinton, who was 13th best, and three better than Reagan, who is ranked as the 18th best.

Franklin D. Roosevelt again earned the top spot, as he has every time since the poll was first conducted in 1982. He and the Mount Rushmore presidents — Teddy Roosevelt, Abraham Lincoln, George Washington and Thomas Jefferson — have consistently been the top five presidents in the poll's findings.
While I'd quibble with the relative rankings, I agree those five are probably the top five.  I'd rank Reagan in the next five — certainly, above 18!  And I just don't think it's meaningful to rank Obama, who's only 17 months into his term and barely gotten his feet wet.
But how are they being ranked, anyway?
While he ranked high on traits like imagination (6th), communication ability (7th) and intelligence (8th), Obama rated poorly ratings on background (32nd), which was composed of traits like family, education and experience.
Background?! That's a reasonable enough factor in weighing a prospective president, although I'm dubious of including family history.  But shouldn't we judge presidents based on how they perform in office, not who they were when they arrived?
Lonnstrom said the main factor that gives a president a top-five or top-10 ranking is his accomplishments — and an all-around high ranking in most categories.
You'd think this would be, by far, the most significant factor.
FDR, for example, ranks in the top 10 for every category except integrity, he said.
You'd think that would cost him a bit, especially when he's up against George Washington and Abe Lincoln.
"The experts really are looking for consistency, a president who is looking good across most of these categories," he said.
Kinda like a dog show?
Obama's predecessor, George W. Bush, was ranked at number 23 in 2002 — the last time Siena's presidential expert poll was conducted — but has since dropped to number 39, qualifying him as one of the five worst presidents. Bush came in at number 42 — second to last — on issues such as handling the U.S. economy, foreign policy accomplishments and intelligence. (Warren G. Harding was rated the least intelligent president).

Bush joins Harding, Andrew Johnson, James Buchanan and Franklin Pierce, all of whom have consistently ranked as the worst presidents since the poll started, in the bottom five.
Bush's ranking is absurdly low considering how many of our pre-20th Century presidents accomplished nothing.   The presidency is simply a much more daunting task now than it was before America became a global superpower and the federal government's power exploded.    Bush will never be considered a great president but I think he'll rise into the ranks of the mediocrities given the advantage of hindsight.
Several other presidents also saw movement in their ratings this year. Bill Clinton moved up five places, from No. 18 in 2002 to No. 13 today; John F. Kennedy also moved up, from No. 14 to No. 11.
Carter, Reagan and Nixon all dropped in the rankings this year — Carter dropped seven spots, from No. 25 in 2002 to No. 32 now; Reagan dropped two spots, from No. 16 to No. 18; and Nixon fell four spots, from No. 26 to No. 30.
This makes no sense at all.   One could see some fluctuation in the opinions of our most recent presidents given perspective and new insights from the release of documents.
Presumably, Clinton looks better in hindsight now since the stink of the Lewinsky scandal has abated somewhat and he's been a good ex-president.
But how does Carter drop seven spots?!  He was president when I was a kid and I thought a pretty poor one.  So, the 25 in 2002 was rather high.  But all he's done since then is win the Nobel Peace Prize and write another couple books.  And that causes his stock to plummet?
At any rate, the toplines are available at Sienna's website here.  Here's the top ten list for all five iterations of the poll: