Homicide Rate At 51 Year Low
If you listened to politicians or the media, you wouldn't know that homicide rates are at a level unseen since 1963.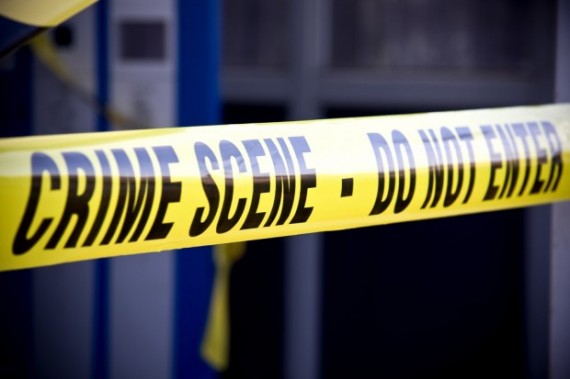 In a recent post that I've been meaning to write about for some time, Tyler Durden notes that the U.S. homicide rate is at its lowest rate in more than 50 years: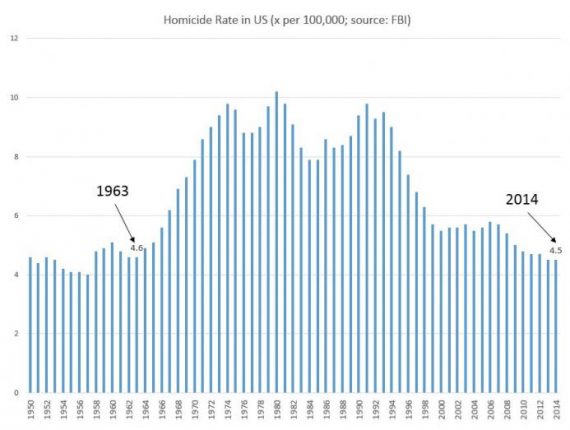 As Durden hints, you wouldn't know this to be true if you listened to the politicians and the media, both of which tend to sensationalize isolated incidents for purposes that have little to do with making sure the public is properly informed.
For politicians, there's an interest in creating the idea that crime, and especially serious crime like homicide, is increasing because it plays into other issues that said politicians wish to exploit. On the right, this includes claims that increased immigration has led to increased serious crime notwithstanding the fact that we can plainly see here that this simply isn't the case. In more recent years, it's been argued by many conservatives that concerns about police brutality and discriminatory treatment of African-Americans has led to an increase in crime due to the fact that cops are afraid to do their jobs. Again, this is something that simply isn't true and isn't supported by the evidence. From the left, we're told that the presence of guns in our society is making for a more dangerous world, but this is not supported by the evidence. Not only are the number of mass shootings being grossly misrepresented, but overall crime rates and, most importantly, the homicide rate, is lower than it has been since the Kennedy assassination. This at the same time, as Durden points out, that the number of guns in the country has increased significantly: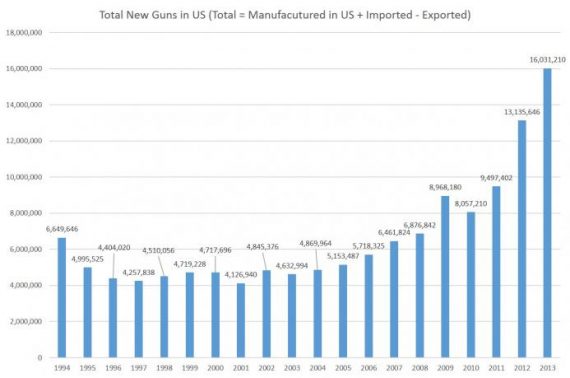 Even as the number of guns in the country has increased significantly, the homicide rate has decreased significantly, a fact which should cause any claim that more guns make society more dangerous to be laughed out of the room.
On the media's side the motives for exaggerating crime are plain to see. Especially at the local news level, coverage of random acts of violence that make them appear as if they aren't random is what drives ratings. The old news addage that "if it bleeds it leads" was based in an apt description of local news broadcasts in most parts of the country, where far more attention is paid to violent crime and bad news than nearly any other form of local news, in no small part because such stories are easier to cover than stories about municipal corruption or other, arguably more important topics. If one follows this nightly television coverage, one quickly comes to believe that the world is a far more dangerous place than it actually is when, in reality, many major cities such as New York City and others are experiencing dips in the crime rate unseen in decades. Since that not nearly as lurid, it's something that rarely gets coverage in the media.
In any event, when a politician or a news reporter tells you that we've got a 'crime problem' it's worth keeping in mind that they both have incentives to fabricate and exaggerate and that it might be worth checking out the truth for yourself.