Hosni Mubarak Convicted Of Embezzlement In Egypt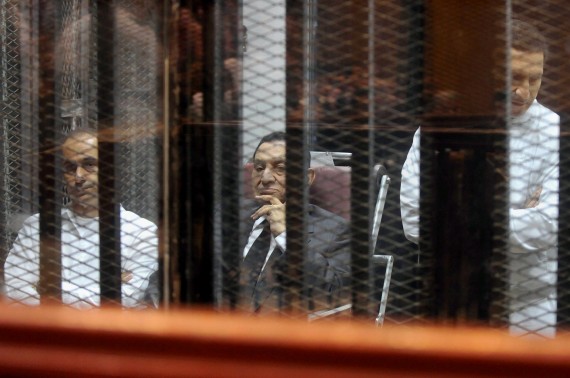 Former Egyptian ruler Hosni Mubarak was convicted by an Egyptian Court of embezzlement charges related to his time in office:
CAIRO — A criminal court here convicted former President Hosni Mubarak on Wednesday of diverting millions of dollars in public money for his personal use in a case that rights advocates say could also now implicate the current prime minister and spy chief in a cover-up.

The court sentenced Mr. Mubarak, 86 years old and living under house arrest in a military hospital overlooking the Nile, to three years in prison. His sons Gamal and Alaa were each sentenced to four years for participating in the scheme. The court ordered the three to pay penalties and make repayments totaling more than $20 million.

Two years ago, the former president was convicted and received a life sentence in a separate case for directing the killing of hundreds of protesters during the uprising that ended his rule in 2011, but even the presiding judge acknowledged at the time that the evidence was thin, and an appeals court has ordered a retrial. Mr. Mubarak is expected to appeal the new verdict as well, but the evidence appears far more substantial.

His conviction on Wednesday, involving his presidential palaces, arguably spares the new government installed by former Field Marshal Abdel Fattah el-Sisi of the potential embarrassment of allowing Mr. Mubarak out on the streets. Mr. Sisi, who led the ouster of President Mohamed Morsi of the Muslim Brotherhood last summer, is set to win next week's election to replace him. The former field marshal has sought to portray his rise to power as an extension of the 2011 uprising against Mr. Mubarak, while critics denounce a return to Mubarak-style autocracy. In interviews, Mr. Sisi has forcefully vowed not to allow a return of the high-level corruption associated with Mr. Mubarak's three decades in power.

Mr. Mubarak's conviction turns on a diversion of funds with the complicity of the state-run construction company then headed by Ibrahim Mehleb, who is now the prime minister of the government Mr. Sisi installed. And a former corruption investigator involved in documenting the charges has filed a lawsuit alleging that Mr. Mubarak's embezzlement was deliberately covered up by a former chief corruption watchdog, Gen. Mohamed Farid el-Tohamy, a former mentor to Mr. Sisi whom the field marshal named as chief of general intelligence.

Mr. Mubarak was convicted on Wednesday of conspiring to embezzle more than $17 million over an eight-year period ending in 2011 by billing lavish personal expenses like telecommunications system maintenance done by the state-owned construction giant, the Arab Contractors. The court filings named two low-level Arab Contractors employees as collaborators in the fraud, but a preliminary investigation also alleged that Mr. Mehleb may have knowingly approved of the diversion, said Hossam Bahgat, a former Egyptian rights advocate and journalist who has reviewed the initial investigation and court papers.
Given what happened to the last set of charges against him, it seems unlikely that Mubarak's conviction on these charges will stand. This seems to be especially true given that the military-controlled regime that has been in power since July, and which seems likely to consolidate its power in the upcoming Presidential elections, seems eager to put discussions of abuses of the Mubarak regime in the past as it moves forward with the prosecution of former President Mohammed Morsi and his associates. In other words, it's back to business as usual in Egypt, at least until the next time the Egyptian people realize that they're being screwed over.