House Delays Vote On Boehner Plan Due To Rewrite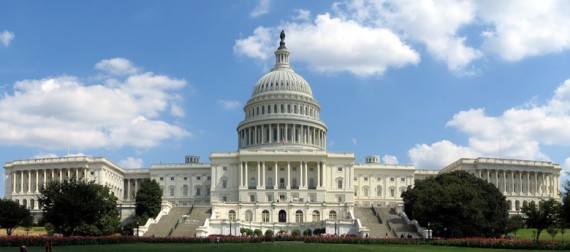 The House was supposed to vote on John Boehner's debt reduction plan, but that was before the CBO looked at the plan:
House Republicans have postponed until Thursday a vote on Speaker John Boehner's deficit reduction bill while party leaders seek to rewrite it.

The decision follows an estimate by the Congressional Budget Office finding that the legislation achieved less in budget savings than Boehner had first claimed.

The CBO said the bill would cut the deficit by $850 billion over 10 years, not $1.2 trillion, and it threatened Boehner's pledge for spending cuts to exceed any increase in the debt ceiling. The bill would authorize $900 billion in additional borrowing initially.

GOP leaders were already having trouble cobbling together to pass the bill amid opposition from conservatives.

"We're here to change Washington – no more smoke-and-mirrors, no more 'phantom cuts,'" Boehner said in a statement. "We promised that we will cut spending more than we increase the debt limit – with no tax hikes – and we will keep that promise. As we speak, congressional staff are looking at options to adjust the legislation to meet our pledge. This is what can happen when you have an actual plan and submit it for independent review – which the Democrats who run Washington have refused to do."
Well, not really, the CBO just released a score on the Reid plan that's better than the first draft of the Boehner plan. Nonetheless, this delay in the vote makes the odds of any kind of a deal by August 2nd even more unlikely since it shortens the time both sides would have to come up with a compromise. Assuming they are capable of compromising.