House Passes Pointless, Doomed Bill To Protest Obama's Executive Action On Immigration
The House approved a bill to protest the President's executive action on immigration that will go nowhere. The question is whether it will placate the right.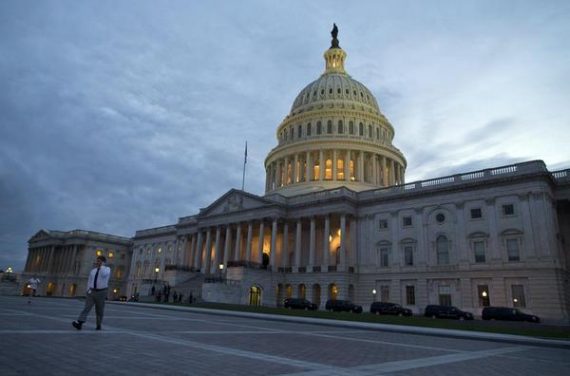 As the clock ticks down on the government's ability to spend money on December 10th, the House yesterday passed a bill clearly meant as an effort by leadership to placate conservatives upset with the President's execution action on immigration:
House Republicans took their first vote against President Barack Obama's action on immigration on Thursday — passing a tea party bill that Hill leaders hope will offer conservatives enough catharsis to prevent a government shutdown next week.

The legislation cleared the Republican-led chamber 219 to 197, with three Republicans voting present. Seven Republicans bucked their party and voted with Democrats against the bill, while three Democrats voted for it. The Senate is not expected to take up the measure, and Obama promised Thursday to veto it, if it landed on his desk.

The question is whether the vote will grease the wheels for a deal on a government-funding measure next week. Some conservatives had wanted to tie Obama's action on immigration to a funding deal and Speaker of the House John Boehner and his allies in leadership hope the vote today will satisfy them, instead.

Leaders are considering a measure that would fund nearly all federal agencies except the Department of Homeland Security through September 2015 with DHS — which handles immigration issues — funded only until February. Conservatives have yet to rally around the plan, which will likely be unveiled early next week, just days before the Dec. 11 deadline to avert a government shutdown.

Tea party star Rep. Ted Yoho, a large-animal veterinarian from Florida, drafted the legislation. He explained it's meant to send Obama a message.

"This bill's not about border security, work visas, E-Verify or immigration reform," Yoho said on the House floor. "This is about the [administration] overstepping its bounds and unilaterally challenging the laws of this great nation of ours."

Yoho's bill says presidents cannot categorically exempt immigrants from being subject to deportations; such actions would be declared "null and void and without legal effect" under the legislation.

Even the bill's biggest supporters admit the vote is more about symbolism than substance.

When asked by a reporter whether Republicans were taking the Yoho bill seriously, Rep. Matt Salmon (R-Ariz.) replied: "I don't even know if Ted [Yoho] is."

"I think people believe that it's a very symbolic gesture," Salmon added. "Everybody knows it's going to end up in Harry Reid's drawer anyway."

Senate Majority Leader Harry Reid (D-Nev.) stressed again Thursday that he wouldn't bring the bill up for a vote in his chamber — arguing that it "tears families apart while doing nothing to fix the real problems we face."

"Unfortunately for anyone who wants to see Congress fix our broken immigration system, the Republican approach is being dictated by the most extreme voices in their party," Reid said. "Republicans' knee-jerk resistance to working with Democrats to fix this problem left the president with no option but to take action to protect families from being separated."
To many, this opening move by House leadership will sound eerily familiar. In the weeks prior to the October 2013 government shutdown, there were similar efforts made by Boehner and the rest of the House GOP Leadership to provide Republican House members who had been whipped into a frenzy by the Tea Party groundswell, led by Ted Cruz, that was convinced it could use the impending need to pass a budget to get the President to agreed to defund the signature legislation of his first term in office. Those efforts to placate failed completely, of course, and House Republicans were led inevitably to the point where they had to choose between shutting down the government and insisting on a negotiating strategy that included an opening demand that every sane person knew the President would never agree to. We know which choice they made, of course, and it led to a two week long government shutdown that did serious damage to the Republican Party's approval numbers that was only alleviated by the fact that it was quickly followed by the disastrous roll out of the Affordable Care Act websites on both the Federal and State levels.
This time around, Congress is faced with a similar deadline. Unless a new funding bill, either permanent through the end of the new Fiscal Year on September 30, 2015, or just temporary until some point after January 3rd to give the new Congress the ability shape the budget itself, is passed by next week's deadline then we will have another government shutdown that, at the very least, could result in a whole new round of Capitol Hill drama in the final weeks of the 113th Congress. While some seem to think that yesterday's vote, which will die in the Senate, will be enough to at least temporarily placate conservatives there are signs that indicate that this may not be the case. The President's decision to take unilateral action on immigration has not gone over well among conservatives in general or the Tea Party specifically, which has been using the weeks since the announcement to rally supporters via rallies and fundraising drives, and has been pressuring the more conservative members of Congress to take immediate action to block the President's attempted changes to deportation Housrocedures and policies. This has led to several reports of deep divisions among House Republicans about how best to respond to the President, with the most conservative wing of the caucus arguing for something more than just symbolic votes like the one that occurred yesterday. That could lead Speaker Boehner and the rest of the House leadership to be faced with the choice of either trying to find a way to placate these members even further, a strategy which would be similar to the one that led to the October 2013 shutdown, or seek support for a funding bill from members of the House Democratic Caucus, a move that would cause tension with the hard right just as the GOP begins taking control of Congress for the next two years.
As things stand, my guess is that the leadership in the House and Senate will do what's needed to get a budget deal done, even if it just ends up being a temporary one that kicks the can down the road to February or March. By all accounts, none of them wants to relive the shutdown drama of 15 months ago, especially not on the eve of retaking the power that they had lost back in 2006. It's like to be a pretty dramatic week, though, so stay tuned.