House Republicans Want to Redefine Rape
The "No Taxpayer Funding for Abortion Act" would remove the exception for non-forcible rape.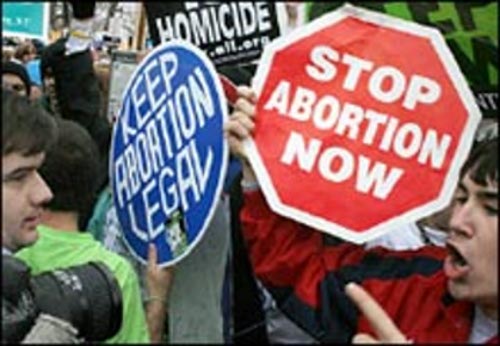 House Republicans have introduced HR 3, the"No Taxpayer Funding for Abortion Act." But, you say, we've denied taxpayer funding for decades under the so-called Hyde Amendment. But that has always had an exception for rape and incest.  HR 3 would dramatically narrow the former:
'SEC. 309. TREATMENT OF ABORTIONS RELATED TO RAPE, INCEST, OR PRESERVING THE LIFE OF THE MOTHER.
'The limitations established in sections 301, 302, 303, and 304 shall not apply to an abortion–
'(1) if the pregnancy occurred because the pregnant female was the subject of an act of forcible rape or, if a minor, an act of incest; or
'(2) in the case where the pregnant female suffers from a physical disorder, physical injury, or physical illness that would, as certified by a physician, place the pregnant female in danger of death unless an abortion is performed, including a life-endangering physical condition caused by or arising from the pregnancy itself.
As MoJo's Nick Baumann explains, "This would rule out federal assistance for abortions in many rape cases, including instances of statutory rape, many of which are non-forcible. For example: If a 13-year-old girl is impregnated by a 24-year-old adult, she would no longer qualify to have Medicaid pay for an abortion."
Steve Benen calls this "odious."  John Cole goes further:  "[T]his makes the GOP objectively pro-rape, to borrow some warblogger terminology from years gone by. That's right, ladies- the only way you are allowed any say in a pregnancy resulting from rape is if the rapist roughed you up a bit. Otherwise, the fetus rules."
While I'm rather queasy about the whole thing, but am not convinced it's as bad as all that.
First, as Benen acknowledges, this is simply a sop to the social conservative base.  It has zero chance of being passed into law, given that it's not going to make it through the Senate, much less with enough votes to secure an override of President Obama's inevitable veto.
Second, the rape exception was never logical but rather a concession to an emotional issue.  That is, if one believes a fetus at a given stage of development is a human life worthy of protection by law, the events leading to the pregnancy are irrelevant.  We don't, after all, countenance the murder of post-birth children conceived pursuant to rape. But the idea that a woman should be forced to bear the emotional trauma of carrying a constant reminder of a violent, awful crime for nine months — and then be forced to either look at the child every day or bear the alternative trauma of giving up the baby — is just so emotionally wrenching that we've carved out an exception.  The fact that rape cases account for an infinitesimal fraction of abortions in this country also helps.
But does this really hold in the case of a statutory rape which, despite the name, frequently isn't really a rape at all?   Again, this is a queasy subject.   We can all agree that a 9-year-old lacks the emotional maturity to give meaningful consent to sex with an adult and that an adult who violates a child is a rapist.   But we've raised the bar on childhood in recent years, extending it well into puberty. Within living memory, it was common, at least in rural areas, for girls to marry and start having children in early puberty.  Generally, with men significantly older than they were. Now, though, most states make it a crime for a 19-year-old to have consensual sex with their 16-year-old girlfriend.
Is a pregnancy arising from that circumstance really comparable to one arising from being jumped in a dark ally by a stranger and violated under threat of death?  Really?
But here's the thing:  the sponsors of this bill aren't proposing that we do away with statutory rape laws.  Indeed, they're in common cause with those who made and enforce those laws. So, they're in the bizarre position of both supporting the criminalization of teenage sex and yet arguing that the girl who the law says lacks maturity to consent to sex nonetheless has the maturity to have a child arising from said sex.
Furthermore, they're undermining their own case here.   Abortion is already legal under most circumstances in America, a position that's not going to change.  And government funding for abortion has been withheld almost as long; that's also not going to change.    So, why attempt to move the bar ever-so-slightly in a direction that most Americans — including your core supporters — are going to find uncomfortable?   Especially when you know damned well that you can't actually succeed?