House Votes to Repeal 9/11 AUMF
Democrats are trying to rein in President Trump. It won't work.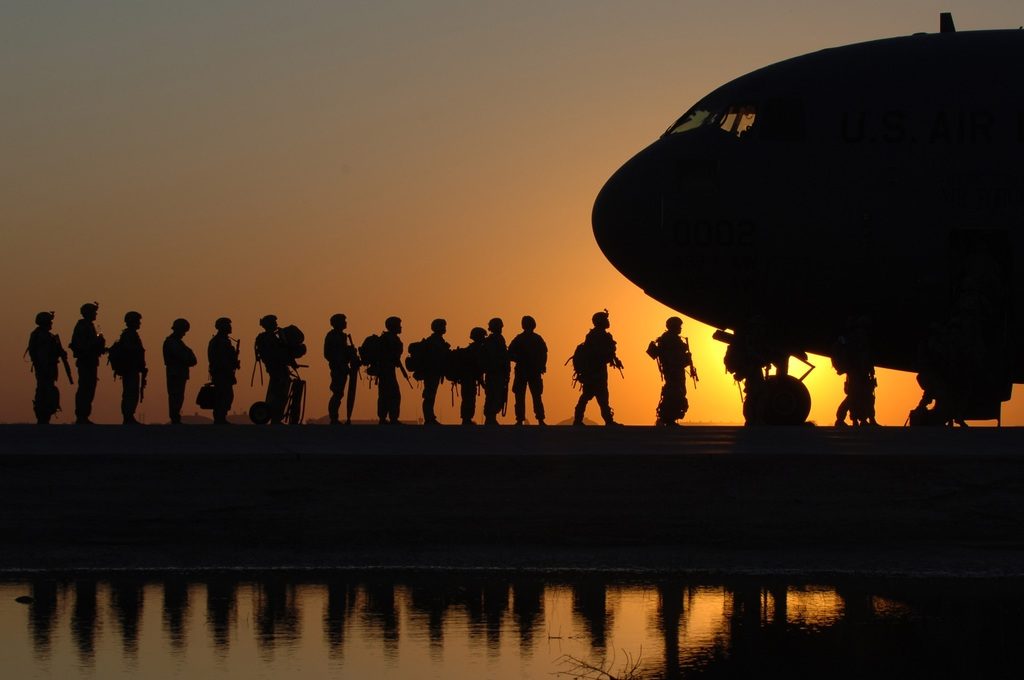 Matt Fuller and Amanda Terkel think Nancy Pelosi and House Democrats have found a way to stop President Trump from recklessly attacking Iran if only they show resolve. Alas, they are wrong.
House Democrats passed a nearly $1 trillion appropriations bill on Wednesday, complete with funding for the military, health programs and the Energy Department. But 11 lines in the 667-page bill could literally be the difference between war and peace, life and death: a repeal of the 2001 Authorization for Use of Military Force.

Three weeks after the 9/11 terrorist attacks, lawmakers overwhelmingly ― 420-1 in the House, 98-0 in the Senate ― approved the 2001 AUMF. The text of the resolution is incredibly broad. Congress gave the president the authority to use "all necessary and appropriate force" to go after the "nations, organizations, or persons" who were involved in the 9/11 terrorist attacks. But there's more.

The resolution also gave the president the authority to go after anyone who "harbored" those people, "in order to prevent any future acts of international terrorism against the United States."

Not many lawmakers anticipated that, 18 years later, the United States would still be using the 2001 AUMF to justify military action all over the globe. Three different presidents have used the AUMF for more than three dozen different military engagements in 14 different countries.

And now, with President Donald Trump and his administration strongly signaling they would use the 2001 AUMF to justify a new war with Iran, the newish Democratic majority controlling the House is taking its most serious steps to repeal the war authority.

Included in the base text of the appropriations bill is a provision that would repeal the 2001 AUMF eight months after the legislation is enacted. It is a significant development in Congress trying to restrain Trump and many of his most hawkish advisers' thirst for war. And it's the first time the House has passed a repeal of the 2001 AUMF.
But surely Fuller and Terkel understand that this is a political stunt, not a meaningful check on Trump's powers?
But this bill is almost certainly not the bill that will make it to Trump's desk. This is the first serve in an appropriations pingpong match between the Democratic House and the Republican Senate. Senate Majority Leader Mitch McConnell (R-Ky.) ― much less Trump ― is unlikely to accept such a repeal, and there's serious doubt among Democrats that their leadership would risk a shutdown over Senate Republicans refusing to repeal the 2001 war authority.

"We are not the party of shutdowns," Rep. Jamie Raskin (D-Md.) told HuffPost this week. "That is not our position."

If Democrats aren't willing to risk a shutdown over repealing this 2001 military authorization, however, then they're almost already giving up the game. They may have found a gambit that could potentially limit the president's ability to go to war with Iran, but they face stiff opposition to a full-scale AUMF repeal not just from McConnell and Trump but also national security adviser John Bolton and Secretary of State Mike Pompeo. And even if they do plan to give up on repealing the 2001 war authority, they could still face stiff opposition in pursuing a middle-of-the-road approach.
None of this makes any sense. Fuller and Terkel acknowledge that this is DOA in the Republican Senate and, even if it somehow made it through, Trump would veto it. So . . . they're proposing that House Democrats shut down the government until they get their way?
Let's say Pelosi and company decide this is indeed a hill they want to die on. Trump and Republicans will paint this—-successfully, I think—as Democrats being soft on terrorism. It's politically moronic.
And I say that as someone who agrees both that it's time to repeal the 2001 AUMF and that starting a war with Iran would be bad, indeed. It absolutely makes sense for Democrats to make those cases to the public. But a government shutdown would simply backfire.
Furthermore, while Presidents Bush, Obama, and Trump have all indeed used the 2001 AUMF to justify actions completely unrelated to pursuing al Qaeda, it's not as if they couldn't have found another pretext absent that authorization. Going back to the Cold War, presidents have used the fact that we have a large, standing military of which they are the Commander-in-Chief to utilize that instrument as they saw fit.
Congress recognized this reality with the 1973 War Powers Resolution, passed over President Nixon's veto. For all practical purposes, it concedes that presidents have the right to initiate military action on their own authority. Yes, it stipulates that the power should be "exercised only pursuant to (1) a declaration of war, (2) specific statutory authorization, or (3) a national emergency created by attack upon the United States, its territories or possessions, or its armed forces." But, in reality, it has been interpreted as a blank check for presidents to utilize force for 60-90 days.
Beyond that, presidents going back to Nixon have argued that the Resolution is an unconstitutional infringement on their power. Some Members of Congress tried to sue President Clinton over his exceeding the 60-day ceiling in Kosovo but both the trial and appeals court ruled they lacked standing; the Supreme Court declined to take the case. Similarly, President Obama thumbed his nose at Congress during the Libya operation, claiming both that the Resolution was unconstitutional and, besides, the actions didn't constitute "force" as contemplated by the law.
All of which is to say that, even if House Democrats were somehow able to force a repeal of the 2001 AUMF through a government shutdown—and even if that wasn't going to be a massive gift to Republicans come next November—it wouldn't matter a tinker's damn. Unless we're going to draw down the US military to a constabulary force—which would be an incredibly bad idea—-there's simply nothing Congress can do a priori to stop any president from taking whatever military action he deems appropriate.