How about a Parade of Ideas?
Today in an increasingly liberal, educated, globalized, and democratic world, we have more reason than ever to listen to the opinion of our peers and, where appropriate, to be open to their counsel.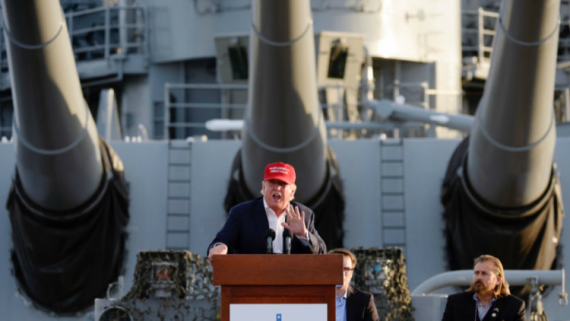 So everyone knows by now that President Trump craves a big ol' military parade.  His motives are anyone's guess, and virtually everyone has guessed.  Possibly he's eager to flex American might for international consumption.  Possibly it's for domestic optics, giving him a stage to look presidential and pro-military, and, more importantly, for the military to look pro-Trump.  Possibly it's because the guy likes television and thinks a parade would make for good television. Or possibly he just likes parades.  Who knows with this guy?
The inspiration for Trump's proposal is as murky as his motives.  Presumably the original inspiration is the Bastille Day military parade in Paris, France.  One cannot be sure.  Given Trump's evident admiration of despotic strongmen (think: Presidents Putin and Duterte) perhaps his proposal wasn't taken from the French at all but from more dubious sources.
The United States has held military parades in its past but they're not a practice we've followed in decades.  As an ongoing concern—rather than as a relic of WWII-era nostalgia–military parades evoke a vaguely thuggish un-American vibe.
Which for Trump is pretty unusual.  Not the thuggish part but the un-American part. It's ironic and unfortunate that the one foreign practice he wants to nick is such a lousy one.  Would that it were instead, say, single-payer healthcare or paid family leave.
Trump's America First mantra isn't just about trade and the economy; it's a generalizable one-size-fits-all attitude that unabashedly favors everything American and assumes that a proper global conversation consists of the United States lecturing while the rest of the world takes notes.  Trump's jingoist bloviating is one reason (surely among many) for why global approval of U.S. leadership has dramatically plummeted to historical lows in Trump's first year.
That's unfortunate. American respect for world opinion and the respect of world opinion for America are mutually reinforcing.
Distrust of "foreign" ways and of foreign opinion more generally has always been an important strain in American political thought.  For decades it has been the prevailing theme in conservative thought, and under Trump it is dogma.  Which, again, is unfortunate.  An enlightened self-interested stance toward world opinion does not require anti-American self-loathing or misty-eyed sentimentality toward all things Scandinavian.  But it does require that American leadership act on the reality that the United States exists in a world of nations that cannot be walled off, literally or metaphorically.  It requires recognizing that American interests are best advanced in cooperation with allies, and that that cooperation is best secured through reciprocity, not coercion or rhetorical belittlement.
Indeed, in competition with the American current of instinctual isolationiism that characterizes so much of American history, there has also always existed a more internationally-minded crosscurrent. Americans have long benefitted from a venerable if modest tradition of learning about their own country through the writings of insightful foreign-born "outsiders" who have provided commentary on the U.S.—Crèvecœur, Thomas Paine, Burke, Tocqueville, Dickens,  Chesterton, Heidegger, and Baudrillard to name a few.  How these various authors have depicted the United States has not always been flattering, but Americans are better for having read their works openly and critically.Though we associate this more cosmopolitan crosscurrent with our post-WWII history, traces of it are identifiable even at the founding.  Note, for example, the following striking passage from The Federalist.
"An attention to the judgment of other nations is important to every government for two reasons: the one is, that, independently of the merits of any particular plan or measure, it is desirable, on various accounts, that it should appear to other nations as the offspring of a wise and honorable policy; the second is, that in doubtful cases, particularly where the national councils may be warped by some strong passion or momentary interest, the presumed or known opinion of the impartial world may be the best guide that can be followed."—Federalist NO. 62
Here Publius asserts that American rulers must attend to international opinion not simply because it's prudent to do so or to wield influence but because—gasp—Americans can actually learn and benefit from the wisdom of others.  What makes the passage all the more remarkable is that the United States was the world's only republic at the time of this writing.  Publius was calling for American to attend to monarchies and aristocracies for guidance.  Today in an increasingly liberal, educated, globalized, and democratic world, we have more reason than ever to listen to the opinion of our peers and, where appropriate, to be open to their counsel.
Just not to a military parade.