How to Make the Border Situation Worse
Trump declares he will end aid to Guatemala, Honduras, and El Salvador.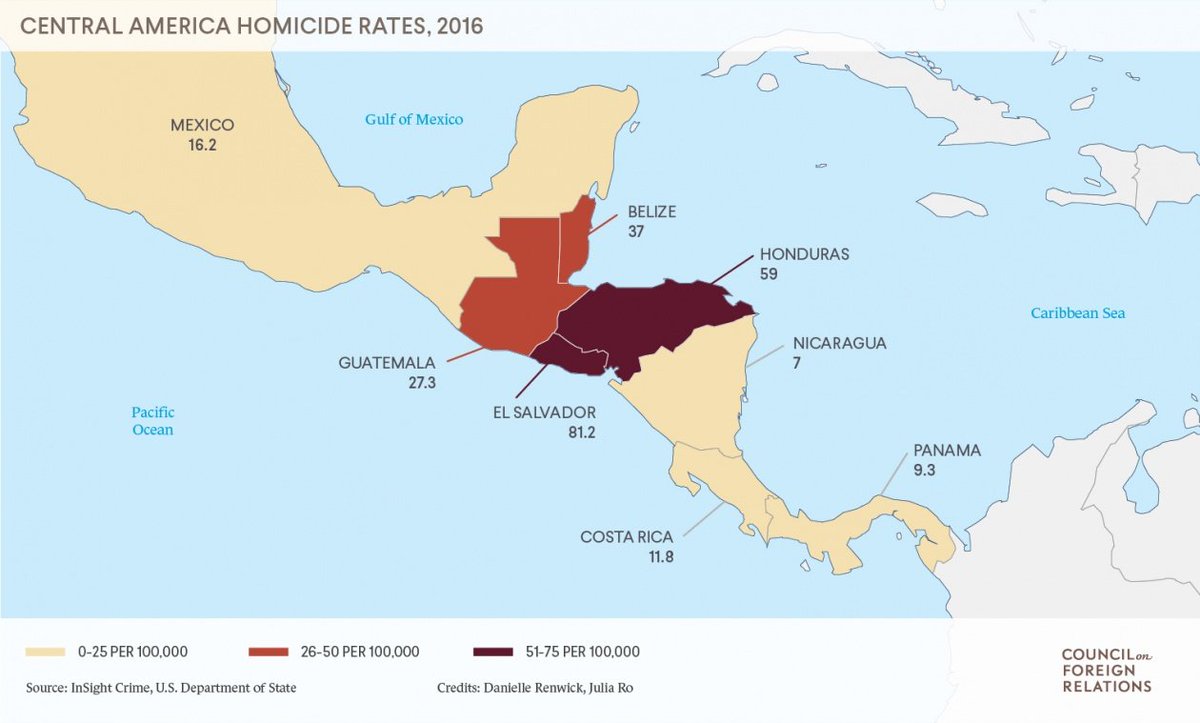 Via the  NYT:  Trump Directs State Dept. to End Aid to 3 Central American Countries
At Mr. Trump's direction, the State Department on Friday began the process of informing Congress that it intended to end the foreign aid. A person with knowledge of the decision said that Mr. Trump met with Secretary of State Mike Pompeo on Thursday, after which diplomats were directed to begin the process of cutting off the funds by drafting letters to lawmakers. Mr. Trump publicly said as much on Friday in comments to reporters.

[…]

"No money goes there anymore," Mr. Trump said. "We're giving them tremendous aid. We stopped payment."

The State Department issued a statement late on Friday saying: "At the secretary's instruction, we are carrying out the president's direction and ending FY 2017 and FY 2018 foreign assistance programs for the Northern Triangle. We will be engaging Congress as part of this process."
Now, since these are monies appropriated by law, it is likely the case that Trump's stark rhetoric does not match up with reality.  It is unlikely that the White House can so easily cut off these funds. Along those lines, see Adam Issacson's run-down at the Washington Office on Latin America.
More from the NYT piece:
Mr. Trump's decision to end the aid to the Central American countries is likely to anger members of Congress from both parties, who have supported spending money to try to address the root causes of the violence that has caused migrants to flee those countries to come to the United States.

Currently, the United States spends about $620 million a year for gang prevention programs and other initiatives aimed at helping support civil society in the three countries. Advocates say that cutting the funds will only accelerate the migrant flows into the United States.
The truly striking thing about this move is that if the policy goal of the United States is to stem the tide of asylum-seekers from Central America, then living conditions in those places will have to improve.  Cutting off aid to these locations will not accomplish that goal, rather it will likely do the direct opposite.  Indeed, if stopping caravan of Central Americans is actually of importance to Trump, he ought to stop seeking to waste money on a wall and think about how those funds might be used to stabilize the situations in El Salvador, Guatemala, and Honduras.  I will even say that it may also include a re-evaluation of the application of current aid, as it may be that there are better ways to help these countries.
But a policy (that should probably be in scare quotes) that purports the withdrawal of "tremendous payments" will solve the migrant crisis is foolhardy (to put it kindly).  This is not a case in which we tried to buy something and the product wasn't delivered.  This is a complicated situation about development within the legacies of numerous civil wars and other political violence and in the context of the ongoing drug war.  The US not only has direct responsibility for some of that history, solving policy problems on the border also suggest a very different approach (not to mention, you know, the human beings who are involved in all of this).
One of the fundamentals of the entire border wall saga (and, indeed, of the border security issue going back decades) is that most simplistic assertions about the border (e.g., They should just follow the laws! Build a wall! Cut off aid! etc.) ignore a deep, basic truth:  these are people who are willing to basically walk from Central America to the United States, often with small children, because they think it is the only way to have a stable life for themselves and their families.  That speaks to the desperation that drives this behavior, which speaks to the conditions that drive the desperation.
From a crass political point of view, this kind of thing will help Trump with his base, and of the skills the man does have, knowing his fans is one of them.  In terms of Trumpian logic, it just further confirms his childlike grasp of policy.  Border problem?  Build a wall.  Countries won't do what you want?  Take away their money.  Problem solved!