Hungary's Environmental Disaster
The disaster that began last Monday in Hungary continues to unfold.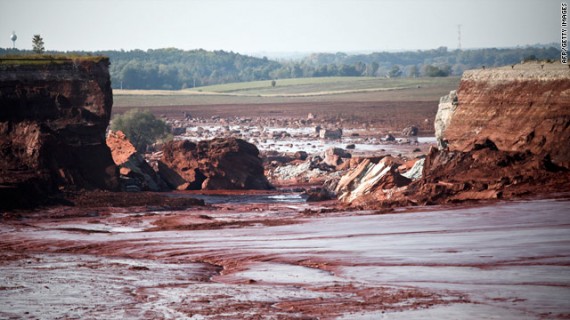 There have been some new developments in the toxic waste spill originating from an aluminum plant in Hungary about 100 miles west of Budapest. The spill took place last Monday when a retaining dam at the plant failed and released 700,000 cubic metres of what is being referred to as "toxic red sludge". The noxious waste has covered several nearby villages to a level of as much as several feet, causing their evacuation. It has flowed into several waterways, killing fish and other aquatic life. The spill has been responsible for a reported eight human deaths.
As of today the spill has reached the Danube and although I'm reading a lot of happy talk about the volume of water in the Danube and its rate of flow it remains possible that the spill will pollute a vast area of south-eastern Europe. The Danube continues on its path in Hungary through Serbia, Bulgaria, Romania, Moldova, finally flowing into the Black Sea.
The composition of the sludge hasn't been reported but to my eye it appears to be a combination of cadmium compounds, likely including oxides and cyanates. Poisonous, to say the least.
Here are the latest developments:
(CNN) — The head of the company at the center of a toxic spill in Hungary has been arrested on charges of public endangerment and harming the environment, authorities said Monday.

Meanwhile, an eighth victim of the sludge has been found, said Gyorgyi Tottos, an official with Hungary's emergency services department.

"We have found a body near Kolontar that is likely to be the missing person, who would be the eighth victim," she told CNN. "The identification process is ongoing, but we think this is the person who's been missing."

Five European Union experts are due to arrive in Hungary on Monday to find out how badly toxic sludge has damaged the environment and advise on decontamination, the European Union said.
The wall that engineers have been trying to use to contain the spill appears to be giving way. If it does, it could release an additional 500,000 cubic metres of sludge.
I see no way that this disaster could have taken place overnight. Officials are talking about "human error" which sounds like a remarkably benign way of describing the situation to me. In all likelihood it is the result of criminal neglect. I don't know about you but it certainly makes me wonder what sorts of horrible industrial byproducts are sitting in containment basins not far from where I'm sitting. If it can happen in Hungary can it happen here?
The spill is being compared to Chernobyl and the recent Gulf oil blowout. It will certainly be added to the alarming list of greatest anthropogenic environmental disasters. Why is it receiving so little attention here?