Huntsman/Gingrich "Lincoln Douglas Debate" Today At 4pm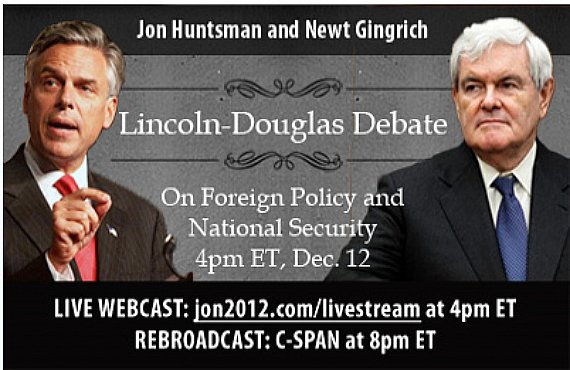 For anyone who has the time, this is something that could actually be interesting. Starting at 4pm Eastern today, Jon Huntsman and Newt Gingrich will be taking part in a 90 minute "Lincoln-Douglas" Debate. It appears that this will be similar to the event that Gingrich held with Herman Cain back in November, although I've got to say that it strikes me that Huntsman is a far better debate opponent than Herman Cain could ever be, especially since the topic of the debate is National Security and Foreign Policy.
If you have the time, you can watch the livestream starting at 4pm Eastern (alternate livestream via The Washington Post) or, if you can't do that, the entire debate will be replayed at 8pm Eastern on C-Span (and presumably be available in their archive at some point after that).