Hurricanes With Female Names More Likely To Kill People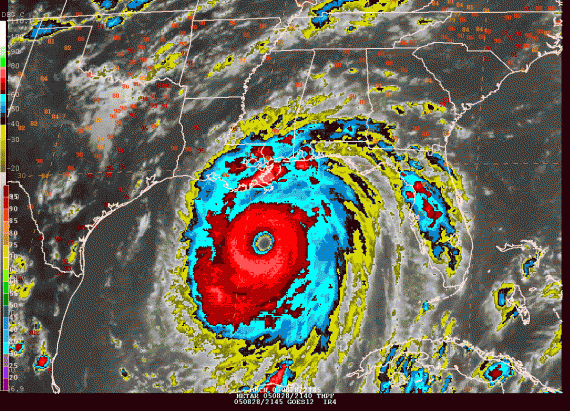 A new study claims that hurricanes with female names tend to kill more people because people don't take warnings about them seriously:
People don't take hurricanes as seriously if they have a feminine name and the consequences are deadly, finds a new groundbreaking study.

Female-named storms have historically killed more because people neither consider them as risky nor take the same precautions, the study published in the Proceedings of the National Academy of Sciences concludes.

Researchers at the University of Illinois and Arizona State University examined six decades of hurricane death rates according to gender, spanning  1950 and 2012.  Of the 47 most damaging hurricanes, the female-named hurricanes produced an average of 45 deaths compared to 23 deaths in male-named storms, or almost double the number of fatalities.  (The study excluded Katrina and Audrey, outlier storms that would skew the model).

The difference in death rates between genders was even more pronounced when comparing strongly masculine names versus strongly feminine ones.

"[Our] model suggests that changing a severe hurricane's name from Charley … to Eloise … could nearly triple its death toll," the study says.

Sharon Shavitt, study co-author and professor of marketing at the University of Illinois, says the results imply an "implicit sexism"; that is, we make decisions about storms based on the gender of their name without even knowing it.

(…)

To test the hypothesis the gender of the storm names impacts people's judgments about a storm, the researchers set up 6 experiments presenting a series of questions to between 100 to 346 people.  The sexism showed up again.

Respondents predicted male hurricanes to be more intense the female hurricanes in one exercise.  In another exercise, the hurricane sex affected how respondents said they would prepare for a hurricane.

"People imagining a 'female' hurricane were not as willing to seek shelter," Shavitt said. "The stereotypes that underlie these judgments are subtle and not necessarily hostile toward women – they may involve viewing women as warmer and less aggressive than men."
Something about this "study" doesn't really add up to me.
There are any number of factors that can determine how deadly a hurricane might actually end up being. The biggest factors, of course, are the storm's path and the strength of its wind and storm surge at the time it finally strikes land. Depending on how much those factors fluctuate, the warnings that government authorities give to people can vary, and may end up changing significantly as a storm approaches. For some, this may mean that there isn't sufficient time to evacuate. Added into this factor is the all too well known factor of people who simply refuse to obey warnings or orders to evacuate, either out of stubbornness or stupidity.
The name a storm is given, on the other hand, is a completely random process that depends entirely on what order it is on the list of named storms for a given season, which under current conventions alternates between male and female names. What the study at issue here appears to have found is a correlation between death rates and the "gender" of a named storm. However, as anyone who has taken an elementary logic course knows, correlation does not equal causation, and the conclusion that there is sexism as work here is quite obviously nothing more than the study authors projecting their own prejudgments onto the rest of the world.