Hypocrisy, Thy Name is McConnell
Another entry in the "stunning, but not surprising" category of political observations.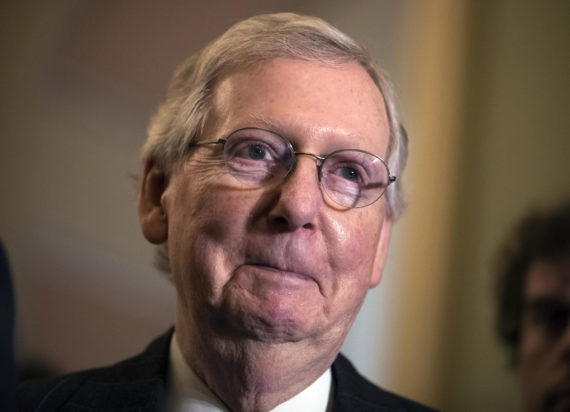 Look, I am well aware that charges of hypocrisy in politics are easy and often trite. But sometimes, hoo-boy (to use some specialized political science lingo), it just slaps you in the face:
"My advice to the corporate CEOs of America is to stay out of politics. Don't pick sides in these big fights."–Senator Mitch McConnell (R-KY).
Source for the above: the St. Louis Post-Dispatch, 'Stay out of politics,' Republican leader McConnell tells U.S. CEOs, warns of 'consequences'
McConnell's legislative and judicial combat against campaign finance reform makes any concerns he might have about corporate influence in politics laughable.
And the notion, in general, that the Republican Party is opposed to corporate involvement in politics is, well, laughable.
Back to general hypocrisy, to quote McConnell (from a speech he gave in 2012):
"No individual or group in this country should have to face harassment or intimidation, or incur crippling expenses, defending themselves against their own government, simply because that government doesn't like the message they're advocating."
In contrast with this statement from this week:
"Corporations will invite serious consequences if they become a vehicle for far-left mobs to hijack our country from outside the constitutional order," McConnell told a news conference in his home state of Kentucky.
Which is a threat when made by the highest ranking elected Republican in the federal government.
Look, there are a host of reasons to be concerned about corporations having oversized power in national politics. But the group that should be objecting the least are people like McConnell and his allies since they have been prime enablers of those selfsame corporate entities. Time precludes a further examination of this subject for the time being, however.
Still, these objections, such as the notion that Coca-Cola and Delta are "becom[ing] vehicles for far-left mobs" are just absurd on their face. It illustrates that these ideology-based vituperations are not based in any reality. If Coca-Cola is even "far-left" adjacent, then the term clearly has no meaning as deployed. (And that doesn't even get into the fact that what Coca-Cola, Delta, and others are objecting to is voter suppression legislation–and if promoting democracy is "far-left" then the GOP has some soul-searching to do).