I Don't Think that Means What you Think it Means
Ted Cruz's definition of "the American people" needs some refining.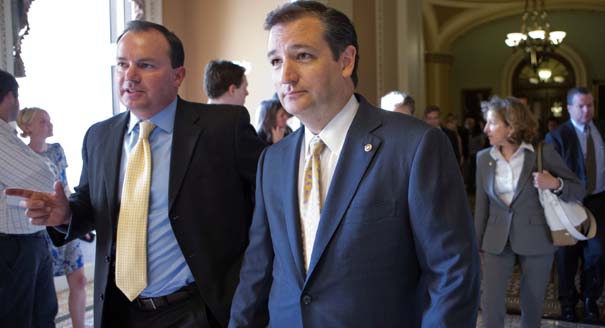 Senator Ted Cruz:  "Mr. President, I want you to imagine simply that Senate Republicans had stood together and said, we support the House Republicans in standing with the American people. Mr. President, if that had happened, this result, I believe, would have been very, very different. It is heartbreaking to the American people that Senate Republicans, divided as they did and decided to direct their criticism, direct their attention, direct their cannon fire at House Republicans and at those standing with the American People."'
In regards to the American people, Pew Research reports:  Tea Party's Image Turns More Negative
Of course, if Cruz defines "the American people" as "Tea Party Republicans" his position makes more sense.
Another poll (NBC/WSJ) shows the combined "Very Positive" and "Somewhat Positive" for the Tea Party at 24% and the combined "Somewhat Negative" and "Very Negative" at 53%.
Much more at the link.
On the topic of those same American people and the ACA itself, it is true that a plurality view it unfavorably (as per a recent Kaiser poll):
But, of course, that captures those who do not favor it because it doesn't go far enough.  It would be helpful if someone would include a question that breaks down why people don't view it favorably.
Beyond that, the specific components of the law poll pretty well: