'I Heart Head' Campaign Signs Stolen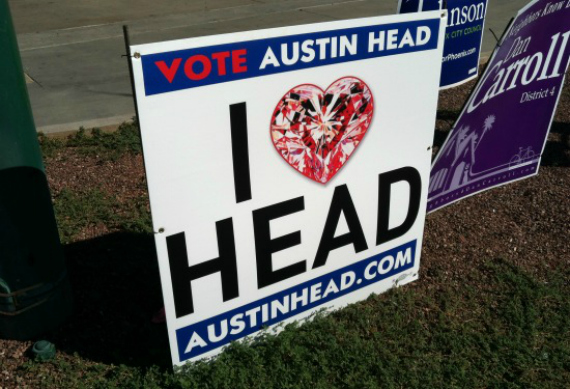 Austin Head, a candidate for the Phoenix City Council has a problem, people keep stealing his campaign signs:
Thieves have stolen a third of Phoenix City Council candidate Austin Head's campaign signs, leading the first-time candidate to believe he is either very popular or very disliked.

Head, a DJ and event planner, put 21 signs around District 4 last weekend with the phrase 'I Heart Head.' (The heart is actually a sparkly heart shape.)

"Some people find it humorous and entertaining," he said. "I've had a lot of e-mails from people who want T-shirts and stickers that say 'I Heart Head.' "

He told PHX Beat he intentionally used the slogan to attract attention in a very crowded race. Seven people are competing for the council seat.

"It has absolutely helped my campaign. My opponents have instant name credibility being the son of the former mayor and the daughter of a congressman," Head said, referring to candidates Justin Johnson and Laura Pastor. "The other opponents have all been political types who've run in races before. This is my first campaign, and I certainly need this name recognition."

But Head had no idea people would steal the signs. A friend called him while witnessing a group of teens attempting to remove a sign, Head said. Other than that instance, he does not know who is taking the signs.

"It could range from kids who want to put it on their walls to conservative people who don't want to have it on the street or something," Head said.
Or maybe Mr. Head has made such an impression on his fellow citizens that they want to collect his campaign signs.
H/T: Taegan Goddard