If the U.S. Defaults, Eric Cantor Makes Money
If the U.S. defaults, Eric Cantor will make some money.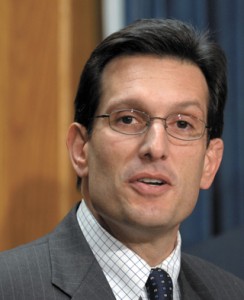 According to the Wall Street Journal, House Majority Whip Eric Cantor stands to gain financially from a U.S. default on the debt ceiling.
Putting his money where his mouth is? Eric Cantor, the Republican Whip in the House of Representatives, bought up to $15,000 in shares of ProShares Trust Ultrashort 20+ Year Treasury ETF last December, according to his 2009 financial disclosure statement. The exchange-traded fund takes a short position in long-dated government bonds. In effect, it is a bet against U.S. government bonds—and perhaps on inflation in the future.
You may recall that last week, Cantor pulled out of debt ceiling talks, increasing the possibility of default. And why shouldn't he? If the U.S. defaults, he'll make money on his investments. He'll still have a job because he's in a safe seat. And an economic collapse makes it more likely that a Republican wins the White House in 2012, which would make Eric Cantor more powerful.
In short, every conceivable incentive is aligned for Eric Cantor to allow the U.S. to default except an altruistic desire to not cause suffering to his fellow citizens.
This is deeply troubling.