'I'll Have Another' Wins Preakness, Now Just 1.5 Miles Away From The Triple Crown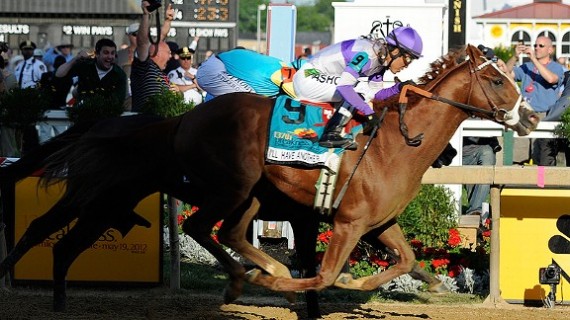 It's been 34 years since the world of Thoroughbred horse racing had a Triple Crown winner, since then 11 horses have won the first two legs of the test only to fall short at the Belmont. This year, a horse with a name that  appeals to bar patrons everywhere has a chance:
The 2012 Preakness was billed as a rematch between Kentucky Derby winner I'll Have Another and runner-up Bodemeister.

It was exactly that. I'll Have Another caught Bodemeister at the wire today to win the 137th Preakness Stakes at Pimlico Race Course and the first two races of the Triple Crown. He will go to the Belmont looking to become the first horse to win the Triple Crown since Affirmed in 1978.

Eleven horses have won the first two stops on the Triple Crown chase since Affirmed. Big Brown in 2008 was the last. I'll Have Another trainer Doug O'Neill has repeatedly said his colt is good enough to head to the Belmont with a chance at breaking the 33-year drought and proving that the Triple Crown can still be accomplished.
We'll find out on June 9th. I remember when Affirmed pulled the deed off in 1978, only a year after Seattle Slew had done it in 1977 and 5 years after Secretariat. Since then, horse racing has somewhat faded from the popular culture, but I'm thinking we'll see a burst of publicity over the next three weeks or so. The Belmont Stakes is a different race than the two that have been run so far, a quarter mile longer than the Derby and 5/16's of a mile longer than the Preakness, which is one of the reasons it's been the downfall of 11 contenders over 34 years. So, there's no guarantees here. But, with a name like 'I'll Have Another', how can you not root for the guy?
Photo via Associated Press