Illegal Immigration From Mexico At Lowest Level In Nearly 60 Years
Illegal immigration from Mexico is down substantially, and it has nothing to do with all those anti-immigration laws.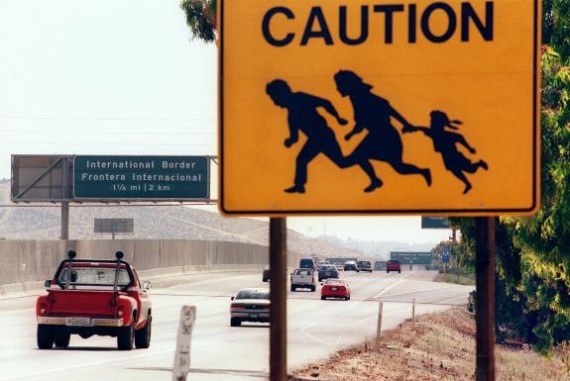 People from Mexico aren't as interested in coming to the United States as they used to be:
Douglas S. Massey, co-director of the Mexican Migration Project at Princeton, an extensive, long-term survey in Mexican emigration hubs, said his research showed that interest in heading to the United States for the first time had fallen to its lowest level since at least the 1950s. "No one wants to hear it, but the flow has already stopped," Mr. Massey said, referring to illegal traffic. "For the first time in 60 years, the net traffic has gone to zero and is probably a little bit negative."

The decline in illegal immigration, from a country responsible for roughly 6 of every 10 illegal immigrants in the United States, is stark. The Mexican census recently discovered four million more people in Mexico than had been projected, which officials attributed to a sharp decline in emigration.

American census figures analyzed by the nonpartisan Pew Hispanic Center also show that the illegal Mexican population in the United States has shrunk and that fewer than 100,000 illegal border-crossers and visa-violators from Mexico settled in the United States in 2010, down from about 525,000 annually from 2000 to 2004. Although some advocates for more limited immigration argue that the Pew studies offer estimates that do not include short-term migrants, most experts agree that far fewer illegal immigrants have been arriving in recent years.
The logical response to such a stark change in circumstances is to ask why it's happening. Part of it, assuredly, is a reflection of the stagnant economy in the United States, and especially the stagnant housing and construction markets, which were a huge source of employment for illegal immigrants over the past several decades as they excelled at the skilled labor required by carpentry and other jobs. But there's another factor, and it's got nothing to do with the United States:
In simple terms, Mexican families are smaller than they had once been. The pool of likely migrants is shrinking. Despite the dominance of the Roman Catholic Church in Mexico, birth control efforts have pushed down the fertility rate to about 2 children per woman from 6.8 in 1970, according to government figures. So while Mexico added about one million new potential job seekers annually in the 1990s, since 2007 that figure has fallen to an average of 800,000, according to government birth records. By 2030, it is expected to drop to 300,000.

Even in larger families like the Orozcos' — Angel is the 9th of 10 children — the migration calculation has changed. Crossing "mojado," wet or illegally, has become more expensive and more dangerous, particularly with drug cartels dominating the border. At the same time, educational and employment opportunities have greatly expanded in Mexico. Per capita gross domestic product and family income have each jumped more than 45 percent since 2000, according to one prominent economist, Roberto Newell. Despite all the depictions of Mexico as "nearly a failed state," he argued, "the conventional wisdom is wrong."

(…)

Another important factor is Mexico itself. Over the past 15 years, this country once defined by poverty and beaches has progressed politically and economically in ways rarely acknowledged by Americans debating immigration. Even far from the coasts or the manufacturing sector at the border, democracy is better established, incomes have generally risen and poverty has declined.
Both of these are, of course, highly positive developments. That Mexico might stabilize politically and economically and become, if not as prosperous as Canada just yet, at least a far more prosperous southern neighbor than we've ever had is a development we should welcome and encourage. Not only because it will reduce cross-border illegal immigration, but also because a strong Mexican economy is good for the U.S. economy. Of course, Mexico won't be entirely free of its problems as long as it has to deal with drug lords and the gangs that they employ, but that phenomenon is due more to our own War On (Some) Drugs than anything else. If drugs like marijuana were legal, the Mexican drug lords wouldn't be nearly as powerful and the drug gangs wouldn't be holding the country by the throat.
Mexico's former President Vincente Fox said pretty much the same thing just a few months ago:
Former Mexican President Vicente Fox believes the current strategies employed against Mexico's drug cartels are not working and he is advocating a different approach.

Speaking passionately about the issue, Fox said he has a team of experts tracking drug-related violence in Mexico. He is concerned the government crackdown and cartel violence that has left about 34,000 dead in the past 4 years is also affecting trade, investment, and tourism.

Fox said he's looking at other countries for possible solutions. One is Portugal, which decriminalized all drugs 10 years ago and has since seen a 25 percent decrease in drug consumption .

"We might have an answer there because we have to separate the health problem (caused) by consuming drugs, and the crime and violence associated with it to distribute in the black market," he said.
A country in eternal chaos on our southern border will just make illegal immigration more likely if current conditions that are keeping people home don't last. Perhaps we need to look at how our own laws are impacting our neighbors and act accordingly.