I'm Confused, I Thought Republicans Respected The Constitition
The Republican National Committee throws the Fifth Amendment under the bus.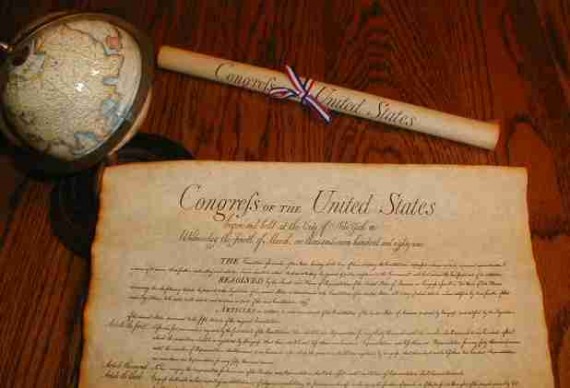 The Republican National Committee is out with a new ad today that hits President Obama over underlings who have asserted the protection of the Fifth Amendment before Congressional Committees:
There's one glaring inaccuracy here that I think needs to be pointed out. The MF Global part of the ad strikes me as absurd. MF Global is (was?) a private investment firm with no connection to the Obama White House other than the fact that Jon Corzine is (was?) the Chief Executive Officer. Lumping the footage of the MF Global employees who asserted their Fifth Amendment rights together with people from the Department of Energy testifying about Solyndra and people from the GSA testifying about the recently revealed Vegas fiasco strikes me as completely without merit, especially considering the fact that Republicans spend the entire Bush Administration objecting to efforts by the left to tie Dick Cheney to Halliburton's current activities even though he left the company before becoming Vice-President.
Beyond that, however, I've got to say that I find something particularly offensive about this ad and the suggestion it makes that there's something wrong with asserting one's right to remain silent. For a party that claims to respect the Constitution, it strikes me as hypocritical to then turn around and insinuate, as this ad clearly does, that there's something wrong with someone asserting their Constitutional rights. If you truly respect the Constitution, that means respecting all of the Constitution including the part that allows someone to refuse to answer questions under oath from a Congressional Committee that, in addition to having an oversight role, also clearly has a political agenda. Sadly, it's the kind of implication that is likely to play well in the hustings because one generally finds the public reaction to the privilege against self-incrimination to end with the thought "well, if they didn't have anything to hide they wouldn't plead the Fifth."
That, of course is the implication that this ad clearly seeks to draw in the mind of the viewer, along with the unstated but rather obvious implication that their silence is part of a White House orchestrated coverup. In reality, it's far more likely that these people are acting on the advice of their counsel given the fact that there are ongoing criminal investigations going on in both the Solyndra and GSA matters at this point. Testifying under oath before Congress without knowing whether ones words could end up becoming the basis of a criminal charge is positively idiotic, and it would have been malpractice for an attorney not to advise their client to assert their 5th Amendment rights. For confirmation of that fact, one need look no further than the case of Roger Clemens, who foolishly volunteered to testify before a Congressional Committee when he didn't have to and is now again on trial for perjury (the first trial having been dismissed when prosecutors accidentally used inadmissible evidence during their opening statement). Not only is it not surprising that these individuals plead the 5th, it would have been surprising if they hadn't.
I know what some are going to say, all's fair in politics. And that's true I suppose. Nonetheless, perhaps it's because I'm am attorney but this kind of ad offends me deeply. Sadly, it will probably be quite effective.