Impending Rail Strike Could Derail Economy
An impasse over schedule flexibility could have widespread impact.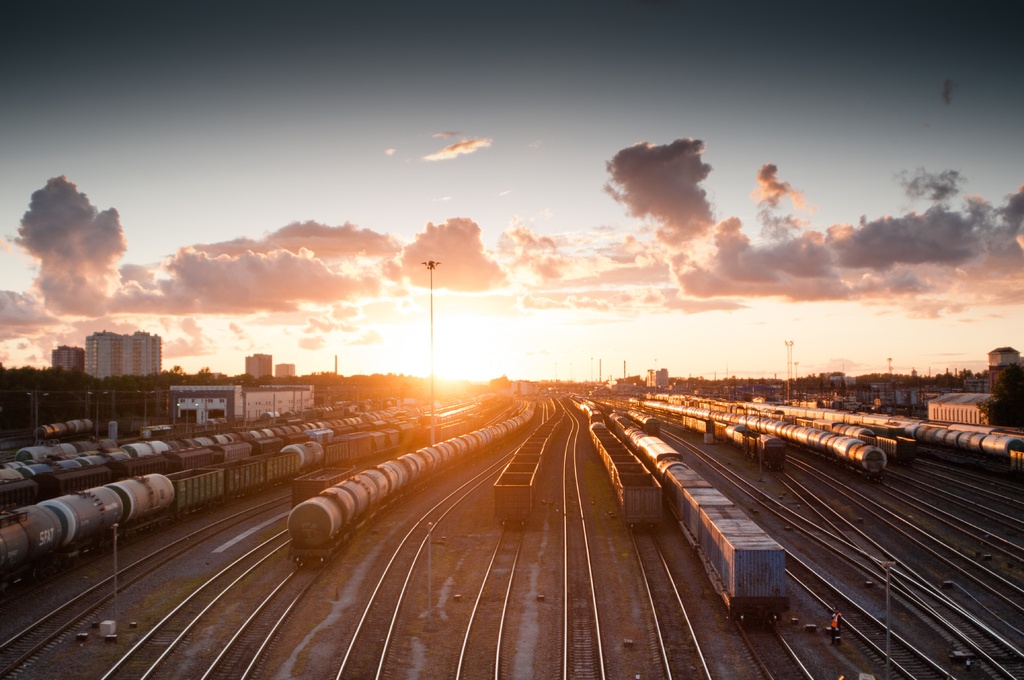 WaPo ("As U.S. rail strike looms, White House aides scramble to avert crisis"):
President Biden made calls to union leaders and rail companies Monday, pressing for a deal to avert a national railroad strike that is days away from shutting down much of the country's transportation infrastructure, according to a White House official.

Biden administration officials have also started preparing for a potential shutdown, warning a strike could seriously damage the U.S. economy, as well as hurt Democrats in the upcoming midterm elections, according to two people familiar with the matter.

Biden's calls follow unsuccessful emergency meetings at the White House last week, which have been led by the White House National Economic Council and included Labor Secretary Marty Walsh. Transportation Secretary Pete Buttigieg is also involved in trying to broker the impasse, said the two people, who spoke on the condition of anonymity to speak freely about internal deliberations.
There's some irony in the notion that Biden, who famously took the train between his home in Delaware in DC every morning and evening for decades, would be undone by a rail strike.
The stalemate pits two of Biden's top priorities against each other. The president has been an adamant defender of union workers, but does not want a breakdown in the nation's transportation infrastructure that would disrupt commuter and passenger services.
I would think the impact on the shipment of goods would be much more pressing, considering that most of our commerce is shipped via rail whereas relatively few Americans rely on it for personal transport.
The administration has little time to act: The nationwide rail shutdown is set to go into effect after midnight on Friday, and labor and management have been at an impasse over difficult issues such as sick time and penalties for missing work. It would be the first such strike in about three decades.
I honestly don't remember the last one.
Already, Amtrak has started warning passengers that interruptions will begin Tuesday on its national network. The passenger railroad said it is pulling trains on three long-distance routes "to avoid possible passenger disruptions while on route."

"These adjustments are necessary to ensure trains can reach their terminals prior to freight railroad service interruption if a resolution in negotiations is not reached," Amtrak said in a statement.
Given that traveling by Amtrak is typically more expensive than flying, the allure of spending three days on a train when you can fly anywhere in the continental US in five hours escapes me.
The freight industry has warned that the strike would shut down 30 percent of the country's freight and "halt most passenger and commuter rail services." A freight railroad shutdown could "devastate" Amtrak operations, according to the Association of American Railroads, with roughly half of commuter rail systems running at least partially on tracks or rights of way owned by freight railroads. Hundreds of thousands of daily commuter trips would be disrupted, the association said earlier this month.
In a rational world, folks would blame industry leaders, the unions, or both rather than President Biden. We do not, however, live in that world.
The Brotherhood of Maintenance of Way Employes, a division of the Teamsters, on Sunday announced a tentative agreement with national rail carriers, leaving only two of the 12 unions without a deal in place. Those two groups, representing engineers and conductors, are politically powerful and the two largest rail unions in the country. The remaining 10 unions are expected to refuse to work in solidarity.
I honestly don't understand how that's legal. They've collectively bargained their pay and conditions yet are going to refuse to honor their contract?
The administration has already faced criticism over its handling of the nation's transportation infrastructure, which was wracked last year by supply chain snarls and this year by a spike in cancellations and delays at the nation's airports. Some administration officials fear squandering the Biden economic victories of August that have helped increase Democrats' poll numbers.
Again, essentially none of that is a function of who sits in the White House but ¯_(ツ)_/¯
But make no mistake a lot is at stake here:
The Association of American Railroads has estimated a failure to reach an agreement could cost the U.S. economy as much as $2 billion per day in lost economic output, a figure that has been cited within the Department of Transportation. U.S. Chamber of Commerce President and CEO Suzanne P. Clark on Monday said a strike would be an "economic disaster" with "catastrophic economic impacts," calling for urgent action to resolve the standoff.

"The last thing they want right now is a major strike in a key sector like this," said Dean Baker, a White House ally and economist and co-founder of the Center for Economic and Policy Research, a liberal think tank. "I think Biden is going to be pushing really hard to get a deal. He'll presumably push on the employer side but I'm sure he'll push the union side as well … though there's a question of how hard he'll be willing to push the workers."

A strike could also have a significant impact on a variety of industries — energy, automobiles, agriculture and retail — which all depend on freight rails to transport inventory from the ports to warehouses and distribution centers. And the shutdowns would cause a domino effect, paralyzing multiple sectors.

In the case of retailers, they would miss their shipping and pickup dates, leaving cargo in limbo without a place to go, according to Jonathan Gold, the vice president of supply chain and customs policy at the National Retail Federation.
One might call that a big effing deal.
At issue is the recommendation of the Presidential Emergency Board, appointed by Biden in July, to manage contract negotiations between major railway carriers and unions after the parties could not reach an agreement for two years. The board recommended several wage hikes and annual bonuses in a 124-page report — a compromise for both parties, generous enough to peel off 10 of the labor unions, about 58,000 railway workers who mostly do not operate trains.

But the remaining two unions, who represent 57,000 workers slated to strike, are angry the recommendations don't address a lack of sick days or attendance policies that penalize workers. Engineers and conductors face penalties for taking any time off, including weekends, outside of holidays and preplanned vacation, even in the case of emergencies.

Labor groups say workers have been fired for going to routine doctor's appointments or family members' funerals. Conductors and engineers can be on call for 14 consecutive days, for up to 12 hours daily. They also don't get sick days.
That's draconian, indeed. Granting that this has apparently long been the policy, it's simply outrageous to not have some leeway for emergencies. It's inhumane generally speaking and simply a bizarre way to manage highly-skilled workers. (It's not clear from the reporting whether the same policy applies to the 10 unions who agreed to deals.)
And while the unions have softened their demands in recent weeks — for example, they are now asking for unpaid sick days, instead of demanding paid sick days — the railways have not offered any counterproposals on these demands.
One understands why a strike is imminent.
But then there's this:
The National Railway Labor Conference, the association representing freight railroads carriers in negotiations, has argued that workers receive "significant" time off benefits already. The group says railways need to maintain the right to "unilaterally establish attendance policies." Workers receive up to five weeks of paid vacation and up to 14 paid holidays, depending on length of service, the association said. And workers can call out for any reason as long as they maintain "a reasonable level of overall availability" in line with attendance policies.
So, that's more paid vacation than most Americans get. It's more than I get. But, then, I also have rather generous sick leave available.
I get that railroads are in a business of tight schedules. They obviously need their conductors and engineers to reliably show up for work. But either they can "call out for any reason" or the can "face penalties for taking any time off, including weekends, outside of holidays and preplanned vacation, even in the case of emergencies." Which is it?
Finally, well into the piece, we get to an argument that Biden has some responsibility:
The group representing the railroad carriers has also pointed at Biden's presidential emergency board to explain its lack of movement on sick days and attendance policies. The board did not propose significant changes to workplace concerns, noting that their proposed wage increases offset these concerns.

Meanwhile, leaders of the two unions that have not reached an agreement with carriers say that Biden's emergency board miscalculated the importance of these quality of life concerns to railway workers. They say their members are prepared to strike over them.
I have next to zero familiarity with the Presidential Emergency Board and its workings. Still, it would seem obvious that a starting point would be conversations with management and labor representatives establish where the red lines are. If sick leave and emergency leave were things over which the unions were willing to strike, that should have been known at the outset so that it could be factored into negotiations from the beginning.
Engineers and conductors are particularly concerned about a new points-based attendance policy at BNSF, a subsidiary of Berkshire Hathaway. More than 700 union employees have quit since the policy's rollout in February, but the railroads insist that it is necessary to ensure enough train operators are available to work, because they have been dealing with labor shortages. Workers can be terminated if they run out of points, even in the case of a family emergency. Missing work on certain high-impact days can mean losing half of their allotted points.
Ah. This is a much better explanation of the issue. Presumably, engineers and conductors had a lot more leeway in those halcyon days before COVID. The same labor shortages that have impacted much of the rest of the economy have hit railways and management put into place a bureaucratic solution that seemed fair on the surface—a points system that spreads the pain—but had unintended consequences. and, indeed, exacerbated the problem it was trying to solve. Surely, there's a compromise solution that can be reached short of shutting the whole thing down?
"We're facing the potential of a strike, because the railroad refuses to grant one single day of sick time," said Ron Kaminkow, a member of the Brotherhood of Locomotive Engineers and Trainmen, one of the unions that has not reached an agreement. "It's about the phone rings at 2 a.m. to be at work at 4 a.m., after just 10 hours of rest prior. It's about not knowing when you're coming home and being penalized with discipline — up to firing — if you need to go to the doctor."
Again, that's unconscionable. I understand the pressure on management here. You can't run trains without conductors and engineers and customers aren't understanding if their route gets canceled or their load is delayed. But there's gotta be a better solution than running your workers into the ground, let alone treating them as subhuman.
Biden has made supporting unions one of the top priorities throughout his administration. Many of his aides are sympathetic to workers' complaints of poor working conditions and unjust treatment by management, and are reluctant to lean too aggressively on labor leaders to end the strike.
Indeed.
Various sources report that Congress has intervened in previous labor disputes in the industry by forcing them into binding arbitration. I have seen no indication they're prepared to do so in this instance.
UPDATE: A CBS News report ("Biden administration works to avert costly railroad strike — here's what to know") adds some clarity:
The primary issue centers around attendance policies that workers say are being used to terminate and otherwise discipline railroad crews for taking off for absences because of medical appointments and bereavement. The railroads, on the other hand, claim that workers have been calling out too often to enjoy long weekends, sporting events and concerts, and that the new points-based attendance policies they've recently imposed are necessary to maintain service for customers.

[…]

Under the terms of the century-old Railway Labor Act, President Biden in July appointed an Emergency Board to look at the dispute and make recommendations. A 60-day "cooling off" period triggered by Mr. Biden's action ends on Friday.

[…]

In the past, most recently in 1982 and 1986, Congress has acted to end railroad strikes. The process would be quite simple. Both houses could pass — and the president would sign — a joint resolution imposing the Presidential Emergency Board's recommendations, which the companies happen to find agreeable. The U.S. Chamber of Congress has already urged Congress to stand by and be ready to intervene.

The dynamic puts Mr. Biden and congressional Democrats in an awkward position. Democrats are keen to side with unions, but the president's own emergency board rejected the workers' arguments that they shouldn't be subject to new, points-based attendance policies.

In theory, Congress could also pass a law imposing a new "cooling-off" period to allow for more time to talk before either side strikes or imposes a lockout.
Again, there is no indication this is anything but a theoretical possibility. While a crippling strike would certainly be bad for Democrats, so would alienating two large unions.
CNN ("America is already feeling the consequences of a looming nationwide rail strike"):
"The railroads are using shippers, consumers, and the supply chain of our nation as pawns in an effort to get our unions to cave into their contract demands," said the unions' statement. "Our unions will not cave into these scare tactics, and Congress must not cave into what can only be described as corporate terrorism."
Of course, that works both ways: the nature of these standoffs is that both as using consumers as pawns in their game. It just happens to hurt the companies more than it does the unions to do so.